Join Audio Adrenaline As They Head To Las Vegas For The Rock n' Roll Marathon December 2 To Run For The Hands & Feet Project
Help Audio Adrenaline And Friends Bring Hope To Haiti By Running Or Sponsoring;
Free Audio Adrenaline Pre-Race Las Vegas Concert To Be Held Dec. 1st!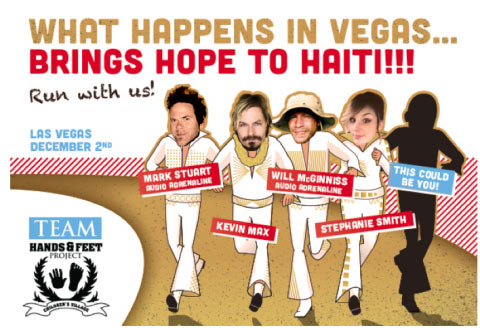 NEWS SOURCE: Merge PR
October 1, 2012
1 October 2012 - Nashville, Tenn - Who's in to run 26.2 miles….or 13.1 miles, all to raise awareness and funds for the children of Haiti? The members of Audio Adrenaline are heading to Las Vegas for the Rock n' Roll marathon and half marathon on December 2nd to support the Hands & Feet Project, and they want you to join their team! Audio Adrenaline's Will McGinniss, Kevin Max, Dave Ghazarian, Jared Byers, and Jason Walker along with Mark Stuart are all slated to run the race, and they will be joined by Brock Gill and Gotee recording artists Stephanie Smith and House of Heroes' Tim Skipper.
Audio Adrenaline and the Hands & Feet Project are encouraging the public to register and run alongside with them on the Las Vegas strip. Each runner is responsible for the race entry fee, transportation and lodging, and raising $500.00, which will go directly to the Hands & Feet Project. After registering, runners may direct their supporters to handsandfeetproject.org/team-haf to donate to their race campaign. Each runner will be provided with a limited edition Team Hands & Feet race jersey, VIP gift bag and admission to the post-race dinner with Audio A and friends. Register here!
Everyone is also invited to a free Audio Adrenaline pre-race Las Vegas concert on December 1st! The show will be held at:
Valley Bible Fellowship
4500 West Sahara Avenue
Las Vegas, NV
702-254-2251

For those who cannot make it to Las Vegas but still want to show support can sponsor one or more of the Hands & Feet runners by committing from $1.00-1000.00 per mile. Each team member will run either 13.1 or 26.2 miles allowing sponsors to donate from $13 all the way up to $26,000.
In any way that you can, we hope you join Audio Adrenaline and the Hands & Feet Project in helping the orphaned and abandoned children of Haiti today. To find out more about the race and how you can you sponsor an artist please visit handsandfeetproject.org/team-haf.
ABOUT HANDS & FEET PROJECT
In 2004, the members of Audio Adrenaline founded the Hands & Feet Project. Inspired by fan reaction to the band's song "Hands and Feet," HAF is a non-profit organization dedicated to providing long-term, family-style care for orphaned and abandoned children with the love of Christ. They strive to raise a generation of orphaned children who will grow up to reach their God- given potential, while empowering first world citizens to partner with them in service at home and abroad.
The organization broke ground on their first Children's village in Cyvadier, a small town on the Southern coast near Jacmel, and began their journey of serving the forgotten children of the impoverished Caribbean nation. Currently tending to over 70 children in Cyvadier, a second village opened in Grand Goave in 2008 and is caring for 30 children. handsandfeetproject.org.
For more info on Audio Adrenaline visit the JFH Artists Database.