MOMENTUM BUILDS FOR CHERI KEAGGY'S
NEW SINGLE, NEW CD
So I Can Tell and its Title Cut Gain Recognition on Radio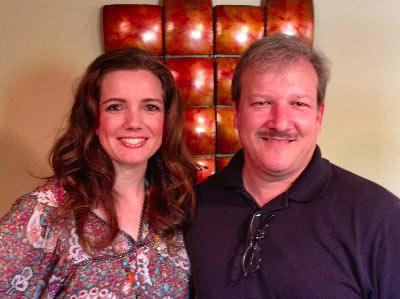 Cheri Keaggy, left, was interviewed by Mike Becht, right, for a recent edition of Soul2Soul Radio. (Cheri Keaggy photo)
NEWS SOURCE: McCain & Co. PR
October 12, 2012
NASHVILLE, Tenn. (October 12, 2012) - Dove Award winning recording artist and speaker Cheri Keaggy has been enjoying a flurry of radio exposure recently with a combination of media interviews and chart activity as the current radio single and title track of her new CD, So I Can Tell, builds momentum. The singer/songwriter's CD was released July 10 on her Psalm 91 record label.
Keaggy recently was a featured artist on the popular CCM interview program, Soul2Soul Radio. During the interview segment, Keaggy shared music from her new CD along with insight into the making of So I Can Tell with host Mike Becht.
"It was good to sit down and chat with Mike again after all these years. We talked about how we both came onto the Christian music scene around the same time and how things have changed," Keaggy says. "I thought it was cool that though he's a pastor now, he still gives Christian artists a platform like he does with Soul2Soul. He seemed to personally appreciate the honesty in my lyrics and was especially taken by the song 'When You Were Jesus to Me.' We had a great conversation. Things change, our lives change, but God's truths remain. It was a time to remember God's faithfulness."
The new single, "So I Can Tell," which is making its way up the charts, recently was listed on Christian Music Weekly's Inspirational Power Surge and Inspirational On the Verge charts. The song also has jumped to No. 32 on CMW's INSPO chart.
"INSPO stations have always been good to me. But, it's been awhile since I've had something new! I couldn't be more thrilled for the exposure 'So I Can Tell' is getting," Keaggy says. "Thanks to all the Program Directors out there who have embraced the message of this song. I feel like it's no longer So I Can Tell, but so we can tell!"
Rob Pugh of the Classic Christian Rock Preservation Society in Mooresville, Ind., where Keaggy recently performed, praised the singer/songwriter's current single.
"I can't think of any song that has moved me as much as this one has," Pugh says of "So I Can Tell." "This whole past weekend was indescribable to me. Having Cheri here was such a joy. She gave me a new perspective on how to look at things. I don't think that I could ever thank her enough for that."
So I Can Tell is Keaggy's first CD since her independent 2007 release, Because He First Loved Us. Keaggy draws on the encouragement of Scripture and her utter reliance on the comforting power of God to create an honest, engaging recording that is reflective of her emergence from a difficult season in life.
"When God has brought you through something, when He's shown up in God-sized ways, you can't help but testify," says Keaggy of the new songs. "This is my 'beauty from ashes' project." So I Can Tell was released on the 18-year anniversary of Keaggy's 1994 Sparrow Records release, Child of the Father.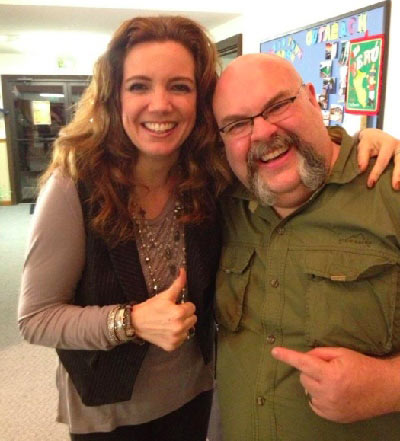 Photo caption, bottom: Cheri Keaggy, left, recently met with Rob Pugh, right, of the Classic Christian Rock Preservation Society. (Classic Christian Rock Preservation Society photo)
About Soul2Soul Radio:
Soul2Soul Radio's mission is to bring hope and encouragement to a world that is in dire need of both. For more than 18 years, Soul2Soul has created programming to meet the needs of Christian radio, offer an outlet and a platform for hundreds of Christian artists and is a source of encouragement and hope for listeners around the world. Soul2Soul's uplifting programming and entertaining and enriching live events challenges people around the world to recognize and embrace their role in the Kingdom of God and live up to the high calling of the Gospel of Christ. The one-hour broadcast features the most popular artists in Christian music.
About Classic Christian Rock Preservation Society:
The Classic Christian Rock Preservation Society pays tribute to and promotes concerts by popular Christian rock bands from past decades, such as Petra, DeGarmo & Key, and Stryper. To Like on Facebook, go to facebook.com/pages/Classic-Christian-Rock-Preservation-Society.
About Cheri Keaggy:
Cheri Keaggy began her career as a worship leader at a small church in Southern California before recording her debut album on Sparrow Records, Child of the Father, in 1994. Honored with a Dove Award nomination for New Artist of the Year, Keaggy has gone on to record seven additional albums, resulting in nine No. 1 songs, three Dove Award nominations and a Dove Award win. After more than two decades in music, her ministry has expanded to include speaking engagements as well.
Under the guidance of Gospel Music Hall of Famer and legendary guitarist Phil Keaggy, Cheri Keaggy called on the combined talents of Scott Dente and Ken Lewis from Global Genius Productions to produce her new CD, So I Can Tell. The combination of rich, acoustic sounds with Cheri Keaggy's signature plaintive vocals and searingly honest lyrics results in a project that confronts life's realities, even when filled with despair, and offers listeners the way to navigate through the challenges to a place of hope through Christ.
Penned following the end of her nearly 23-year marriage to her high school sweetheart, So I Can Tell is a testimony of God's goodness in the midst of pain and suffering. Like a modern day psalmist, Keaggy's lyrics express grief, loneliness, and God's comfort in the contemporary hymns "Bind Me To You," "There Will Be One Day" and the arresting "Hello, God." She echoes the apostle Paul in the memorable piano ballad "To Live is Christ" and celebrates Christ's provision in the ukulele-based crowd favorite "Air, Food, and Water."
Through an accessible folk-pop presentation, the album leaves listeners with a renewed sense that God is with us, no matter what. So I Can Tell is filled with the radio-ready songs for which Keaggy is known and loved. Her lush vocals lovingly caress piano ballads like the title cut and the haunting "When You Were Jesus To Me." Her voice takes on a lilting quality in the hope-infused "Starting a New Year Today," written on the one-year anniversary of her divorce. As an added bonus, guitar maestro Phil Keaggy closes the album with the peace-evoking benediction "Postlude: Invitation to Hope."
For more information about Keaggy and So I Can Tell, visit cherikeaggy.com. Like Keaggy on Facebook (facebook.com/CheriKeaggy) or follow her on Twitter (@cherikeaggy). For information about booking Keaggy for an event or conference, visit NewHopeManagement.com