SARA GROVES WRAPS INTERNATIONAL JUSTICE MISSION SPONSORED TOUR OF UNITED KINGDOM
Groves Named One of Christianity Today's 50 Women to Watch
NEWS SOURCE: The M Collective
October 29, 2012
Nashville, TN.... October 29, 2012..... One of the industry's most respected and critically acclaimed artists, Sara Groves, recently had yet another honor bestowed upon her as Christianity Today magazine named Groves one of their 50 women to watch. To create the list, the magazine asked key leaders which Christian women are most profoundly shaping the evangelical church and North American society. Along with Groves, notable women including author/speaker Beth Moore, American Idol Season Six winner Jordin Sparks, and former Secretary of State Condoleeza Rice were also named.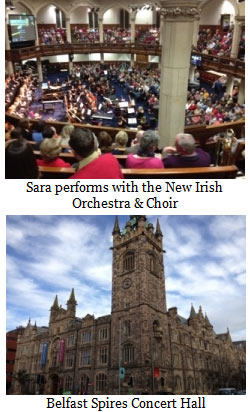 "I am incredibly honored to be included on Christianity Today's list of women in leadership," said Groves. "These are women I respect, and I am humbled to be included here. I am encouraged by this diverse list of women and the vibrant ways they are living out their faith, and I hope ultimately this is an inspiration to my daughter Ruby, and other young girls, as they grow into young Christian leaders."
Groves recently returned home from her 11-city Invisible Empires tour of the United Kingdom inclusing Belfast, Ireland, London, England and Edinburgh, Scotland. Sponsored by the International Justice Mission, Groves partnered with the human rights organization to share about their incredible work across the globe and announce the opening of their new office in Belfast.
"When I heard Sara was coming to the UK, I knew she would find many fans here," remarked Terry Tennens, Executive Director, International Justice Mission UK. "And after being a part of her tour, I can honestly say that people were undoubtedly touched and captivated by her music. Not only is Sara an artist who brings great musical talent, but she has a profound ability to communicate in a powerful and deep way through song. It was an absolute honour to be a part of her UK tour and we anticipate her return."
This November Groves will support her latest Soft AC/Inspo radio single, "Miracle" as she tours with Bebo Norman and Jenny & Tyler in cities across the country.
###
About Sara Groves:
Since her debut release in 2001, Conversations, Sara Groves has become one of the most critically acclaimed artists in the Christian music industry, receiving rave reviews across the board for each recording by Billboard Magazine and others. Groves consistently tops year-end reader's polls and album of the year nods from the likes of CCM magazine, Christianity Today and more. On most recent release, Invisible Empires, the follow-up to Fireflies and Songs, Christianity Today's 2009 Album of the Year, the singer/songwriter describes the record content as a process of sorting through the layers of this frenetic life, gaining a new perspective and finding the long-standing truth. Since her 2005 release, Add to the Beauty, Groves has been immersed in a series of global conversations and experiences, from the flood-ravaged gulf of Louisiana, the genocide memorials of Rwanda and the testimonies of Southeast Asia sex trade survivors. These experiences have shaped Groves music as she brings to light the difficult and meaningful work of social justice and engaging in the suffering of the afflicted.
About the International Justice Mission:
International Justice Mission is a human rights agency that brings rescue to victims of slavery, sexual exploitation and other forms of violent oppression. IJM lawyers, investigators and aftercare professionals work with local officials to secure immediate victim rescue and aftercare, to prosecute perpetrators and to ensure that public justice systems - police, courts and laws - effectively protect the poor.
For more info on Sara Groves visit the JFH Artists Database.