JASON TRUBY RELEASES OUR TIME HERE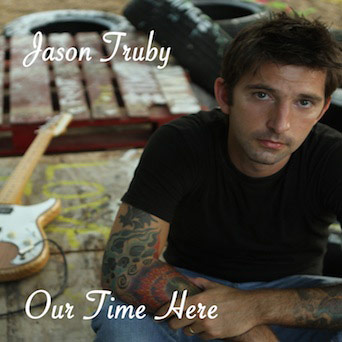 NEWS SOURCE: Springboard Entertainment
November 20, 2012
Little Rock, AR (November 20, 2012) - World-renown guitar aficionado, JASON TRUBY (P.O.D., Living Sacrifice), has released his fifth solo album, a collection of songs about faith, family, hope, struggles, and life 20 years in the making. Out today, Our Time Here goes back to Truby's singer-songwriter roots and features a special appearance from long-time friend, Phil Keaggy. The album is available for digital download through iTunes and physical copies can be purchased from CD Baby. Visit JasonTruby.com for links.
"This is an acoustic driven vocal album that is organic and from the heart," Truby explains. "My intention was to let melody and emotion guide the songs about Faith Hope and Love, i feel that it has."
All songs on Our Time Here were written, performed and produced by Truby and the album was mastered by Jim Falzone. A special highlight on the album is the song "Here With Me," a collaboration with Phil Keaggy playing guitar and mandolin as well as singing background vocals.
Keaggy elaborates on his friendship with Truby and involvement on the song: "Jason Truby is a truly passionate man, husband, father and a fine musician. I've come to know and appreciate his heart, which he pours into his music as well. He invited me to play and sing on his song 'Here With Me.' I really like this tune! The feeling of this song is breezy like a cool summer afternoon with sweet words of love and assurance. Although somewhat Dylan and The Band inspired, stylistically, 'Here With Me' is still very Jason Truby in its originality."
Honing his skill in award-winning bands Living Sacrifice and P.O.D., Truby has made quite a name for himself. His songwriting has been featured on the best-selling soundtracks for the films Matrix Reloaded and The Passion of the Christ and in 2004 he was featured on the cover of Finger Style Magazine next to music legend Chet Atkins. Since leaving P.O.D. in 2006, Truby has written and recorded five of his own albums, including 2010's Christmas project, The Greatest Love, showcasing the finger-style guitar playing he has become known for. Additionally, the entire catalog of his instrumental music has been added to Guitar Genius Radio. Truby began co-writing with and producing other artists in 2009 and just recently finished work on a special benefit compilation for the adoption-awareness non-profit, Project Zero, featuring top artists from around the country.
"It has been such an honor to work and co-write with such wonderful artists in such a broad way for such a great cause," explains Truby. "Adoption is near and dear to my heart. I can't wait to see the wonderful things that happen through the life of this album, Grafted. Each album sold truly does help change the world one life at a time."
For more information about Jason Truby and Our Time Here, please visit www.jasontruby.com, http://bit.ly/JTruby and follow him on twitter at www.twitter.com/jasontruby. Additional information about Project Zero and the Grafted project can be found at www.theprojectzero.org.