Eyes On Me and Broken Heart Records need your help!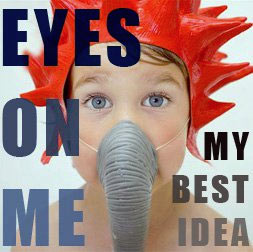 NEWS SOURCE: Broken Heart Records
January 21, 2013
For Immediate Release - Eyes On Me and Broken Heart Records are teaming up to press "My Best Idea" on vinyl. The vinyl will be limited to 300 copies. Fan will be able to help us accomplish this goal. We have start a campaign to raise money for the vinyl pressing. There are some amazing rewards, including preordering the vinyl release.
http://groovebot.gottagrooverecords.com/campaign/detail/774
Eyes On Me are an Indie/Pop/Punk/Alt. band based out of Lynchburg VA. But all hail from the New York tristate area. They have honed their sound taking what they learned in their strong home punk rock scene. Eom has toured the upper east coast in support of their ep. "My Best Idea"
Founded by Larry Parish and Chris Miles, "Broken Heart Records" was created in the winter of 2012 with a specific goal in mind. The label wanted to press vinyl for bands they love. BHR gives fans the opportunity to expand their vinyl collections by working to press records not previously available. Each step of the vinyl process is very important to BHR, and they consult with the bands before any final decisions are made.
The label first worked with Socratic to reissue Lunch for the Sky as well as press their self-titled album on vinyl last summer. Next, they approached Abel to release Make it Right. Both bands arranged vinyl release shows to support the Albums and encourage fans to listen to more records. Day at the Fair is also working with the label to release The Rocking Chair Years and a new untitled EP. In addition to pressing vinyl, BHR has collaborated on a compilation cd project titled Unsigned|Unrest to raise money for St. Jude's Children's Hospital. Broken Heart Records recognizes the need to work with both established and less known bands, and hopes to continue to have a positive impact on music.
For more information:
www.bhrrecords.com
http://www.facebook.com/BrokenHeartRecords
http://www.facebook.com/123eyesonme