BIG DADDY WEAVE EMBARKS ON SECOND LEG OF "THE REDEEMED TOUR" FEBRUARY 1
Tour Gears up as the Band's Smash Hit Single "Redeemed" Comes off of a Career-High Nine Weeks at No. 1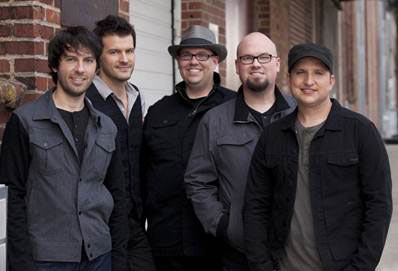 NEWS SOURCE: Bozeman Media
January 29, 2013
NASHVILLE, TN - (January 29, 2013) - Dove Award-winning group Big Daddy Weave is set to depart on the second leg of their highly-successful "The Redeemed Tour" February 1 in Wausau, WI. The tour, featuring chart-topping artist Chris August and special guest Citizen Way, is scheduled to stop in over 38 cities from February through May. This launch comes on the heels of the band's hit No. 1 single, "Redeemed," which spent eight weeks at No. 1 on the NCA (National Christian Audience Chart) and nine weeks at No. 1 on the AC Monitored Chart. The video for the hit song has also proven to be a hit as it has amassed close to two million views on YouTube.
"What happens every night on 'The Redeemed Tour' is the most special thing we've ever been a part of, and it just keeps growing," says Big Daddy Weave's lead singer Mike Weaver. "We're excited to play and be with the wonderful people that we meet in every town. We're also big fans of everybody playing on the tour, so we couldn't ask for anything more! We can't wait to see what God does next with all of this."
Label mate and three-time Dove Award-winner Chris August will also be joining Big Daddy Weave on this leg of "The Redeemed Tour. This past summer, August released his sophomore album, The Upside of Down, and collaborated with Group 1 Crew on their No. 1 hit, "He Said." Fans can expect to hear his next single, "Restore," when it hits radio February 1.
Citizen Way has made a big impression fast with their first single "Should've Been Me" reaching the radio chart's top 10. The Elgin, IL band's appearance on Big Daddy Weave's "The Redeemed Tour" marks their debut on a nationwide tour.
"The Redeemed Tour" is scheduled to hit the following cities:
Feb. 1 The Grand Theater - Wausau, WI
Feb. 2 Community Church - Oshkosh, WI
Feb. 7 Eagle Heights Church - Somerset, KY
Feb. 8 BC Lloyd Building - Paragould, AR
Feb. 9 Christ Fellowship - McKinney, TX
Feb. 10 MK Brown Civic Auditorium - Pampa, TX
Feb. 12 Clovis Civic Center - Clovis, NM
Feb. 13 RN Tydings Auditorium - Hobbs, NM
Feb. 14 St Andrew's Presbyterian Church - Tucson, AZ
Feb. 15 Trinity Life Center - Las Vegas, NV
Feb. 16 Reno Christian Fellowship - Reno, NV
Feb. 17 Faith Community Church - Acampo, CA
Feb. 21 Marshfield High School - Coos Bay, OR
Feb. 23 Dayspring Fellowship - Keizer, OR
Feb. 24 Everett Theatre - Everett, WA
Feb. 26 The House of Faith - Lewiston, ID
Feb. 27 Idaho Falls Civic Auditorium - Idaho Falls, ID
Feb. 28 Cheyenne Civic Center - Cheyenne, WY
March 1 Restoration Church - Casper, WY
March 2 Helena Community Facilities Center - Helena, MT
March 3 Faith Evangelical Church - Billings, MT
March 8 Rodger's Theatre, Poplar Bluff, MO
March 9 Cornerstone Christian Academy - Shelbyville, KY
March 10 Dublin Jerome High School Center for Performing Arts - Dublin, OH
March 14 Memorial Stadium - Waycross, GA
March 15 Westover Church - Greensboro, NC
March 16 Charleston Southern University - Charleston, SC
March 21 Christ Community Chapel - Hudson, OH
March 22 Blackhawk Ministries - Fort Wayne, IN
March 23 Cornerstone Church - West Chester, OH
March 24 Trinity Evangelical - Upper Sandusky, OH
April 5 Cross Creek Community Church - Trucksville, PA
April 6 Wyoming United Methodist Church - Dover, DE
April 13 Davis and Elkins College Auditorium - Elkins, WV
April 14 Walker Center - Wilkesboro, NC
April 20 Plant City Stadium - Plant City, FL
April 21 Truett-McConnell College - Cleveland, GA
April 26 Concordia University Wisconsin - Mequon, WI
May 4 Wild Adventures Theme Park - Valdosta, GA
About Big Daddy Weave:
Big Daddy Weave formed when Mike Weaver, Jay Weaver, Jeremy Redmon, Jeff Jones and Joe Shirk got together at the University of Mobile. They stepped into the spotlight in 2002 with the release of their second album One and Only, which debuted in SoundScan's Christian Top 5 and saw the group nominated as Dove Awards New Artist of the Year. Their 2010 album Christ Has Come won a Dove for Christmas Album of the Year, and they recently released their first greatest hits compilation, The Ultimate Collection. They have been honored at ASCAP's Christian Music Awards, were chosen for the WOW Hits compilations in five of the last six years, and are one of the 10 most played artists at Christian radio over the past decade.
About Chris August:
Upon his debut in 2010, Fervent Records' Chris August quickly became a favorite in the CCM genre. With an impressive sweep at the 42nd Annual Dove Awards, he earned awards for "New Artist of the Year" and "Male Vocalist of the Year," adding him to an elite group of only three artists in the history of the show who have received both awards. He also claimed the nod for "Pop/Contemporary Album of the Year" for his debut album No Far Away. The album delivered August's debut single "Starry Night," which stayed No. 1 for six consecutive weeks on Billboard's Christian/AC chart. Chris August released his highly-praised sophomore record The Upside of Down in August of 2012, which was painstakingly crafted and co-produced with award-winning producer Ian Eskelin. August is a self-taught pianist, guitarist, and producer who has previously toured with pop sensation Ashlee Simpson and has worked/co-wrote with artists such as Ryan Cabrera, Brian McKnight and Jessica Simpson before shifting his focus to a solo career.
About Citizen Way:
Citizen Way was formed in 2004, when two sets of siblings-Josh and Ben Calhoun and David and Ben Blascoe-crossed paths while in college. Their camaraderie made for a foundation that went beyond their biological connection and combined their vision for ministry with their passion for music. The result is Evidence, an infectious pop-rock project with sensibility.
This project is already generating buzz, thanks to their success at Christian radio with the Top 5 hit song "Should've Been Me." It is the byproduct of years spent honing their skills; playing at camps, retreats and youth group events; investing in the fans; and building a faithful following. The music has a driving momentum that will have you setting your player to repeat and connect to your core as a soundtrack for life.
In the end, the guys of Citizen Way really just want to have a conversation with people, sharing stories that reflect scripture, reveal the heart of God and speak to honest, human struggle. If they can accomplish that while inspiring people to walk with Jesus and find joy in the journey, then the brothers of Citizen Way will have done their job.
For more information on Big Daddy Weave and to purchase tickets, please visit www.BigDaddyWeave.com/shows.
Facebook: www.facebook.com/bigdaddyweave
Twitter: www.twitter.com/bdwmusic
YouTube: www.youtube.com/bdwmusic
About Word Entertainment
A leader in the music industry for over 60 years, Word Entertainment, a Warner/Curb company, is a unique, comprehensive entertainment company comprised of multi-faceted artist service departments including publishing, merchandising, booking, and online initiatives. Word Entertainment represents some of the top names and brands in music, including Meredith Andrews, Chris August, BarlowGirl, Francesca Battistelli, Big Daddy Weave, Jason Castro, Patrick Ryan Clark, Everfound, for KING & COUNTRY, Group 1 Crew, Love & The Outcome, Dara Maclean, Point Of Grace and Sidewalk Prophets and is home to 25 Entertainment, Word Distribution (representing Curb Records and Big Idea/VeggieTales among others), Word Print, Word Films, Word Music Publishing and Word Label Group's Word Records, Word Worship and Fervent Records.
###
For more info on Big Daddy Weave visit the JFH Artists Database.