LOVE & THE OUTCOME'S DEBUT SINGLE,
"HE IS WITH US," IS AVAILABLE ON ITUNES TODAY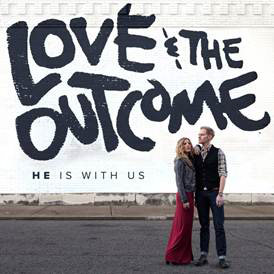 NEWS SOURCE: Word Records
May 7, 2013
Nashville, TN - (May 7, 2013) - Word Entertainment is pleased to announce the release of "He Is With Us," the debut single from husband-wife duo Love & The Outcome. The song is now available at iTunes here and goes for radio adds on May 10. "He Is With Us" is the first release off Love & The Outcome's forthcoming self-titled debut album.
Co-written by vocalist Jodi King, her husband, bass player Chris Rademaker and the song's producer Seth Mosley (Newsboys), "He Is With Us" is an unabashed sing-along anthem that stomps and chimes its way to the catchiest of choruses: "He is with us, he is with us/ Always, always." It reminds listeners that no matter how dark it gets, how alone we feel, we should take refuge in the knowledge that He is with us.
The single balances Chris' rock sensibilities with Jodi's love of melodic female pop creating a dynamic sound unique to Love & The Outcome. Radio programmers have taken notice: "We are bombarded every day with negative images and difficult news stories," notes Morgan Smith, Assistant PD, Portland OR's 104.1 The Fish. " 'He Is With Us' is a song of hope; it's an inspiration to keep going and keep your chin up in spite of the hard times. It's also super catchy...which is great for a sunshine-y summer day!"
For Chris and Jodi, Love & The Outcome is both a name and a literal life story. The duo sold their Winnipeg condo en route to a high-stakes musical road trip that has seen them criss-cross Canada, Liberia, the Philippines and China, winning over fans both emotionally and spiritually with their blend of effervescent pop. After signing to Word Records in 2012, they retreated to the mountains of Washington state to record their powerful debut, produced by Mosley along with Ben Glover (for King & Country) and David Garcia (TobyMac). Spring 2013 saw the two back on the road for the "Hundred More Years Tour" supporting Francesca Battistelli and The Afters over 27 dates.
Love & The Outcome's debut album is slated for release later this year. For tour dates and further information please visit www.loveandtheoutcome.com.
Facebook: https://www.facebook.com/LoveAndTheOutcome
Twitter: https://twitter.com/loveandoutcome
YouTube: http://www.youtube.com/loveandtheoutcome
About Word Entertainment
A leader in the music industry for over 60 years, Word Entertainment, a Warner/Curb company, is a unique, comprehensive entertainment company comprised of multi-faceted artist service departments including publishing, merchandising, booking, and online initiatives. Word Entertainment represents some of the top names and brands in music, including Meredith Andrews, Chris August, BarlowGirl, Francesca Battistelli, Big Daddy Weave, Jason Castro, Patrick Ryan Clark, Everfound, for KING & COUNTRY, Group 1 Crew, Love & The Outcome, Dara Maclean, Point Of Grace and Sidewalk Prophets and is home to 25 Entertainment, Word Distribution (representing Curb Records and Big Idea/VeggieTales among others), Word Print, Word Films, Word Music Publishing and Word Label Group's Word Records, Word Worship and Fervent Records.
###
For more info on Love & The Outcome visit the JFH Artists Database.