Tune In To Show Hope's 10th Anniversary Celebration Online!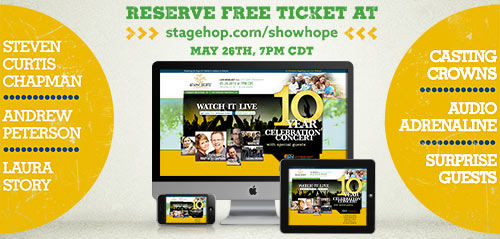 NEWS SOURCE: Show Hope
May 20, 2013
On Sunday, May 26, thousands of Show Hope grant families, sponsors, and supporters will gather for an anniversary concert in Nashville to celebrate 10 years of growing the movement to care for orphans. Now, we're thrilled to bring this amazing event direct to YOUR living room!
Show Hope will be webcasting an unprecedented line-up of renowned artists who have played critical roles in the lives of orphans and adoptive families across the globe. They anticipate an evening full of worship, jaw-dropping testimonies of God's amazing miracles, and great joy. Although it may not feel the same as being present at a live event, there is sure to be something special about experiencing the celebration in the comfort of your own home.
Show Hope's 10 Year Anniversary Concert will be webcast LIVE from Lipscomb University's Allen Arena in Nashville! Performances include Casting Crowns, Andrew Peterson, Audio Adrenaline, Laura Story, Geoff Moore, and Show Hope's very own Steven Curtis Chapman!
Visit stagehop.com/showhope today to reserve your free ticket!
###