VIEW THE NEW MUSIC VIDEO "HE IS WITH US" FROM LOVE & THE OUTCOME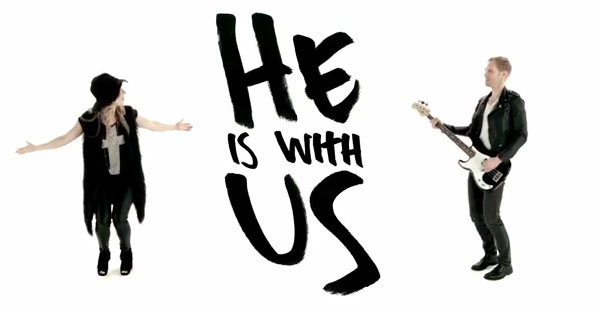 NEWS SOURCE: Word Entertainment
July 15, 2013
Click here to view the new music video for "He Is With Us" from Love & The Outcome on YouTube. Filmed in Toronto, Canada, "He Is With Us" intersperses dynamic performance footage of Jodi and Chris with Love & The Outcome's signature graffiti text to create an engaging video that underscores the song's powerful lyrics. The duo's debut single has skyrocketed into the Top 20 since its release in May with Billboard including them in its "Bubbling Under" section on new and noteworthy acts. "He Is With Us" is the lead single from Love & The Outcome's self-titled debut album due out on August 27.
For Chris and Jodi, Love & The Outcome is both a name and a literal life story. The duo sold their Winnipeg condo en route to a high-stakes musical road trip that has seen them criss-cross Canada, Liberia, the Philippines and China, winning over fans both emotionally and spiritually with their blend of effervescent pop. After signing to Word Records in 2012, they retreated to the mountains of Washington state to record their powerful debut, produced by Seth Mosley along with Ben Glover (for King & Country) and David Garcia (TobyMac). Spring 2013 saw the two back on the road for the "Hundred More Years Tour" supporting Francesca Battistelli and The Afters over 27 dates. For tour dates and further information please visit www.loveandtheoutcome.com.
Facebook: https://www.facebook.com/LoveAndTheOutcome
Twitter: https://twitter.com/loveandoutcome
YouTube: http://www.youtube.com/loveandtheoutcome
###
For more info on Love & The Outcome visit the JFH Artists Database.