WINTER JAM AND PEPSI JOIN FORCES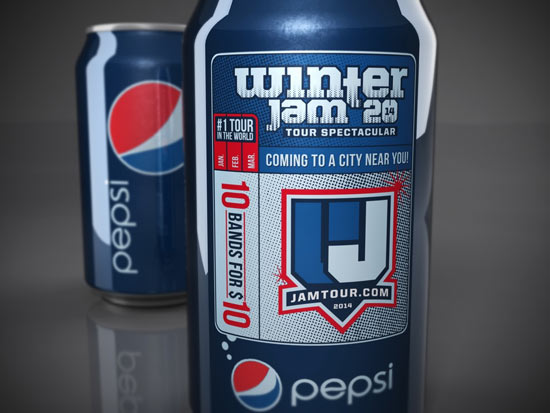 NEWS SOURCE: Turning Point Media
September 12, 2013
NASHVILLE, Tenn.- The Winter Jam Tour Spectacular and
Pepsi MidAmerica
have joined forces for one of the largest Christian music marketing initiatives in the history of the beverage industry, it was announced today.
The official soft drink of Winter Jam, Pepsi has signed on as a sponsor for the Winter Jam 2014 Tour Spectacular and will distribute more than 13 million Winter Jam-branded cans in a 13-state region beginning later this year. Along with a major regional radio campaign and comprehensive social media strategy, the beverage giant is slated to feature Pepsi/Winter Jam displays in 120 Casey's General Stores in the Midwest, promoting Winter Jam and Pepsi's Ultimate Fan Experience Contest.
"Aligning one of the world's most beloved brands with one of the biggest tours around is a great honor for us," said Lee Crisp, president and chief operating officer, Pepsi MidAmerica. "We believe in the artists and message Winter Jam represents, so Pepsi MidAmerica is proud to showcase the tour on cans and through key product displays."
"Winter Jam's pioneering '$10 at the door/no ticket required' model has always been dependent on strategic, like-minded partners," said Eddie Carswell, Winter Jam creator and NewSong founding member. "In our 19-year history we have been blessed with tremendous sponsors to help us grow the Winter Jam brand. Our partnership with Pepsi is yet another first for our industry and we are grateful for Lee Crisp and Pepsi MidAmerica's investment in Christian music."
Since creating the Winter Jam Tour Spectacular in 1995, GRAMMY®-nominated NewSong continues to oversee the exponential growth of this unprecedented tour, which is promoted by Premier Productions. For the third consecutive year, Winter Jam topped Pollstar's Worldwide First Quarter Ticket Sales Charts - Top 100 Tours, surpassing all other 2013 first quarter tours.
Winter Jam West is slated to hit 11 Western cities this fall, headlined by multi-GRAMMY®-nominated Newsboys. Once again boasting many of the top names in Christian music, Winter Jam West kicks-off in Los Angeles November 8 at Ontario's Citizens Business Bank Arena.
Pepsi MidAmerica is located in Marion, Illinois, and distributes quality beverages in portions of Illinois, Missouri, Arkansas, Kentucky and Tennessee.
For further information, visit www.jamtour.com
For more info on Newsong visit the JFH Artists Database.