HOUSE OF HEROES FRONTMAN TIM SKIPPER JOINS FORCES WITH STEPHANIE SKIPPER TO FORM COPPERLILY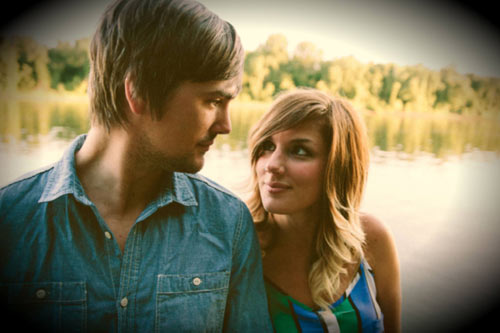 NEWS SOURCE: Independent Music Media
September 30, 2013
One plus one equals two. At least that's what Stephanie and Tim thought when they first tried to write music together. They had both spent the better part of 6 years pursuing our own musical projects under the Gotee Records banner, Stephanie as solo artist Stephanie Smith and Tim as the frontman of House of Heroes. The two got married in November 2012 and began attempting to write songs together. The initial results were disastrous.
"We just figured it would be so easy! We had both written so many songs, it just made sense that one plus one would equal two and we'd come up with musical gold with little effort. But we were getting fractions and decimal points" - says Stephanie Skipper
After several ill-fated writing sessions that ended with Stephanie in tears of frustration and Tim fuming on the couch, they thought they had finally hit their breaking point. "I decided this just wasn't going to work. I didn't want our marriage to suffer for the sake of music. But Stephanie convinced me to try one last time. The stars aligned and we wrote a song in less than 20 minutes" explains Tim
Over the course of the next month or so they wrote roughly 20 more songs! "It's still not always easy and it does get heated occasionally, but I'm proud of the way we've learned to communicate and work towards creating something we love" says Stephanie
See Copperlily's introductory video here: https://t.co/qT2BZdrPRk
Watch the "Map to Your Heart" live video here: http://t.co/BfH1es5OjQ
Copperlily is currently in the studio with Mark Lee Townsend (Relient K, House of Heroes, Stephanie Smith) working on their debut release, tentatively called "Love is a Legend EP", slated to be released later this year.
"Neither one of us wanted to give up on our musical dream. But it looks different now. Fame and riches and notoriety are fleeting, but like we say in our song (the EP title track) 'Love is a Legend you can't undo.' That is the legacy we want to leave" says Stephanie.
Copperlily is currently booking shows for 2014, show inquiries can be emailed to copperlilymusic[at]gmail.com
###
For more info on House of Heroes visit the JFH Artists Database.
For more info on Stephanie Smith [Skipper] visit the JFH Artists Database.