PFR Cancels Kickstarter Plans, Officially Retires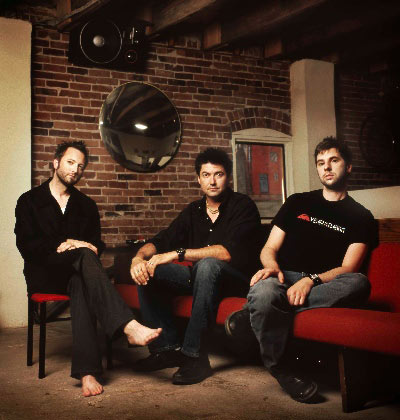 NEWS SOURCE: Jesusfreakhideout.com / PFR
October 16, 2013
To many fans' surprise, 90s pop rock trio PFR had recently announced plans to launch a Kickstarter campaign this week to raise funds for a brand new album (and even periodically posted countdown videos as reminders). The band celebrated 20 years since their debut, Pray For Rain, last year and have been doing spot dates and online StageIt shows in recent months (even releasing a new live album at the end of last year). Unfortunately, with the Kickstarter campaign just a day or two away from launching, frontman Joel Hanson has announced the end of the band in the wake of some members' personal issues.
The band announced today on Facebook:
"Well friends,

This week was supposed to be the launch of a new season for PFR with our Kickstarter campaign and new music to follow. We had some technical glitches that were slowing the process from starting. But in the last couple of days some personal things for one of our members have come to light that are hard and need attention far more than our band does. It's with sadness that I have to say that PFR really is coming to an end.

Please know that we are all supremely grateful for the decades of support and encouragement from so many of you. Your kind words to us about the impact we've had in your lives is such a gift. God holds what's next for each of us and I am confident that He can bring repair, restoration, and real healing. Please pray for our families. When difficult things come along it effects all of us. We've been more than a band to each other. We've been friends for over 25 years. The loss is significant and will take some time to heal. God is not done with each of us. And for that I am truly grateful.

I know some of you will want details. But please let that go. God knows and that, for now, is enough. Thanks again for being with and for us.

Joel"
Please keep the guys in your prayers. And if you've never taken the opportunity to check out the band's work, please do so. PFR will be remembered quite fondly and we wish them well!
For more info on PFR visit the JFH Artists Database.