Premier Vacation and Events Invite Teen Girls and Their Moms to Warm Up Their Winter on the First Annual Girls of Grace Cruise
Royal Caribbean's Liberty of the Seas will Take Passengers from Ft. Lauderdale to Tropical Cozumel, Mexico January 22-26, 2015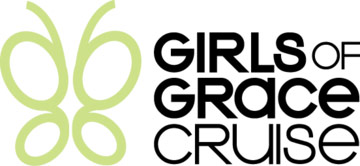 NEWS SOURCE: The M Collective
November 12, 2013
Nashville, Tenn. (November 12, 2013) - Premier Vacations and Events is inviting teen girls and their moms to warm up their winter and take the "girl trip of a lifetime" as they journey on the First Annual Girls of Grace Cruise via Royal Caribbean's Liberty of the Seas January 22-26, 2015 to tropical Cozumel, Mexico.
Embarking from Ft. Lauderdale, Fla., the four night cruise on Royal Caribbean's Liberty of the Seas (one of the world's largest ships) will provide opportunities for passengers to make lasting memories as they set sail with their favorite Girls of Grace artists and speakers including Point of Grace and popular speakers Annie Downs and Chris Wheeler.
In addition to concerts, motivational speaking, breakout sessions and more, the ship provides amazing recreational opportunities including a rock climbing wall, FlowRider surf simulator, ice skating rink, six whirlpools, Broadway musicals and more.
"Start the year off right and join us in the perfect setting to unplug from the craziness of your everyday life with fantastic food, teaching, music and lots of fun adventures under the sun in Mexico," Point of Grace enthusiastically encourages their fans. "It will be an experience of a lifetime and we can't wait to set sail with you and your loved ones!"
Tickets for the cruise are on sale NOW and can be purchased, along with more information by visiting www.girlsofgracecruise.com.
About Girls of Grace:
The 11th season of Girls of Grace teaches teen girls (6-12th grade), their Moms and Leaders how to live freely, love fiercely and lead fearlessly as a Girl of Grace through a high-impact all-day event featuring your favorite artists, speaking, worship and interactive sessions. This is the perfect experience for teens, moms and their leaders to empower and equip themselves with the tools they need to become Christ followers who have a lasting impact on their generation. This year's conference include performances by Britt Nicole, Jamie Grace, Francesca Battistelli, Royal Tailor, Jason Castro, Dara Maclean, Capital Kings, and many more and renowned speakers Annie Downs, Chris Wheeler, Bianca Olthoff, Emily Freeman and Ketric Newell.
Founded by Point of Grace in 2002, Girls of Grace grew out of their desire to bring teen girls together to talk about issues that affect them, and share that a relationship with Christ is the true source for peace and assurance in their lives. "At times girls feel like they are the only ones who struggle with certain issues," says Denise Jones of Point of Grace. "With a Girls of Grace conference it gives them the opportunity to come together in a large group and realize that we all have our own struggles, and yet, we are in this together."
About Premier: (www.premier-experience.com)
What began as a small crest has turned into a spiritual tidal wave for Premier. Since 1996, Premier Productions has been promoting the best, brightest and newest artists in the industry. It only made sense that in 2003, they would begin promoting the best idea in family vacations - a Christian music cruise.
Bringing onboard top artists in the industry that Premier already had promoted on stages across the nation, Premier co-owners Roy Morgan and Gary Gentry already knew the bands, the music and the ministry. Longtime friend John Sanders, a band member with Brother's Keeper, had a brainstorm that would launch Premier into a new venture, Premier Christian Cruises (now Premier Vacations and Events).
"We saw a huge niche for family vacations that were clean and wholesome and something more than a week away from home," said Morgan. "People wanted a way to recharge their spiritual batteries and spend much-needed time with their families."
Starting with the annual K-LOVE Friends & Family Music Cruise, PCC added The Duck Commander Cruise with the cast of A&E's Duck Dynasty, The Music Boat and The Girls Get-A-Way Cruise to their exciting lineup of Christian cruises. Bringing some of the best known and loved contemporary Christian artists onboard, along with great national and international speakers, a smattering of renowned comedians and a backdrop of exotic locations from Cancun, Mexico to The Bahamas, PCC has found the right recipe for spiritual journeys of a lifetime. It's more than a cruise. It's a life-changing, boat-rocking experience that brings people closer to their Creator. Spiritual batteries are recharged. New directions are taken and lives are never the same after a Premier Christian Cruise.
"We continually look for artists who believe in us and we believe in them," said co-owner Roy Morgan. "In addition, we are looking to expand Premier Christian Cruises by creating even more unique vacation experiences on the water."
###
For more info on Point of Grace visit the JFH Artists Database.