NEW START-UP LABEL 984 RECORDS SET TO MAKE A DIFFERENCE
984 Records is an exciting new music ministry that hopes to bring something different to Christian Music.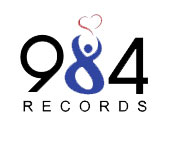 NEWS SOURCE: 984 Records
December 1, 2013
ANGOLA, NY - 984 Records is a brand-new Christian record label with a simple mission: to provide positive, exciting music that makes a difference in the world.
Founder Kevin Donovan says, "This will never be about money. We want to help people through music. We feel that, if we align ourselves with artists with similar hearts, who create music with true purpose, we will be able to help a lot of people."
The label's first release is a compilation of 11 artists, from three different countries, all of whom share the label's vision. "Our hope is that, with this initial release, we can give Christian music fans an idea of where are hearts are with our music," says Donovan. The release, entitled Heart.Truth.Purpose., will be available online and at Christian music festivals this summer. It features a former Hillsong writer as well as two tracks from the label's first artist, Lights of Day.
Lights of Day is a Christian artist based out of central Ohio. Imagine the sounds of your favorite chart-topping, mainstream pop artists fusing together with modern worship acts like Hillsong United, Chris Tomlin and David Crowder - The music is tailored for a dance club; the lyrics are tailored for a sanctuary. "Lights of Day completely aligns with what our label is trying to accomplish, and he's giving our younger generations more than just a positive alternative to mainstream popů He's piercing mainstream pop music with worship anthems that boldly proclaim the gospel of Jesus Christ," says Donovan. While sex, drugs, and all things depraved run rampant through mainstream
Top 40 radio, Lights of Day offers Jesus. Currently, Lights of Day is in the studio putting the finishing touches on the final track of their 984 Records debut, which happens to feature Matt Weir, drummer for the well-known Irish worship band Bluetree (God of This City).
With two more scheduled releases, as well as a search for an additional artist, 984 Records is looking at a very busy 2014. Interested artists are encouraged to submit their music using the labels' website - and they can do so with confidence, as 984 is committed to listening to every demo received. They just ask that you read the mission statement first, as it will be in the forefront of every decision the label makes. "We are very selective about the artists with whom we partner. We have to love them as people as much as we do their music. Music is important, but at the end of the day, people are more important to us," says Donovan.
# # #
984 Records is an independent Christian record label based in Angola, NY. It is operated with the soul purpose to make a difference in the world.
Currently Lights of Day is in Cambodia with Bluetree leading worship and helping to create awareness and shedding light on the awful reality of human sex trafficking.
www.984records.com
www.hearttruthpurpose.com
Follow on Twitter: www.twitter.com/984recordings
Like on Facebook: www.facebook.com/984records
Listen to Music: www.soundcloud.com/984records