GIVE THE 'GIFT OF HOPE' THIS CHIRSTMAS
In Celebrating 10 years of orphan care, Show Hope challenges supporters to give the 'Gift of Hope' with annual initiative that continues to impact thousands of lives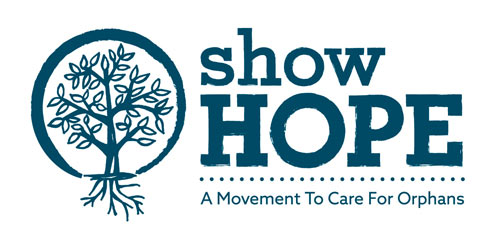 NEWS SOURCE: Rogers & Cowan
December 9, 2013
(Nashville, Tenn.) December 9, 2013-Show Hope™, a nonprofit orphan care ministry founded by GRAMMY® award-winning Steven Curtis Chapman and his wife Mary Beth, is honored to celebrate this joyous Christmas season with the "Gift of Hope" campaign. With the campaign, Show Hope™ is encouraging families, sponsors, supporters, and others to do something different for Christmas - to end the year by giving a life-changing gift that will impact the lives of children all over the world. To promote this initiative, Show Hope is launching a video on its blog so audiences can see firsthand the difference they're making in the lives of others: http://showhope.org/christmas.
By investing in the "Gift of Hope" campaign, hundreds of waiting children will embrace their forever families. Giving will also restore hope to orphans in distress through a Show Hope adoption grant. Other gifts will provide urgent medical care through Show Hope's Special Care Centers in China by meeting other immediate needs including food, shelter, surgeries or even diapers.
"A 'Gift of Hope' can help to lead a vulnerable child into the safety, nurture, and love of a forever family - a family who will teach them why we joyously celebrate this season of Christmas," says Executive Director Scott Hasenbalg.
Show Hope's Gifts of Hope Gift Catalog is packed with great ideas. And, when the holidays are over, these contributions will still be changing lives around the world…because hope is one gift that never loses its worth.
In related endeavors, Show Hope introduced the #BrownBag4Hope social media campaign in the fall, in order to gain 10,000 sponsors to help 10,000 orphans over the next 10 years. This revolutionary social media campaign is designed to bring awareness to Show Hope's 10-year anniversary 10,000 Campaign. As part of the campaign, Show Hope is encouraging individuals to take their own lunch to work or school each week, tweet photos of their brown bag lunches by tagging #BrownBag4Hope, and become monthly Show Hope sponsors with the cost savings. Many supporters have been donating $35 per month or more by forgoing buying lunch each week. Since the campaign's launch, Show Hope has gained more than 6,000 sponsors and reached over 7 million people, receiving an overwhelming response from supporters and celebrities including Hilary Scott (Lady Antebellum), Mary Sarah, Michael W. Smith, Josh Devine (One Direction) and Sportscaster Ernie Johnson, among others. There is still a need for about 3,500 sponsors in order to reach the 10,000-sponsor goal.
"It's encouraging to see so many people eager to get involved and learn about the growing needs of orphans." Hasenbalg says. "While we have been able to help restore the hope of a family to thousands of orphans in distress all around the world, there are still so many children waiting and so many we could help if we had more sponsors."
Each year, thousands of families who wish to give an orphan a loving home are unable to do so due to the costs involved in the adoption process. Approximately 1,000 families apply annually to Show Hope for adoption assistance. These families are willing to welcome a child into their home, but they are unable to afford the high cost, which averages from $25,000 to $45,000 per adoption. Show Hope Adoption Aid grants have made it possible for more than 4,000 children to come into forever families through adoption.
In addition, Show Hope also helps provide medical care to orphans with special needs through their Special Care Centers. Sponsors help support the care these children receive, and to date more than 1,000 orphans with special needs have received life-giving care through these centers.
In celebrating 10 years of orphan care, Show Hope has helped transform the lives of thousands of orphans. With endeavors like these, the organization hopes even more people will recognize the importance of providing a loving and caring family for orphans throughout the world who are still in need of a home.
The "Gift of Hope" campaign will launch on the heels of the overwhelmingly successful "Glorious Unfolding Tour," where Steven Curtis Chapman, Laura Story and Jason Gray ministered to 36 cities in less than two months. Throughout the tour, with 17 sold-out shows, over 1,200 new sponsors signed up, which will help every month another 10 more waiting children find their forever families. Furthermore, seeds were planted for more families to consider building their family through adoption.
About Show Hope
Show Hope™, a nonprofit founded in 2003 by Steven Curtis Chapman and his wife Mary Beth, helps to restore the hope of a family to orphans around the world. From the thousands of adoption aid grants given, to providing medical care for more than one thousand orphans with special needs, to consecutive Red Bus Project tours in the spring and fall, to hands-on trips offered to China and Haiti, to conferences and resources the equip foster and adoptive families, to a new artists and advocates program, Show Hope celebrates an incredible ten years in ministry in 2013 and looks ahead to an even brighter future. For more information, visit www.showhope.org.
###
For more info on Steven Curtis Chapman visit the JFH Artists Database.