Sandi Patty Preps for Big Year in 2014
Album, Everlasting, releases in CBA Markets, Celebrates 30th Anniversary of "More Than Wonderful" on Caribbean Cruise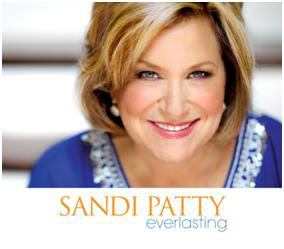 NEWS SOURCE: Big Machine Media
January 29, 2014
(New York, NY - January 29, 2014) - Known as "The Voice" it's no wonder Sandi Patty's album, Everlasting, which hit Target Stores exclusively last September, soared to the Number 1 spot on the LifeScape Charts. Today, the album will be released into the CBA Markets at Lifeway, Family Christian, and Parable Stores. The Grammy Award-winning artist is also excited to announce the 30th anniversary of her popular song with Larnelle Harris, "More Than Wonderful." The duo will be celebrating with a brand new recording of the song. The celebrations will continue as Sandi Patty invites all to join her, Larnelle Harris, Selah, Sheila Walsh and many others on a Caribbean Cruise from February 23 - March 2.
2013 was a fantastic year for Sandi Patty. With the release of her new album and touring to new cities, she couldn't have felt more blessed when she was inducted into the Oklahoma City Music Hall of Fame. Patty also gave another ever-famous performance of the Star Spangled Banner at the 97th Indy 500, and hosted and starred in "Yuletide Celebration with the Indianapolis Symphony Orchestra" for the sixth time.
It was the best year in Yuletide History thus far, setting record attendance. Later this year, Sandi Patty will be touring all over the world for her Everlasting Tour sponsored by Water4.
For more information and to secure a spot on the cruise, please visit:
www.inspirationcruises.com/SPC or call 855-700-4966
For more information and to stay up to date with Sandi Patty, please visit:
www.Sandipatty.com
www.facebook.com/Sandi.Patty.Music
www.twitter.com/SandiPattyP
www.youtube.com/user/sandipattymusic