LEGENDARY VOCALISTS JOHN SCHLITT OF PETRA AND
JOHN ELEFANTE OF KANSAS ANNOUNCE JOINT TOUR
Voices of Rock Scheduling Underway for Late 2014 Dates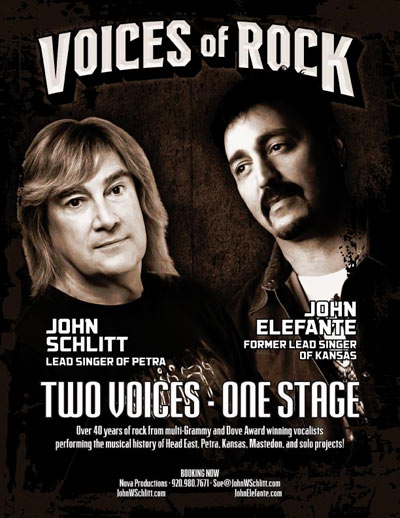 NEWS SOURCE: McCain & Co. PR
March 20, 2014
NASHVILLE, Tenn. (March 20, 2014) - Grammy and Dove Award-winning vocalists John Schlitt and John Elefante have announced a tour in late 2014 that will bring together the two legendary singers for a one-of-a-kind music experience.
The tour, titled Voices of Rock, features Schlitt, lead singer of Petra and former lead singer with Head East, and Elefante, who is known for his work with Kansas, as well as Mastedon.
"John's career and my career cover many facets of music, in both the mainstream and Christian arenas. With the history of Kansas, Mastedon, Petra, Head East and our own solo projects, we can cover many subjects through a Christian perspective," Schlitt says.
"By diving into these histories--both musically and spiritually--our concerts will not only be enjoyable and entertaining, but a valuable teaching tool as well," says Schlitt. "It's always a privilege to share the stage with an A-class artist--and John Elefante certainly is one of them."
Elefante, along with his brother Dino, has worked with Schlitt for several decades, primarily as producer for a number of Petra albums. The Elefantes have produced or been involved with 11 of Petra's 27 album releases, including three Grammy winners and multiple Grammy nominees, two RIAA Certified Gold records, and nine Dove Award-winning projects.The upcoming tour, however, will mark the first time the John Schlitt and John Elefante will share a stage.
"John and I have a long and productive history together with Petra, but now we're teaming up as vocalists on the same stage," Elefante says. "You'll hear our own history of rock, with songs from Kansas, Head East, Petra, and our current solo music. It's a new adventure that I'm really looking forward to."
For booking information, contact Nova Productions at sue[at]johnwschlitt.com or call 920.980.7671.
For more information about Schlitt, visit johnwschlitt.com. For more information about Elefante, visit johnelefante.com.
About John Schlitt:
For more than three decades, John Schlitt has enjoyed a stellar musical career as a solo artist, as the lead singer for Grammy Award-winning Christian band Petra, one of the most successful Christian rock bands of all time, and as the former lead singer for popular '70s mainstream rock band Head East. He has been inducted into the Gospel Music Hall of Fame as the lead singer of Petra during the years when the band won 10 Dove Awards and four Grammy Awards.
Schlitt was named the best rock singer in Christian music history by gospelmusicchannel.com. According to the website, Schlitt "remains one of the most distinctive and impactful men to ever stand behind a microphone." Schlitt was also named Male Vocalist of the Year in About.com's 2011 Readers' Poll in a category that included Chris Tomlin, Jeremy Camp, Brandon Heath and Bebo Norman.
Since Schlitt released his fourth solo CD, The Greater Cause, in May 2012, the legendary vocalist's busy schedule has included appearances on The Mike Huckabee Show, 700 Club Interactive and the Faith & Freedom Celebration--the faith-based kick-off to the Republican National Convention, as well as extensive international touring. Schlitt released his first recorded project of Christmas music this past November with the digital release of The Christmas Project.
For more information on Schlitt visit johnwschlitt.com or follow him on Twitter (@johnwschlitt) or Facebook (facebook.com/johnwschlitt).
For more info on John Schlitt visit the JFH Artists Database.