Central South Distribution and Tillymann Music Debut 'Gospel Independent Greats (GIG) Vol. 1' on April 1
GIG Vol. 1 Includes Tracks By Tamela Mann, LeCrae, Isaac Carree, Wess Morgan, John P. Kee and More

CD Supports The Gospel Music Trust Fund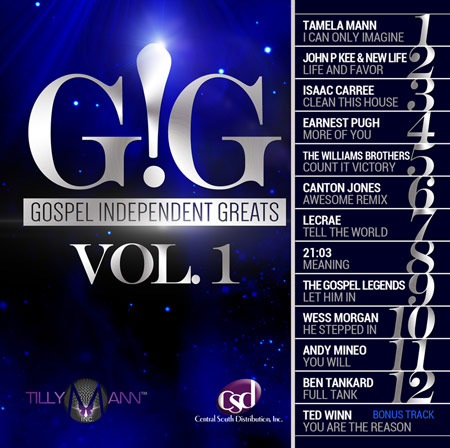 NEWS SOURCE: TKO Marketing
March 27, 2014
NASHVILLE, Tenn. (March 27, 2014) - Central South Distribution (CSD) announces the launch of 'Gospel Independent Greats (GIG) Vol. 1' released in partnership with Tillymann Music on April 1. Available at retailers such as Wal-Mart, Best Buy and iTunes, the CD compilation features 12 of the most celebrated Gospel independent artists and their hottest, chart-topping tracks. A portion of the proceeds from 'GIG' will go to support the Gospel Music Trust Fund.
"The 'GIG' record is a way to make more people aware of a great cause and to showcase the strength of the independent Gospel artist community," said Vicki Lataillade, CSD chief marketing officer. "The artists on this project are excited to do something benevolent and help provide assistance to someone in time of need. Independent labels are a powerful force in the music industry today, and with this release, we are able to meet the spiritual needs and physical needs of those in Gospel music."
The first CD to launch the Gospel Independent Greats brand is 'GIG Vol. 1,' which features a selection of independent Gospel artists. CSD will partner with one of their independent labels annually to release the compilation, which will showcase different artists each year. Tamela and David Mann's Tillymann Music is this year's label home for the debut 'GIG' release.
"Tillymann Music is honored to partner with CSD to release 'GIG Vol. 1' and help launch a brand that supports independent artists and labels in the Gospel music industry," said David and Tamela Mann, presidents of Tillymann Entertainment. "We are happy to help support the Gospel Music Trust Fund and hope Gospel music fans will rally around this release to help fund a worthy cause."
The 'GIG Vol. 1' line-up includes Tamela Mann, LeCrae, Isaac Carree, Wess Morgan, John P. Kee, and more. It includes an all-new bonus track, "You Are The Reason," by Ted Winn. The single ships to radio this week. Executive producers include Greg Davidson, David Mann and Lataillade.
'Gospel Independent Greats Vol. 1' track listing:
1. "I Can Only Imagine" | Tamela Mann
2. "Life and Favor" | John P. Kee & New Life featuring Lejuene Thompson, James Fortune, Isaac Carree
3. "Clean This House" | Isaac Carree
4. "More of You" | Earnest Pugh
5. "Count It Victory" | The Williams Brothers
6. "Awesome Remix" | Canton Jones featuring Pastor Charles Jenkins, Isaac Carree, Jessica Reedy, Da Truth
7. "Tell the World" | LeCrae featuring Mali Music
8. "Meaning" | 21:03
9. "Let Him In" | The Gospel Legends
10. "He Stepped In" | Wess Morgan featuring Jason Crabb
11. "You Will" | Andy Mineo
12. "Full Tank" | Ben Tankard featuring Gerald Albright
Bonus Track: "You Are the Reason" | Ted Winn
About The Gospel Music Trust Fund:
The Trust Fund was founded in 1983 by the late Herman Harper former member of the Oak Ridge Boys and President of The Harper Agency, a major booking agency for gospel artists. It exists to provide financial assistance, in the event of an emergency or major catastrophe, terminal or severe illness, to individuals who have derived a substantial portion of their income from the field of Gospel music.The Gospel Music Trust Fund was developed through generous donations and fundraising activities by numerous Gospel music artists, songwriters and musicians, major music companies and publishers, and caring fans. The Trust Fund has distributed hundreds of thousands of dollars to artists, writers, musicians and business professionals in need from all genres of Gospel music. For more information, visit http://www.gospelmusictrustfund.org/.
About Tillymann Entertainment:
Music, film, and television conglomerate Tillymann Entertainment is the home of NAACP Image Award-winning actor and comedian David Mann (Meet the Browns, Madea's Big Happy Family, Ultimate Life) and Grammy ® Award-nominated and NAACP Image Award-winning recording artist and actress Tamela Mann (Take Me To The King, Sparkle, Meet the Browns.) Owned and operated by David and Tamela Mann, Tillymann Entertainment includes ventures in television and film development, touring, and music. Tillymann Music is the independent record label division with record releases from Tamela including "The Master Plan," "The Master Plan Special Edition," "Best Days," and "Best Days Deluxe Edition" and David's "Mr. Brown's Good Ol' Time Church." For more information on Tillymann Entertainment and for full bios and career credits, visit www.TillymannMusic.com.
About Central South Distribution:
Central South Distribution, Inc.'s mission is to nurture and cultivate God's message through the growth of Christian music. CSD has been servicing the Gospel and Christian community for nearly four decades and takes pride in being the #1 Independent Gospel Distributor, and the World's Largest Distributor of Gospel Music. They distribute Gospel Music to all of the top Gospel, CBA and Mainstream Accounts including, other distributors, chain stores and independent retailers.
###
For more info on Andy Mineo visit the JFH Artists Database.