PEPSI WINS BIG AS EXCLUSIVE SPONSOR OF 2014 K-LOVE FAN AWARDS
Company Introduces Its Own Awards Category, Unveils Artists for Fall Can Promotion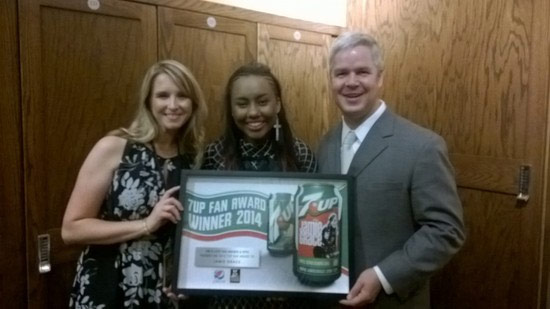 CAPTION: Jamie Grace receives K-LOVE Fan Award presented by Pepsi MidAmerica during the second annual K-LOVE Fan Awards held Sunday night at the Grand Ole Opry theater in Nashville, Tenn. Pictured (l-r) are Stacie Crisp, Jamie Grace, and Pepsi MidAmerica President, Lee Crisp.
NEWS SOURCE: Savvy Media
June 3, 2014
(NASHVILLE, Tenn.) June 3, 2014-Pepsi was among the biggest winners Sunday night at the 2014 K-LOVE Fan Awards, held inside Nashville's famed Grand Ole Opry theater. As exclusive sponsor of this year's program, Pepsi received top positioning, including its very own awards category, and revealed artists selected for the 2014 Pepsi MidAmerica Artist Can Series at a pre-awards event.
Committed to upholding the values of its mid-American customers, Pepsi has championed the awards show for two years running. As the 2014 event sponsor, Pepsi introduced a new awards category, voted on by fans. Nominees included Hillsong Young & Free, Jamie Grace, Sidewalk Prophets and Tenth Avenue North. The winner, Jamie Grace, will appear on four million 7UP cans throughout the Midwest beginning in September. "My fans blew me away with their #VoteForJamieGrace posts on social media, and I wouldn't have won without them," says Grace. "It's truly an honor to be on a 7UP can, and my family and I are already planning to have something like a 7UP room at home."
Due to popular demand, Pepsi also reprised its Pepsi MidAmerica Artist Can Series, which launched in partnership with K-LOVE Radio Network at last year's K-LOVE Fan Awards. Announced at the K-LOVE Fan Awards weekend kick-off concert Friday night, artists to appear as part of the 2014 promotion are for KING & COUNTRY (Pepsi*), Josh Wilson (Diet Pepsi*), Britt Nicole (Mountain Dew*) and Casting Crowns (Dr. Pepper*). Pepsi MidAmerica will distribute 25 million of these special edition cans starting this fall. Additionally, consumers will be able to download a free song by the artist pictured on their can.
Joel Smallbone of for KING & COUNTRY comments, "What an excellent way to spread the message of hope in schools, petrol stations, groceries stores and more across America. Our truest gratitude to our friends at Pepsi MidAmerica for placing us on Pepsi cans coming this fall."
"Pepsi MidAmerica is honored to partner with K-LOVE to reveal our 2nd Annual Artist Can Series," says Pepsi MidAmerica President Lee Crisp. "After receiving a great response last year, I am thrilled to once again share these unique artists with our consumers. I look forward to the impact these cans and the message they carry will have in the market." To view a complete list of this year's KLOVE Fan Awards winner, visit: http://kfa.cta.gs/0br.
About Pepsi MidAmerica
Pepsi MidAmerica (PMA), located in Marion, Illinois, is proud to distribute quality beverages in portions of Illinois, Missouri, Arkansas, Kentucky and Tennessee. With continued innovation and dedicated staff, PMA has grown to be the largest individually owned Pepsi Bottler in the US. For more information about PMA, visit www.pepsimidamerica.com.
For more info on for KING & COUNTRY visit the JFH Artists Database.
For more info on Josh Wilson visit the JFH Artists Database.
For more info on Britt Nicole visit the JFH Artists Database.
For more info on Casting Crowns visit the JFH Artists Database.
For more info on Jamie Grace visit the JFH Artists Database.