COLONY HOUSE Premieres
Video for New Single "Waiting For My Time To Come"
Debut Album When I Was Younger out
July 22nd, Available Now for Pre-Order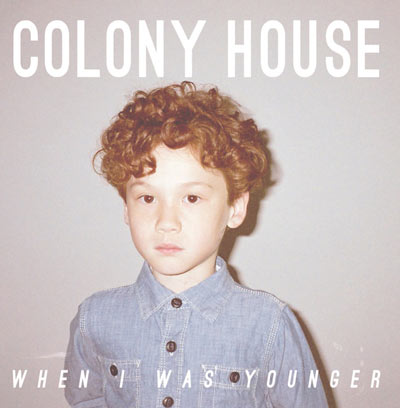 NEWS SOURCE: Missing Piece
July 1, 2014
Nashville indie-rock trio Colony House (formerly known as Caleb) will release their debut album When I Was Younger on July 22 via Descendant Records (The Lone Bellow). Yesterday, they premiered their live in-studio video for the new album single "Waiting For My Time To Come" with Paste Magazine, WATCH HERE.
Lead singer Caleb Chapman says the video is about "capturing a good old fashioned sing along while with all our buddies who have supported us. The ones we love play such a big part in everything we do so it was only right have them be a part of this video."
Last week, UpRoxx also premiered a new track off the album, titled "Second Guessing Games." The album's first single "Silhouettes" first debuted on A.V. Club. The official music video for the single was also featured as a First Watch on NPR Music's All Songs Considered, a special van jam video premiered on Baeble, and a live in-studio performance video premiered on Conan O'Brien's TeamCoco where it was called an "infectious track."
After kicking off the first leg of their U.S. tour in New York, St. Louis, Indianapolis, San Francisco, Los Angeles, and San Diego, the band continues on with performances Nashville, Minneapolis, and Chicago among others.
When I Was Younger is now available for pre-order on iTunes and Amazon and includes "Silhouettes" and "Second Guessing Games" as instant grat for those who purchase.


"Silhouettes" Video
Stream "Silhouettes" using this link: http://bit.ly/Qv3ES3
Stream "Second Guessing Games" using this link: http://bit.ly/1nX56WK
When I Was Younger Track Listing:
1. Silhouettes
2. Second Guessing Games
3. When I Was Younger
4. Caught Me By Surprise
5. Roll With The Punches
6. Keep On Keeping On
7. Waiting For My Time To Come
8. 2:20
9. Learning How To Love
10. Won't Give U
11. Moving Forward
12. Glorious
13. I Had To Grow Up
14. Lose Control
Colony House Summer Tour
7/6 Nashville, TN @ 3rd and Lindsley w/ Bad Suns
7/7 Kansas City, KS @ The Riot Room w/ Bad Suns
7/9 Minneapolis, MN @ 7th St. Entry w/ Bad Suns
7/10 Chicago, IL @ Schubas w/ Bad Suns
7/11 Evanston, IL @ Space w/ Ivan & Alyosha
www.colonyhousemusic.com
www.Facebook.com/ColonyHouseMusic
Twitter - @ColonyHouseBand
Instagram - @ColonyHouseBand
# # #