Stu G, Co-Founder of Delirious?, Signs Exclusive
Publishing Contract With Integrity Music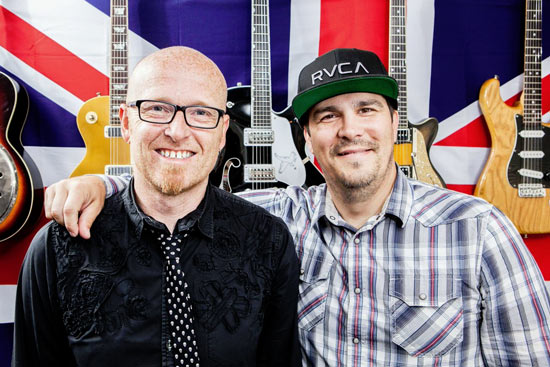 Stu G (left) with Mike Murray, Creative Director for
Integrity Music Publishing (right).
NEWS SOURCE: Integrity Music
August 22, 2014
Integrity Music Publishing welcomes Stu G (Stuart Garrard), a member of One Sonic Society and co-founder of the groundbreaking modern worship band Delirious?, as an exclusive songwriter.
Integrity Music is the worship music publishing home to artists and ministries including: All Sons & Daughters, New Life Worship, Planetshakers, Covenant Worship, Dustin Smith, Lincoln Brewster, GRAMMY Award winner Israel Houghton, and Dove Award winning and nominated writers Paul Baloche, Jennie Lee Riddle, Jared Anderson and Michael Farren.
"We are honored to represent Stu G's songs and creativity in this new season," said Craig Dunnagan, Integrity's Vice President of Music Publishing and Ministry Alliances. "There is no way to sufficiently describe the influence Stu's songs, musicianship and ministry have had on the formation of what we now refer to as 'Modern Worship.' He continues to inspire others and create amazing songs through his collaborative efforts with many great artists and songwriters across our industry."
A gifted songwriter, guitarist, producer and performer, Stu G is currently on tour with Michael W. Smith and has toured with Paul Baloche, Chris Tomlin, Steven Curtis Chapman and Casting Crowns in addition to his own touring with One Sonic Society. He also appears and writes on the new critically acclaimed, self-titled All Sons & Daughters album. His song credits include: "Majesty (Delirious?), "Rain Down" (Delirious?), "The Greatness Of Our God (Natalie Grant/One Sonic Society), "King of Glory [You Restore My Soul] (All Sons & Daughters) and "Open Up The Heavens," a song co-written with Meredith Andrews and nominated for a 2014 GMA Dove Award for Worship Song of the Year.
As a young musician and worship leader, Stu played in his own bands and for trailblazing artists like Noel Richards and Kevin Prosch before meeting Martin Smith. Together, Stu and Martin began talking about a new sound of worship for a new crowd of people, a sound that would become Delirious?. The seventeen years that followed the birth of the band not only defined the lives of the musicians involved but left deep imprints on what people now understand as church music.
Now based with his family in Nashville, Tennessee, Stu sees his relationship with Integrity as the next chapter in a winding road.
"I'm thrilled to be a part of the Integrity team and excited to reconnect with friends and colleagues around the world who little by little and song by song are making a difference." Integrity Music is part of the David C Cook family, a nonprofit glo bal resource provider serving the Church with life- transforming materials. Headquartered in Colorado Springs, Colo rado, Integrity is committed to taking songs of substance to the local church and its leaders around the world. Integrity currently controls over 7,000 songs, including the No. 1 radio hit "We Believe" (Newsboys) as well as church standards "Revelat ion Song," "Open The Eyes Of My Heart," "Your Great Name" and "I Am Free." Additional information can be found at www.integritymusic.com
- ### -
For more info on Delirious? visit the JFH Artists Database.
For more info on One Sonic Society visit the JFH Artists Database.