Chris Rice (Quietly) Celebrates 20 Years Of Music By Re-Releasing Debut Indie EP
NEWS SOURCE: Jesusfreakhideout.com
December 11, 2014
One question that we get asked every couple of months is the honesty puzzling, "Where is Chris Rice?" The singer/songwriter was loved by many during his days releasing albums with Michael W. Smith's own record label, Rocketown Records. However, rather suddenly, Rice seemed to just completely vanish. He had no online presence--his official website stopped being updated--and he stopped touring. So legitimately so, his fans were wondering, where is Chris Rice?
With little buzz or fanfare, Rice has re-released his debut 1994 indie album Live By Faith through ChrisRice.com this summer, shaving three songs off of it to make it an EP. The EP (which is missing indie versions of "Live By Faith," "Cartoons" and "My Tree") is only available as a download, and each song can only be purchased individually à la carte. According to the site, "This is the FIRST PUBLIC RELEASE of Chris Rice's indie EP "Live By Faith" recorded way back in 1994! These 7 songs pre-date Chris's signed recording artist career, so this CD was only available to kids at youth camps and college retreats where he played music around the country back in the 1990's."
While there's little info about what Chris has been up to or what's next, the site does reveal that Rice has delved into the world of painting, and part of his site is dedicated to it, including an Art Shop where fans can purchase his work (although, at this time, only one piece remains available).
Chris's bio page's latest info about him playfully reads: More recently, he has quietly slipped out of public view, retreated into a sweet neighborhood in Tennessee with too many awesome coffee shops, developed calluses on his hands from his rock climbing addiction, and every now and then he shows up as co-writer on some of his friends' songs. He recently started dabbling in painting at the invitation of some of his local artist friends (to participate in a very successful art show back in April, 2014). Following the show, he has continued to paint frequently and offer his works for sale in his online art shop. That's all we know for now. We can't get this Rice guy to talk much. Silly introvert."
For the very latest from Chris, follow him on Twitter and Facebook!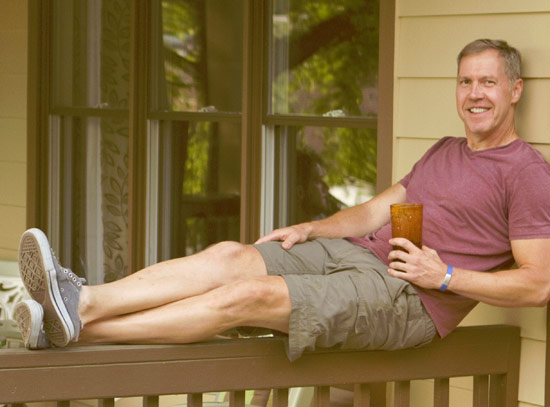 - ### -
For more info on Chris Rice visit the JFH Artists Database.