HAWK NELSON ANNOUNCES THE MARCH 17TH RELEASE OF THEIR NEW STUDIO ALBUM - DIAMONDS - ON FAIR TRADE SERVICES
NEW SINGLE "DROPS IN THE OCEAN" QUICKLY MOVING UP BILLBOARD RADIO CHARTS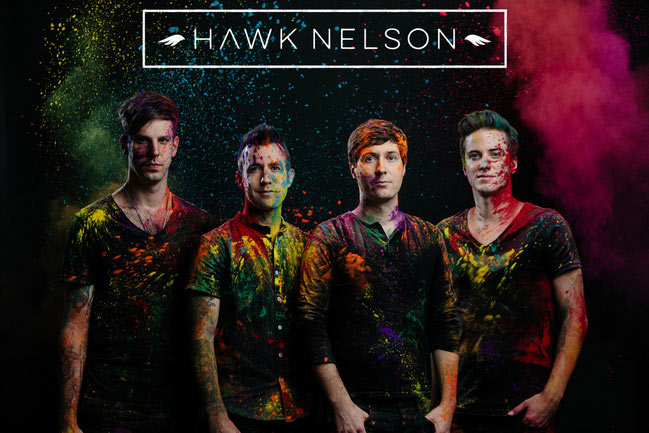 L to R: David Niacaris, Jon Steingard, Daniel Biro, Micah Kuiper PHOTO CREDIT: David Molnar
NEWS SOURCE: Merge PR
January 22, 2015
NASHVILLE, TENN. - January 22, 2015 - Hawk Nelson has announced the release of their seventh studio album titled Diamonds, which will release March 17th on Fair Trade Services. This will be the band's second album released with the label and with frontman Jon Steingard. The band will also introduce the lineup with guitarist Micah Kuiper and drummer David Niacaris along with founding member and bassist Daniel Biro.
The debut single, "Drops In The Ocean," from the forthcoming album is rapidly climbing the radio charts, hitting the Billboard Christian NCA chart at No. 21 and the Hot AC/CHR at No. 10 in just a few weeks. The song has also been added by more than 50 radio stations and national networks including KLOVE, Air1, SiriusXM, WAY FM and KSBJ (Houston). The song is available now on all digital platforms to download such as on iTunes and Amazon. Click below to watch the lyric video for the new song, which received over 75k views within its first week. Another song from the album, "Just Getting Started, " gained momentum as it was used in promotion for American Idol during the 2014 World Series.
"The past few years have been a crazy ride for us Hawk boys," shares frontman Jon Steingard. "Lots of change, lots of amazing blessings, and also quite a few challenges. This album was forged in the fire of some of those trials. It's those times of pressure that God uses to shape us into something more beautiful. Diamonds sums up this truth we have found, that God is FOR US, He is not against us, and that we have the freedom to JOYFULLY walk in the love, grace, and mercy He has freely given us!"
"It's hard to imagine that just a few short years ago, we in Hawk Nelson were questioning if it was time to throw in the towel or to advance in a whole new direction," states bassist and original founding member Daniel Biro. "We were looking for hope. Encouraged by fellow artists in the industry, Made was a big first step. And after 'Words' helped to crack the door open again, it's Diamonds that really delivers in a big, new way. I'm just so proud of Jon and the guys. It's a great sounding record full of huge, catchy and singable songs. And remember, we're just getting started."
In 2013, Hawk Nelson released Made, their first album with Steingard as lead vocalist. Made debuted at No. 2 on the iTunes Christian & Gospel chart as well as in the Top 100 overall albums. Their radio single "Words" went No. 1 at Billboard's Christian Hot AC/CHR and remained in the Top 10 for 22 weeks. It also charted in the top 5 of both AC and National Christian Audience charts for multiple weeks.
The band will be heading out on a Compassion International tour co-headlined with The Afters this spring.
ABOUT HAWK NELSON: This powerhouse, pop rock band has won the hearts of thousands since its debut release in 2004. Hawk Nelson has released six studio projects (Letters to the President, Smile It's the End of the World, Hawk Nelson is My Friend, Live Life Loud, Crazy Love, and Made). Hawk Nelson has been awarded two Canadian GMA awards, multiple GMA Dove Award nominations as well as a JUNO nomination. The band's music has been featured on NBC, MTV, WB, WGN, KTLA, Nickelodeon and the NFL Network. Their music has been used with special promotions for American Idol, the NFL, Nike, JCPenny's, Olympics, NHL and Michelle Obama's "Big Day Out" 2011 campaign. Hawk Nelson is Jonathan Steingard (vocals, guitar), Daniel Biro (bass) and Micah Kuiper (guitar) and David Niacaris (drums).
- ### -
For more info on Hawk Nelson visit the JFH Artists Database.