ZACH WILLIAMS RECEIVES GRAMMY® NOMINATION FOR NO. 1 SINGLE "CHAIN BREAKER"
Hit Song Recognized In "Best Contemporary Christian Music Performance/Song" Category;

Williams Readies For A Big 2017 With Touring And A New Album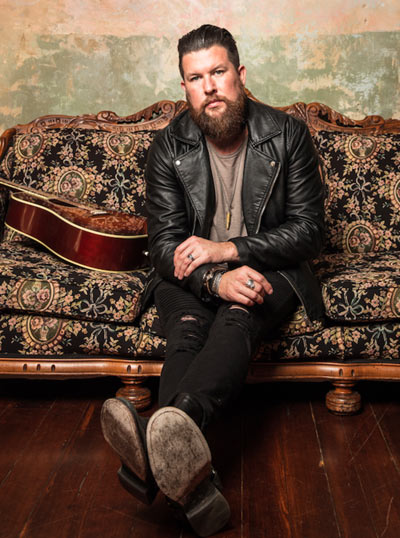 NEWS SOURCE: Merge PR
December 6, 2016
Franklin, Tenn - 6 December 2016 - Essential Records' artist and songwriter Zach Williams can now add GRAMMY nominee to his name. From the announcement of the 59th Annual GRAMMY Awards nominations this morning, Williams was recognized for his debut No. 1 single, "Chain Breaker," in the Best Contemporary Christian Music Performance/Song category, which acknowledges both the artist and songwriters. Williams wrote the song with Mia Fieldes and Jonathan Smith. Upon receiving the nomination this morning, Williams shares, "Words can't describe how I feel at the moment. I'm just trying to process all of the things God has done in my life over the past few months. It's truly an honor to be nominated in this category alongside all of these great artists."
The 59th Annual GRAMMY Awards will be held live on Sunday, February 12, 2017 on CBS. For more information please visit Grammy.com.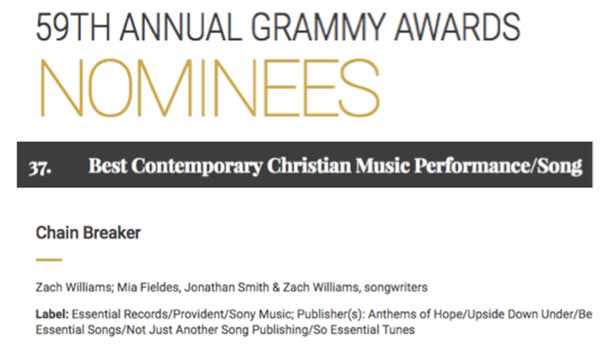 MUSIC:
Williams is currently wrapping up the finishing touches on his highly anticipated first full-length solo album. Its release date will be announced shortly but until fans get to hear new music, the Chain Breaker EP is now available at both iTunes and Apple Music and continues to be a consistent top 10 seller for iTunes' Christian Albums. The EP can also be heard on Spotify by clicking here.
RADIO:
"Chain Breaker" continues to dominate the radio airwaves. The huge song has held the No. 1 spot for nine weeks and has reached the top on multiple charts. "Chain Breaker" has also been one of the top-selling single on the iTunes Christian Songs chart, along with hitting top 10 on Billboard's Hot Rock Songs chart.
TOUR:
After recently wrapping a fall run with Rend Collective, Williams is set to join Big Daddy Weave's Set Free Tour from January 25 through March 18. He will then join Chris Tomlin's Worship Night In America Tour, hitting 23 markets around the U.S. The tour kicks off April 4 and runs through May 13. For tickets, please visit the tour page.
VIDEO:
The music video for "Chain Breaker," below, continues to be watched by thousands, while its lyric video has received more 3.8 million views at press time.
For more information about Zach Williams, please visit ZachWilliamsMusic.com.
ABOUT ZACH WILLIAMS:
Zach Williams comes to the Christian music industry with years of experience as front man of a mainstream rock band before coming to Christ, which radically changed his life. His musical career began when his college basketball dreams came to a halt due to an injury, which led him to pick up the guitar and learn how to play. His new love of music took him to the next season in his life, which unfortunately introduced him to a life of partying that stayed with him well into his adulthood.
After leaving college, Williams moved back home and continued playing music for anybody and everybody who would lend an ear. While touring with his rock band around the world, he continued the cycle of making bad decisions. After many years of running away, Williams felt something inside yearning for a change. An invitation to church from a bandmate changed Williams and his wife's lives after they started attending and found open arms and acceptance.
Zach Williams eventually became the campus director and worship leader of Central Baptist's new campus in Jonesboro. Over time, doors opened for him to write songs with Jonathan Smith and Mia Fieldes. That led to the three of them to write "Chain Breaker," a tribute to the goodness of God in our lives.
"I did the whole rock star thing for so long and I felt like I was always faking it, and now I really just want to be real with people. Please don't wait another minute, make the decision today to follow Christ. I wished I would've done it 20 years ago. I wished I would've never gotten into drugs and alcohol and all that came with it. If you don't know what you're doing with your life then find a quiet place, fall down on your hands and knees, and ask God to come in and save your life. Surrender everything to Him. Jesus came and died on the cross so there would be a way for the chains of those struggles and addictions to be broken. If you have pain, He's a pain taker, if you're lost, He is the way maker, and if you've got chains, He's the chain breaker. The first step is allowing Him to come in so He can set you free."
For more information, please visit zachwilliamsmusic.com
###
For more info on Zach Williams visit the JFH Artists Database.