A Powerful Night of Worship to descend upon SXSW Music Festival on March 14th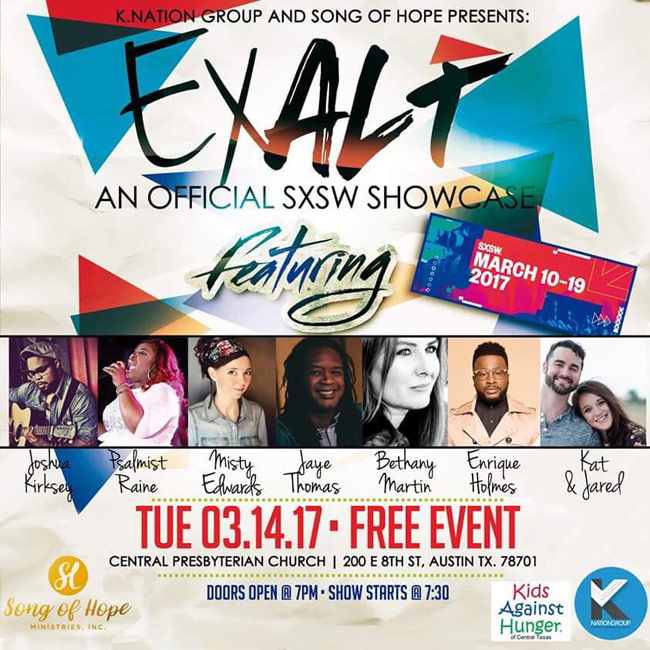 NEWS SOURCE: Natives Music Group
March 7, 2017
Creative and diverse musical collaboration describes the partnership K-Nation Group and Song of Hope have made to present you with Exalt, an official SXSW Showcase featuring seven very distinct worship artists sponsored by Kids Against Hunger of Central Texas and Texas based custom drum company, 7Drums.

This is the only Christian worship stage during the world-renowned music festival. Dr. Alexis Maston of K-Nation Group approached SXSW with the vision to create a worship showcase featuring a broad range line-up of worship leaders together to truly be the salt and the light in the middle of one of the largest and most influential music festivals in the world.
The line-up includes, Billboard chart ranking singer, songwriter, and worship leader, Misty Edwards, a leader at the International House of Prayer in Kansas City, MO will also be joining this event. She purely creates songs from her heart so that listeners may experience what she feels, which is a "true heart connect with God," through music. Having performed in front of millions, this artist is no stranger to the stage.

Great-nephew of blues legend Nina Simone, Jaye Thomas is a Dove-nominated singer and songwriter. As a full-time worship leader for the International House of Prayer in Kansas City, Jaye uses his deep-rooted musical talents to reach and teach others. He also travels internationally to perform in front of massive crowds.

Kat&Jared, from Temple, Texas will bring a warm and contagious worship sound to the showcase. Driving rhythms and jubilant melody lines intertwine with Kat's luminous vocals to create uplifting anthems that celebrate life, love, and devotion. Kat&Jared have built strong musical and personal bonds thanks in part to 8 years spent on the road with Jared's platinum-selling band Flyleaf.

Chicago, IL native Psalmist Raine, who is swooning the nation with sweet songs of peace and refreshment. Her propulsion into the Christian music industry is as enigmatic as the making of her sophomore album, Refresh Worship Live, which is an unrehearsed recording of spontaneously produced music.

Enrique Holmes is a singer, songwriter, and speaker. The Atlanta, GA native mixes his soulful tone over melodic hymns to release a sound that is all his own, this can be heard on his 2016 breakout hit "Miracle Worker." On it's first week out he received the accolade of Hot new single from Billboard.

Bethany Martin is a songwriter, worship leader and writer who desires to be faithful to tend the fire God has started. Her heart is for Jesus to be worshiped and for His heart to be expressed through His people. Bethany burns for worship and intercession, as a result, she is the founder of the Heart of Texas House of Prayer.

Guitar yielding Jesus crooner, Joshua Kirksey, an up and coming worship artist, whose blend of Jazz, Blues, Soul and Rock to make an ultimate worship offering to The Lord.

Though each of these artists, established and emerging, are vastly different outwardly, they are synchronized in their design and harmonious in their passion. Each musician, sings to create lasting impressions and to infuse you with something that could change your life.

You don't want to miss this dynamic night of worship. Tuesday, March 14th, 2017 at Central Presbyterian Church, located at 200 E. 8th St. in Austin, TX 78701. Doors open at 7 pm and the show begins at 8:00 pm. This is a free event.
About K-Nation Group, Organizer of Exalt: An Official SXSW showcase:
K-Nation Group (a subsidiary of Create Event Solutions) was founded in 2008 by Dr. Alexis Maston, her business partner, multi media guru Deon Howard joined in 2014 and together they seek to bring a climate change in America and beyond, The company is an eccentric and multifaceted Christian promotional business that hosts premier Christian events. Recently hosting the first ever contemporary, prophetic worship stage at SXSW; This team serves as a "launch club" and catalyst by creating platforms for a diverse range of Christian speakers,singers and musicians. Their events have included bestselling authors, as well as Grammy Award-winning and indie artists. http://dralexismaston.com/knation-group.html
###