Brant Hansen's BLESSED ARE THE MISFITS Offers Great News For Believers Who Are Introverts, Spiritual Strugglers, Or Just Feel Like They're Missing Something
Warning: If modern church culture makes perfect sense to you, and you always fit in seamlessly, don't read this. As for the rest of us…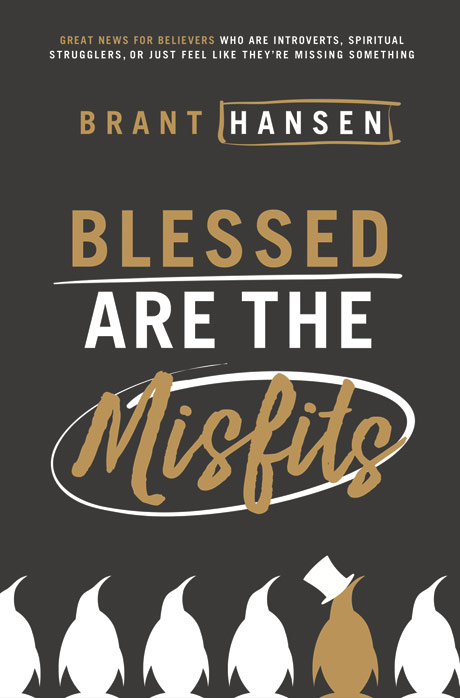 NEWS SOURCE: Nashville PR
November 10, 2017
Not everyone "feels" God's presence. Not everyone fits the idea of what it looks like to a be a "spiritual" person. Not everyone is emotionally moved by worship music, or prays easily. Many are often left wondering, "What's the matter with me? Has God abandoned me? Is there even a God in the first place…?"
And they often walk away.
Brant Hansen's new book BLESSED ARE THE MISFITS brings good news! Hansen's style is both highly insightful and just plain fun-to-read. He's a popular, nationally syndicated radio host, but he's also introverted, highly analytical, and skeptical by nature. BLESSED ARE THE MISFITS is stunningly, brutally honest, and it's leavened with a distinct, conversational, self-effacing humor that is a hallmark of Hansen's on-air, writing, and public speaking style.
Hansen looks to answer questions that millions of people carry with them each day like:
If I'm not feeling what everyone else seems to be feeling, is there something wrong with me?
Why don't I "hear God's voice"?
What does "spirituality" really look like?
What can I reasonably expect from a "relationship with God"?
What if I'm terrible at praying?
Do I really need the church? I prefer to be alone.
What if I'm not good at talking to people about my faith, or good at talking to people at all?
What if I'm told I'm too analytical, that I "think too much"?
Where does a person who suffers from depression fit in the kingdom? Is depression a sure sign of a lack of faith?
At a time when faith and culture stories are making headlines, BLESSED ARE THE MISFITS is going to generate discussion, and lots of it. It's not only highly provocative but also humbly personal. Brant shares about his own story of relating to God as someone on the autism spectrum, and his own difficult and tragic experiences with church life.
BLESSED ARE THE MISFITS (ISBN: 9780718096311 November, 2017) is for those who want to believe in Jesus, but inwardly fear that they don't belong, worry that they don't have the requisite emotion-based relationship with God, and are starving for good news.
About the Author
Brant Hansen's radio show is carried daily by more than 200 stations nationwide. He's also a passionate advocate for CURE International, a worldwide network of hospitals that brings healing and the good news of God's love to children with correctible disabilities. For additional information, please visit www.branthansen.com.

About Thomas Nelson
Thomas Nelson, Inc., part of HarperCollins Christian Publishing, is a world-leading provider of Christian content and has been providing readers with quality inspirational product for more than 200 years. The publishing group provides multiple formats of award-winning Bibles, books, gift books, cookbooks, curriculum and digital content, with distribution of its products in more than 100 countries. Thomas Nelson is headquartered in Nashville, TN. For additional information, please visit www.thomasnelsoncorporate.com.