CANTINAS ARTS FOUNDATION PRESENTS STEVEN MALCOLM'S "NOT TO US/GOOD LOVE" VIDEO PREMIERE FEATURING CANTINAS ARTS DANCERS
The First Collaboration Between Cantinas Arts Foundation, Steven Malcolm, and Red Eye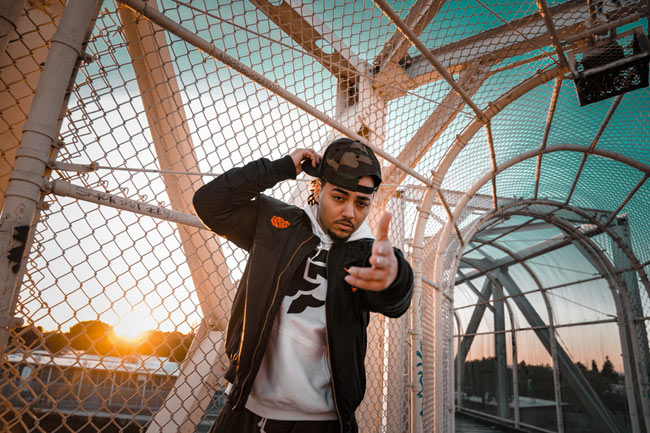 NEWS SOURCE: Bozeman Media
May 1, 2018
Los Angeles, Calif. (May 1, 2018) – The Cantinas Arts Foundation is pleased to present Steven Malcolm's "Not To Us/Good Love" music video featuring Cantinas dancers, and was filmed on location at the Watts Empowerment Center powered by Red Eye Inc. The video showcases one example of the incredible work that The Cantinas Arts Foundation is offering to their collection of talent, along with Malcolm delivering some of the most infectious and unmistakable hip-hop beats of his generation. This marks one of many collaborations that Cantinas will be facilitating, providing further opportunities in both music and dance. The video will premiere on the home page www.cantinas.org on May 1, 2018.

"I am overwhelmed with how amazing the video turned out," states Kimberly Cowan, Chief Operating Officer for The Cantinas Arts Foundation. "Our mission is to find the right opportunities, the best partnerships, and the most exposure for the incredible artists that are a part of our group. We desire to create content with deeper meaning and purpose that highlights the power of art to create unity. We hit the trifecta on this partnership, we couldn't have asked for more."

"I've been so impressed by Cantinas and humbled when they asked to partner on the video. To see the collaboration between Cantinas and Redeye in the Watts neighborhood, and to see God use my music through artists and dancers to impact a community, is powerful. The song is about God's love to us, and I see this as an expression of His love to this community and others all over the world," states Steven Malcom.

The Cantinas Arts Foundation has worked with several talents over the years, such as Mercy Me, Toby Mac, Mandisa, and Brandon Heath as a part of their commitment to developing opportunities for their music and dance projects. This video marks the 25th project that has included talent sponsored by The Cantinas Arts Foundation.

About Cantinas
The Cantinas Arts Foundation, founded by Wendy Miller Hughes, is a non-profit foundation that exists to transform modern-day culture through content including arts and performance while focusing on campaigns, programs and opportunities for God to be magnified through the arts. The foundation was created to be an outreach arts ministry with the purpose of collaborating and facilitating with Christian artists to find their prophetic voice and vision through partnerships with other organizations to steward resources for a greater cultural impact.

About Steven Malcolm
Multiple Dove Awards nominee, Steven Malcolm, is scheduled to release his second project in The Second City four-part series, The Second City – Part 2, on June 8, 2018. The first EP, The Second City – Part 1, released Jan. 26th and was received with critical acclaim. A hip-hop artist from Grand Rapids, Mich., Malcolm released his self-titled debut project for IVAV that resulted in the first single, "Hot Boy," receiving national recognition from NBA on ESPN, with the second single, "Party In The Hills," featured on Spotify's "New Music Friday" and VH1's "Black Ink Crew," while garnering 925,000 views on YouTube. This success led to Malcolm being nominated for three Dove Awards, New Artist of the Year, Rap/Hip Hop Album of the Year and Rap/Hip Hop Recorded Song of the Year, along with a powerful live performance of "Party In The Hills" with Hollyn at the Dove Awards. Malcolm was also a featured artist on two high-profile tours last year, "2017 Winter Jam Tour" and Sadie Robertson's "Live Original Tour." For continued updates on Malcolm; www.StevenMalcolm.com, www.facebook.com/StevenMalcolmMusic, www.twitter.com/StevenMalcolm, www.instagram.com/SteveMalcolmMusic.

About Red Eye, Inc.
Red Eye, Inc. is an organization committed to creating social cohesion for two of the most isolated demographics…Up + In // Down + Out. They have provided after-school programing for the community of Watts for over 10 years through their robust volunteer network. After hearing that the Imperial Courts Community center was being shut down due to budget cuts, Red-Eye took over to create a state-of-the-art facility where the youth, young adults and families in Watts can discover their purpose, while developing their talents. Because of the generosity on the Red Eye, Inc network, the Watts Empowerment Center re-opened its doors on March 16, 2018 .

###
For more info on Steven Malcolm, visit the JFH Artists Database.