BUILDING 429 RELEASES "YOU CAN" - NEW SONG AND COMPELLING MUSIC VIDEO;
"You Can" Will Appear On Upcoming Album, Live the Journey, Releasing Sept. 7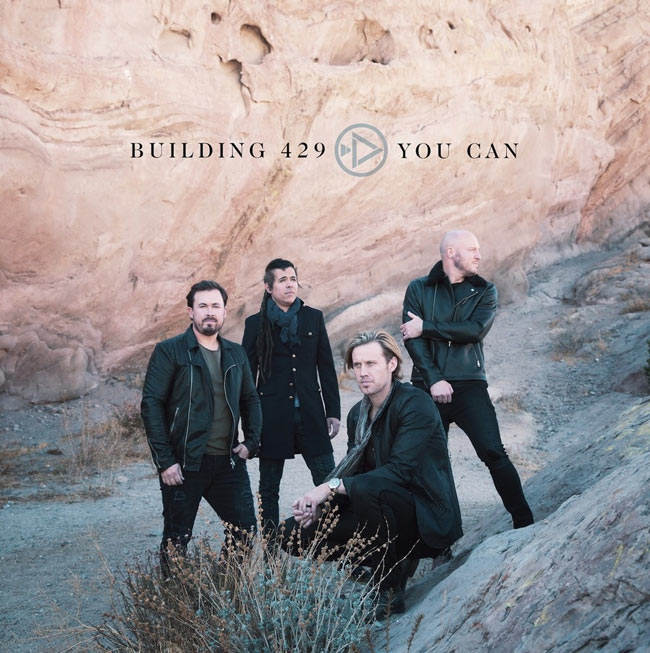 NEWS SOURCE: Merge PR
May 25, 2018
25 May 2018 - Nashville, Tenn - It has been three years since the GRAMMY®-nominated band Building 429 released their latest project,
Unashamed
, and the band is thrilled to announce they have new music to share. To kick off their upcoming album release, they just debuted their brand new song,
"You Can"
, which is at radio now and has already been touted as "one of their best" songs yet.
"You Can" will appear on Building 429's upcoming new album, titled Live the Journey, which is slated to release September 7 with Provident Label Group. Plans are already underway for the remaining songs from the new album to release in consecutive weeks beginning in July, leading up to the September street date.
"You Can" can also be heard on the official
audio video
, and a compelling new
music video
debuts today, which can be viewed below.
Jason Roy, Building 429's frontman, recently shared, "'You Can' is a really meaningful song to us and we feel like the new video reflects that perfectly. We all have experienced moments in our lives where we need God to 'conquer the giants' in our lives but with Him, all things are possible. Often times, the thing that we see as our greatest weakness is what God uses to show his perfect strength. Our deficits are just opportunities for the world to see God do the impossible in the most unlikely of circumstances. Our prayer is that this song empowers everyone who hears it to keep the faith and know that God is for them."
Military veteran Redmond Ramos stars in the video. Ramos is the founder of the organization
SuccessThroughStruggle.com
, which he started after his time as an FMF Navy Corpsman and stepped on an IED, losing his leg. Now he is a motivational speaker and teaches tactical combat medicine as a civilian contractor for the military while also appearing at numerous events, such as the Invictus Games, The Triumph Games, and was a finalist on CBS's "The Amazing Race."
"Working with Building 429 was simply an amazing experience that I will never forget," Ramos exclaims. "I felt that the story we were able to tell is something that people from all different walks of life could relate to and truly speaks to anyone on a deep level. I was able to connect with my character in a way I've never connected with a character before. From start to finish, everyone involved was on a true mission to make something special."
Building 429 will be touring all summer appearing at numerous festivals and events. Fall tour plans are currently underway and details will be announced in the weeks to come. To see if they are coming to a city near you this summer, the most updated tour schedule is listed below.
Building 429 summer tour dates*:
June 09 - Norfolk, NE
June 23 - Phoenix, AZ
July 01 - Meansville, GA
July 04 - Stigler, OK
July 07 - Kansas, OK
July 13 - Olathe, CO
July 14 - Stockton, MO
July 15 - Toronto, ON
Aug 03 - Modesto, CA
Aug 4 - Simi Valley, CA
Aug 11 - Charleston, WV
Aug 25 - Centre Hall, PA
Aug 26 - Erwin, TN
Sept 08 - Regina, SK
Sept 13 - Abington, VA
Sept 15 - Paris, TX
*
For the most updated schedule, visit their tour page; all dates subject to change
ABOUT BUILDING 429: Since the release of their debut album in 2000, Jason Roy (vocals), Michael Anderson (drums), Jesse Garcia (guitars), and Aaron Branch (bass) have tirelessly and passionately exhorted the faith community with popular battle cries such as "Where I Belong" and "We Won't Be Shaken." Their songs have also reached the peak of the radio charts, holding the No. 1 spot with "We Won't Be Shaken" on Billboard's Hot AC/CHR chart and AC Indicator for multiple weeks, eventually resulting in a nomination at the 2014 Billboard Music Awards (Top Christian Song). "Where I Belong" (from 2011's Listen To The Sound) also became one of the longest No. 1 singles in Billboard history of Billboard's Christian charts with a whopping 15 weeks at the top. "Where I Belong" went on to be named 2012 Christian Song of the Year and recognized as BMI's 2013 Song of the Year.
Building 429 also received recognition with a GRAMMY nomination in 2013 for Best Contemporary Christian Music Album (We Won't Be Shaken), a KLOVE Fan Awards nomination in 2014 for Best Group or Duo of the Year, Billboard's 2012 Christian Songs Artist of the Year and Christian AC Songs Artist of the Year.
Through their songs and their high energy live shows, GRAMMY-nominated Building 429 is a band that has been touted throughout their 18-year career as "authentic and amazing – uplifting and unforgettable," along with being "truly focused on bringing glory to God." Their latest album, Unashamed, released in the fall of 2015, and their brand new album, titled Live the Journey, is set for release September 7, 2018.
###
For more info on Building 429, visit the JFH Artists Database.