GOSPEL MUSIC HALL OF FAMER PHIL KEAGGY COLLABORATES WITH MULTI-INSTRUMENTALIST REX PAUL FOR TRANSCENDENT NEW ROCK ALBUM, ILLUMINATION
New Project Allows Seasoned Performers to Tag-Team Vocal and Instrumental Riffs in what Critics are Calling a "...Supremely Catchy Arena Rock/Pop Album"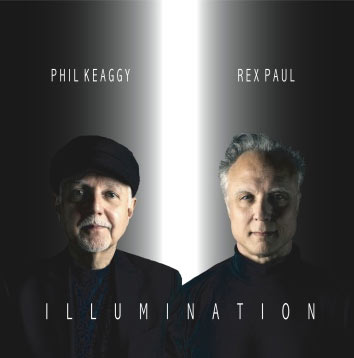 NEWS SOURCE: McCain & Co. PR
May 9, 2019
NASHVILLE, Tenn. (May 9, 2019) - Legendary Gospel Music Hall of Famer and guitar virtuoso Phil Keaggy has joined forces with multi-instrumentalist, singer/songwriter and producer Rex Paul for their transcendent new rock album, Illumination, which is slated to release to retail on May 31, 2019 from Strobie Records.

The independently released project is already generating strong reviews from the media, including Robert Berman of Christian Musician Magazine, who calls Illumination "...a supremely catchy arena rock/pop album recalling the '80sheyday of Survivor and Foreigner."
Bert Saraco, writing for The Phantom Tollbooth, says, " Illumination puts virtuosity in the context of relatable songs--songs that reflect the artists' hearts as much as their technical chops in a progressive pop format.... There's a freshness, an energy, a momentum, and an enthusiasm.... Don't let Illumination escape you--seek it out and enjoy a fresh cross-pollination of the classic and the new."
Reviewer Kevin Belmonte notes, "Some albums convey a special feeling, an atmosphere, that listeners want to experience again and again. Some recordings sound better each playing through, with more to discover. Illumination is just that kind of album."
"Illumination is art that encourages and refreshes us," declares Rex Paul. "There is an urgency to the music; it's aggressive in a good way. It's rock, but a special amalgam of classic, modern, and progressive rock. I think it harks back to the halcyon days of the Jesus Movement, when artists made the music they loved and imbued it with the message and style they believed in, without feeling the constraint to fit into some narrowly defined marketing agenda."
"It's like a triple shot of espresso," Phil Keaggy quips. "It's mature, but it sounds young. I think it will satisfy fans of prog rock, classic rock, and just plain old rock 'n' roll."
"Don't Hold Back," the project's opening salvo, serves as a vision statement of sorts for the entire album, as neither Keaggy nor Paul hold back. Thudding drums, tasty electric guitar licks, and passionate vocals underscore the song's in your face message of living life to the full by not holding back. "Calling Us Home" showcases the duo's playful tag-team guitar artistry, and exudes a joyful, arena rock vibe. Then, Keaggy newcomers (and long-time fans as well) are treated to the thrill of a juicy, reimagined rendition of the Phil Keaggy classic, "Time." "Nothing Can Separate Us" boasts a McCartney-esque vocal vibe, undergirded by a bed of electric guitars and prog-rock sensibilities reminiscent of classic Yes.
"Glorify Your Name" is a straight up rock 'n' roll declaration of faith, while "Let Everything Else Go" ventures into sweet acoustic piano ballad territory. "I Believe" gives Keaggy and Paul the opportunity to riff off of each other in a song that had its origins in 1971 during Keaggy's Glass Harp days. "Spend My Life With You" is another re-make of a Keaggy classic, and the addition of Rex Paul's artistry makes it sound better than ever. Paul takes lead vocals on "You Never Know," a smoldering rocker that encourages listeners to be engaged with life, because "You never know who you'll meet on a bus."
"Full Circle" is another Keaggy classic that gets a breath of fresh air, before the groove-oriented rocker, "The Day of the Lord," closes the album.
In addition to the digital release, Keaggy and Paul are also prepping the release of a 8-song vinyl LP limited edition of Illumination. A release date for the vinyl album will be announced soon.
With more than 50 solo albums released over a remarkable four-decade career, Keaggy is one of the most beloved and accomplished guitarists of the century. His incredible talent, combined with a relentless work ethic and unbounded innovations on the guitar, continues to create new fans while keeping his legion of existing fans clamoring for more.
Rex Paul is equally prolific, working behind the scenes as a multi-instrumentalist, recording artist, studio musician, songwriter, and producer. He has produced or played on over 3,000 recordings, including tracks with Jon Bon Jovi, Tim McGraw, Jerry Reed, Jim Brickman, Merle Haggard, Waylon Jennings, Brooks and Dunn, Olivia Newton John, Randy Bachmann (Bachmann Turner Overdrive), Jack Blades (Night Ranger, Damn Yankees), and a host of other writers and performers.
One of the world's most beloved musicians, Keaggy's solo career has spanned 40+ years and has included more than 50 solo albums, both vocal and instrumental, as well as several releases with his band, Glass Harp.
Widely recognized for his phenomenal guitar playing as well as his vocal and songwriting abilities, he has received numerous accolades and awards for his music, including seven Dove Awards and a Grammy nomination.
Keaggy was inducted into the GMA Gospel Music Hall of Fame in 2007, and was named one of the Top 10 best rock singers in Christian music history by GospelMusicChannel.com in 2009. In 2013, Keaggy received the prestigious ASCAP Golden Note Award in recognition of his outstanding career achievements. In addition,
Rolling Stone
magazine has named Keaggy one of the "25 Most Underrated Guitarists," alongside Prince, The Beatles' George Harrison, Kurt Cobain, Neil Young and Fleetwood Mac's Lindsey Buckingham.
For more information on Keaggy, visit
philkeaggy.com
, follow him on Facebook (
facebook.com/philkeaggy
) or Twitter (
@Phil_Keaggy
).
About Rex Paul:
Rex Paul is an artist, guitar player, singer-songwriter, multi-instrumentalist and producer. He has contributed to more than 3,000 recordings on other artists' projects, and has recorded four albums as a solo artist, featuring guests artists such as Eric Johnson, Phil Keaggy and Dann Huff. Paul is married to Deborah Schnelle, a founding member of the Contemporary Christian Music group, Sierra. He credits his latest collaboration with Phil Keaggy with the creation of the best music and production of his career. For more information visit
rexmusic.us/home
.
###
For more info on Phil Keaggy, visit the JFH Artists Database.