Bethel Music's Paul and Hannah McClure Find The Way Home With Inaugural Release Out Aug. 30
Upbeat and Folky Single "Now I See" Available Today

WorshipU Serves As Host For Global Announcement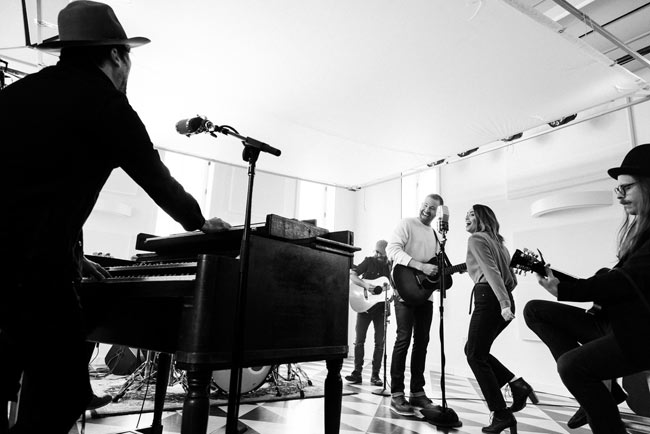 NEWS SOURCE: The Media Collective
July 12, 2019
Nashville, Tenn. (Jul. 12, 2019) – Long-time pillars in the Bethel Music community Paul and Hannah McClure are embarking on their first standalone album, The Way Home, out Aug. 30. The organic next step was announced during Bethel Music's annual WorshipU. Brian Johnson, Josh Baldwin, Seth Mosley, Matt Hammitt, Mia Fieldes and a host of others joined Paul & Hannah as co-writers in the nearly four-year pilgrimage. In finding The Way Home, the couple steeped in songwriting worked with producer David Leonard who harkened back to their Carolina roots.

"It's truth but in a palatable way," explains Hannah, who says she hopes the entire album conveys the truth of Christ while being "kind and inclusive at the same time, bringing people in" an attitude Paul and Hannah have in their songwriting and in their lives. "We want people when they're around us to feel like they can be themselves and be at home," shares Paul. "I'm realizing that songwriting and life are the same thing as far as they are a process and a journey. The songs are a snapshot of who we are, where we've been and where we come from."

The collection is an homage to the couple's North Carolina roots, songs filled with truth housed Americana and folk-inspired sound. Nashville's historic Layman Drug Company served as an ideal backdrop for The Way Home. The 130 year-old fixture originated as a pharmacy before it's musical renovation. Tim McGraw, Joy Williams, Kirk Franklin, Anderson East, Maggie Rogers and a host of others have also trusted the precious space for their melodic sharing.
Birthed out of the blind beggar passage found in John 9, the assured "Now I See" will bow today as the first step of The Way Home. It aims to convey the delight God takes in His children – something the parents of two see viscerally mirrored in their current season. The lead single serves an invitation to see delight in His eyes and let that change the heart and days that follow.

Also found on the album is "Only Have One," a track written with the current moment in mind centering around proclaiming truth amidst confusion, and the freedom anthem "Holding Onto You."

The Way Home reflects not only the four-year process of making this collection of music, but also a broader journey that has been unfolding for the McClures. An initial trek to from North Carolina to WorshipU in 2009 served as an ingress to a 2012 cross country move to Redding where both Paul and Hannah now serve as an integral part of the Bethel Music Team. The couple have been featured on every major Bethel album release since 2010 with songs like "Jesus, We Love You," "One Thing" and "Faithful to the End."

To experience "Now I See," click here.
About Bethel Music:
Bethel Music is a worship ministry that formed as an organic extension of Bethel Church in Redding, CA. In less than 10 years, Bethel Music has grown from being a local church music ministry to becoming a global outreach featuring a cadre of songwriters and worship leaders, with both online and on-campus worship schools. The Bethel Music Artist Collective includes Brian and Jenn Johnson, Amanda Lindsey Cook, Jonathan David and Melissa Helser, Hunter GK Thompson, Paul and Hannah McClure, Kalley Heiligenthal, Josh Baldwin, Cory Asbury, Kristene DiMarco, Sean Feucht, Emmy Rose, Bethany Wohrle, Brandon Lake and Dante Bowe. Together these artists have seven acclaimed albums that all went to the top of Billboard's Top Christian Albums chart, in addition to a GRAMMY® nomination, seven GMA Dove Awards and a GMA Covenant Award. Bethel Music's multi-artist double-disc live recording Have It All (2016) hit No. 1 on the overall iTunes Albums chart and No. 6 on Billboard's Top Albums chart, becoming Bethel Music's highest retail debut on the charts ever proceeded by Starlight, Bethel Music's first full-length album recorded live on tour, and among their latest to top the chart. Victory, their awaited latest, is available now.
The heart of Bethel Music is to be a steward of the worship being created and released at Bethel Church, making it a resource available to the world. In addition to thousands of people that attend Bethel's weekly worship services, another 350,000 plus people subscribe to the online stream of the services at
www.bethel.tv
. WorshipU, Bethel Music's online school of worship, features ongoing training programs underneath seasoned instructors, with tracks including worship leader, songwriter, sound engineer, team essentials, producing a song and worship fundamentals, available at
www.worshipu.com
. More about Bethel Music can be found at
www.bethelmusic.com
.
###