ANDREW PETERSON ANNOUNCES 20th ANNIVERSARY
"BEHOLD THE LAMB OF GOD" ALBUM + TOUR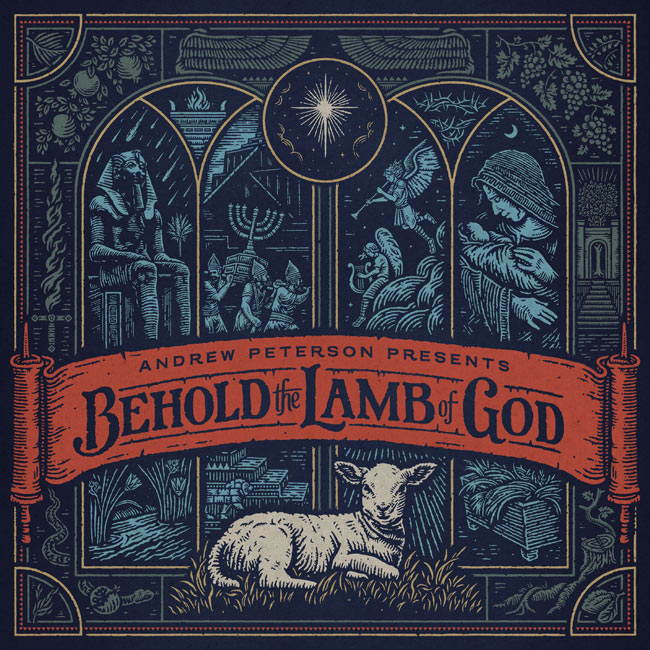 NEWS SOURCE: Centricity Music
July 16, 2019
July 16, 2019 ... An annual concert tour lasting 20 consecutive years is a rarity in the music industry. But that's exactly what this year marks for singer-songwriter-author-filmmaker Andrew Peterson, whose Behold the Lamb of God tour celebrates its 20th anniversary this Christmas season. To further commemorate this milestone, Peterson has recorded a new edition of the correlating album, Behold the Lamb of God: The True Tall Tale of the Coming of Christ, which will be released October 25. This Friday, July 19, the album pre-sale will be available, along with ticket sales for the upcoming tour dates.
Over the past two decades, Behold the Lamb of God has become a cherished holiday tradition not only for Peterson and his band, but for churches and families across the nation who attend the concert and perform their own renditions of the songs. The tour is known for its unique telling of the Christmas story, with Peterson's original Americana-folk songs telling of the birth of Christ as it is foreshadowed in the Old Testament and brought to bear in the New. The concert also known for hosting a variety of special guests, who have ranged from Allison Krauss, to Jon Foreman, Steven Curtis Chapman, and many more—and for selling out almost every performance each year.
This year's tour, sponsored by Compassion International and The Rabbit Room, will feature special guest Jess Ray, plus its classic lineup of all-star artists and musicians. They currently have 13 cities on the map, including two shows at Nashville's historic Ryman Auditorium.
"Whatever the rest of the year looks like," Peterson says, "we come back together on the road and sing these same songs again. It's created this unintentional liturgy of our lives for two decades, and it recenters me again and again on what got me into this in the first place—which is that God put on flesh and dwelt among us."
Peterson first recorded Behold The Lamb of God in 2004, working with tourmates and musical collaborators Andy Gullahorn, Andrew Osenga, Jill Phillips, Gabe Scott, and Ben Shive, among others. This year, these old friends (along with a lot of new ones) teamed back up to create the 20th Anniversary album, giving a fresh take on its twelve songs, including fan favorites such as "Labor of Love," "Matthew's Begats," and "Deliver Us". The result is a special opportunity for listeners to hear a record that sounds both familiar and fresh—voices grateful to still be singing the most beautiful story of all time. The album pre-sale will offer exclusive album and merchandise bundles, available at The Rabbit Room.
"That recording session was one of the best things in my music life," Peterson says. "How often do you get to go into the studio with a group of musicians who have been touring the same songs, playing the record live for 20 years? I've never really heard of that happening. And we decided to record it together in the studio all at once, which also doesn't typically happen these days. I walked into the room with around 20 musicians and old friends, and we sang through all of the songs in two days. To get all of the energy of the players together in one place—and more than that, we're friends—it's all people you have years and years of history with….I've never seen anything like it."
Peterson has another release this October, his nonfiction book Adorning the Dark: Thoughts on Community, Calling, and the Mystery of Making. Through personal stories about his experiences in the creative world, Peterson shares encouragement for those pursuing a calling to proclaim the Gospel through their gifts. The book comes out October 15 and is available for pre-order now.
For more information, visit
Andrew's website.
BEHOLD THE LAMB OF GOD 20th Anniversary Tour:
11/30 Lansing, MI
12/1 Huntsville, AL
12/4 Lakeland, FL
12/5 Franklin, NC
12/6 Durham, NC
12/7 Knoxville, TN
12/8 Nashville, TN
12/9 Nashville, TN
12/13 San Antonio, TX
12/14 Midlothian, TX
12/15 Birmingham, AL
12/17 Richmond, VA
12/18 Charlotte, NC
12/19 Cordova, TN
ABOUT ANDREW PETERSON:
Recording artist, songwriter, producer, filmmaker, publisher and award-winning author of The Wingfeather Saga, Andrew Peterson is also founder and president of The Rabbit Room, which fosters Christ-centered community and spiritual formation through music, story and art. He also recently launched a film and TV production company, Shining Isle Productions, to produce an animated film based on his bestselling books. Known for songs like "Dancing In The Minefields," "Be Kind To Yourself," "Is He Worthy," "Don't You Want To Thank Someone," "The Silence Of God," "Nothing To Say," "You'll Find Your Way" and more, Peterson has also been named "one of the foremost singer/songwriters around" and has received multiple "best album of the year" nods from critics along with two Dove Award nominations. Taking his hits and fan favorites on the road, Peterson's touring draws capacity crowds at venues around the world, including several sold-out events at the historic Ryman Auditorium in Nashville. Andrew-peterson.com
ABOUT JESS RAY:
Jess Ray is a singer/songwriter and producer from North Carolina, the land of ocean, woods, rolling hills, and mountains. Jess' music, much like herself, occupies two worlds effortlessly. Intensely spiritual yet deeply real, her songs soar with joy and hope without ignoring the reality of our human struggle. In 2018, Jess headed back to the studio to record her sophomore album, PARALLELS + MERIDIANS. While there are some familiar elements present, this new project feels like new territory for the artist, whose writing has ventured much further into the space between people. In her signature alto, Jess sings of her own heartbreak and joy with an authenticity that only comes from real life. Jessraymusic.com
###
For more info on Andrew Peterson, visit the JFH Artists Database.