Leigh Nash To Release New Single, "Dime Adiós (Say Goodbye to Me)," July 26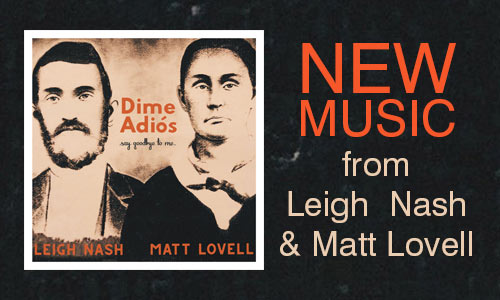 NEWS SOURCE: Leigh Nash
July 24, 2019
Singer/songwriter Leigh Nash has been busy touring solo dates for the past few months, while also working on some new music. Back in mid-April, Nash released a special two-song single featuring new song "God Gave Me Horses" and an updated anniversary edition of Sixpence None The Richer's "Kiss Me." Now, this Friday, Nash is releasing a new song called "Dime Adiós," featuring Matt Lovell.
Nash writes, "I've got a new song titled "Dime Adiós," that I co-wrote and performed with Matt Lovell. Check out the the story behind the song below. The track comes out this Friday wherever you acquire music online...

I'm also continuing to tour and play live. Tour dates and info are on my website. Please enjoy the new music and I hope to see you at an upcoming show this Summer and Fall!"
The Story Behind the Song:
"Dime Adiós came from me wondering how to "say goodbye to someone" in Spanish. A little google, a little conversation with friends and the next thing you know, my friend Matt Lovell and I were carving a song out of it. If you know me, you know I love Mexico; the people, colors, culture. That includes the language! And though we didn't get it perfect (I'm sure), we did our best!! I hope you love it!! This is one of my favorite ballads to date, and I do love a ballad. Happy listening!"
Regarding more music releasing soon, Nash added "I'm excited about sharing this music with you. We'll have more music coming out later this year. Thank you so much for your support. If you're so inclined, share this with your friends and social media. I will update you when the song drops on Friday on how to listen on your favorite streaming or downloading service."
###
For more info on Leigh Nash, visit the JFH Artists Database.