AMANDA LINDSEY COOK TO SET OUT ON FIRST HEADLINING HOUSE ON A HILL TOUR JOINED BY APOLLO LTD
TICKETS ON SALE STARTING AUGUST 2, 2019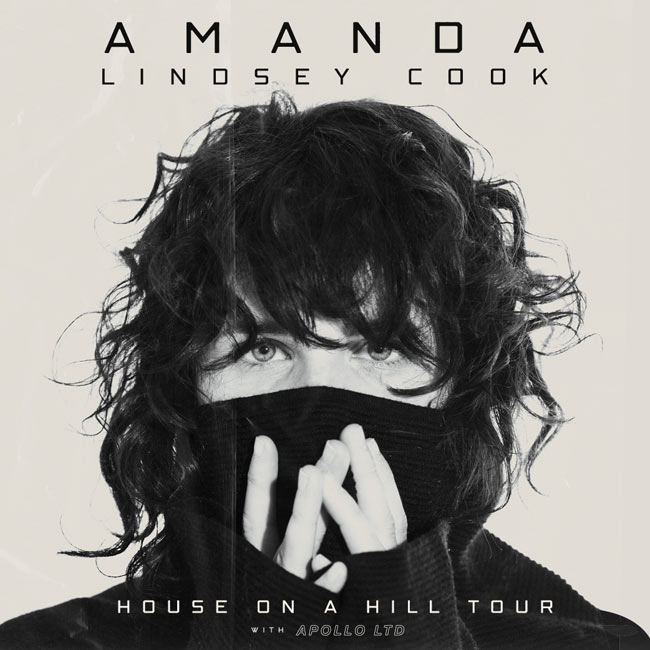 NEWS SOURCE: Sundari PR
July 31, 2019
July 31, 2019 (Los Angeles, CA)-- Coming off the success of the massive arena tour with Hillsong UNITED where Amanda Lindsey Cook performed in front of sold-out crowds, the award-winning vocalist will embark on her first solo-headlining House On A Hill Tour alongside breakout pop duo Apollo LTD visiting 21 cities across the U.S. Promoted and produced by Premier Productions, tickets go on sale via www.amandalindseycook.com starting August 2, 2019.

Sponsored by Food for the Hungry, an international relief, development, and advocacy organization with operations in more than 20 countries, the tour will kick off on September 19 in St. Louis, MO and visit other major cities including Chicago, Miami, Dallas and concluding on October 28 in Birmingham, AL. See tour dates below.

"I'm so excited to share these songs live," shares Amanda. "They feel like havens - little places we are safe to be ourselves, let our guards down, feel our emotions and connect. The live show is a mix of contemplative and anthemic moments, each song leaning into the others like a good conversation. It will be an experience that I hope everyone, in all walks of life, will enjoy and leave inspired."

Cook will be performing songs from her latest album House On A Hill, that released earlier this year and her hits including "You Make Me Brave", "Closer" and "I Will Exalt".

Amanda Lindsey Cook has been a part of the Bethel Music family since 2010 and currently ministers throughout the US and internationally. Her latest album House on a Hill released March 2019, marking Amanda's second album with Bethel music, a sequel to her debut album Brave New World, released in 2015. Her song "Starlight" is featured on Bethel Music's first album recorded live on our Starlight (2017). "Pieces" (co-authored with Steffany Gretzinger) is featured on Have It All (2016). Amanda's first solo project with Bethel Music, Brave New World, released in September 2015 and won a GMA Dove Award for Inspirational Album of the Year. She is featured on five Bethel Music compilation albums to date and has co-authored numerous songs with Steffany Gretzinger for Steffany's solo project The Undoing (2014). She garnered three Covenant Awards from GMA Canada in 2014, including Female Vocalist of the Year, Song of the Year and Praise and Worship Song of the Year from her worship song, "You Make Me Brave."
Jordan Phillips and Adam Stark make up the Nashville duo Apollo LTD. After meeting in college, they made their pop emergence in 2015 with an independent self-titled EP that caught the attention of media and fans alike. Sharing the stage with the likes of Panic at the Disco, DNCE, Andy Grammer, and more, plus receiving sync placements on the likes of Comedy Central, ESPN, and NBC, the guys continued to display their dynamic showmanship as they crafted more pop candy.

Just as NASA's Apollo program represented the fulfillment of boundless ideas, Apollo LTD blast past boundaries and into a new musical realm steeped in alternative spirit, cinematic production, rock energy, and pop palatability. Apollo LTD's recently released album Out of Body album features hits like their current single "On The Way Up" and "Gold".

For more information on the House on a Hill Tour, please visit www.amandalindseycook.com.
House On A Hill Tour Dates Below:
9/19/19 St. Louis, MO Destiny Church
9/20/19 Des Moines, IA Horizon Events Center
9/21/19 Fort Wayne, IN USF Robert Goldstine Performing Arts Center
9/22/19 Detroit, MI Oak Pointe Church
9/30/19 Chicago, IL Soul City Church
10/4/19 Miami, FL Trinity Church, Miami
10/5/19 Orlando, FL The Plaza Live
10/6/19 Tampa, FL The RITZ Ybor
10/11/19 Knoxville, TN The Mill & Mine
10/12/19 Atlanta, GA Ferst Center of the Arts
10/13/19 Charlotte, NC The Fillmore Charlotte
10/14/19 Raleigh, NC Catch the Fire Church
10/17/19 Memphis, TN Minglewood Hall
10/18/19 Dallas, TX Texas Hall
10/20/19 San Antonio, TX Mission City Church
10/21/19 Austin, TX Emo's Austin
10/22/19 Waco, TX The Waco Hippodrome
10/24/19 Houston, TX Cullen Performance Hall
10/26/19 Kansas City, MO Graceway
10/27/19 Fort Smith, AR Evangel Temple
10/28/19 Birmingham, AL WorkPlay
About Food for the Hungry:
ABOUT FOOD FOR THE HUNGRY Food for the Hungry is a Christian humanitarian organization ending all forms of human poverty by providing life-changing development programs, disaster relief, and advocacy. Since 1971, Food for the Hungry has been going into the world's hardest places with an exit strategy: to respond to human suffering and graduate communities of extreme poverty into self-sustainability, all within a decade. By creating context-specific solutions in education, agriculture, health, livelihood, clean water, and disaster risk reduction, the nonprofit focuses on transformational development, investing in children as the key to lift entire communities out of poverty. With 98% of staff working in their country of origin, Food for the Hungry works side-by-side with local leaders, churches, and families to implement innovative solutions. The organization currently serves more than 14 million people in over 20 countries worldwide. For more information, follow @food4thehungry or visit www.fh.org.
###
For more info on Apollo LTD, visit the JFH Artists Database.