GRAMMY®-WINNING ARTIST ZACH WILLIAMS ANNOUNCES RELEASE OF RESCUE STORY, AVAILABLE OCTOBER 4
New Album Shares Stories Of Hope, Purpose, And Self-Reflection;
Digital Pre-Order Campaign Kicks Off Today With New Song And Lyric Video For "Walk With You"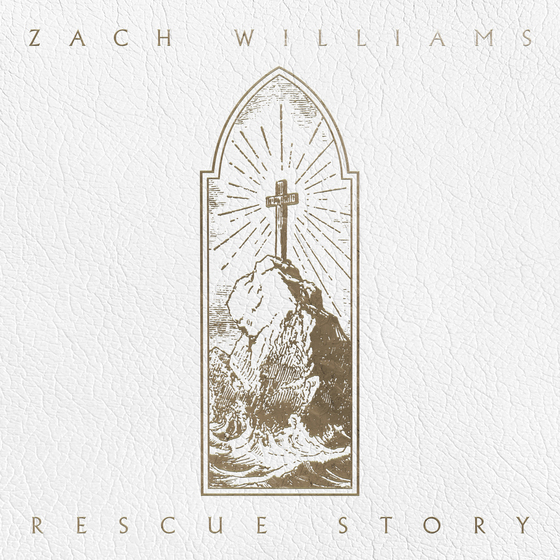 NEWS SOURCE: Merge PR
August 2, 2019
2 August 2019 - Franklin, Tenn - Writing music and playing guitar spanning for two decades, it was when
Zach Williams
completely gave his life to Christ that everything changed and he knew he'd found his calling. Now with immense clarity of purpose given only from God, Williams has also been blessed with a crisp and renewed vision of who he is as an artist and a songwriter. "I have a lot to say about what I walked through to get to where I am," he says, which he shares in his epiphanic journey throughout his new album,
Rescue Story,
slated to release October 4, 2019 (Sony Music/PLG).
The ten songs found on the anticipated new project, produced by Jonathan Smith, are a reflection of where Williams' life was 20 years ago to now, to the moments and places that he didn't even realize God was involved. He shares, "I can see now He was putting these little things together and allowing me to live in these moments so I can write about it one day. Rescue Story is the appropriate title for it all."
"Heaven Help Me" and "Walk With You" are just a couple of the songs that came to him when he looked back on his life during the writing process. "So many times I was in the wrong places and making wrong choices, yet it was God who was keeping me safe, even when I thought he was too far gone," he says. "There Was Jesus" continues that same theme, and is also a highlight for Williams as the song is a duet with the iconic Dolly Parton.
"Over the past few years, I've met all kinds of people just like me, people who are dealing with addictions, cancer, suicide," Williams explains. "Everyone has a different yet such a remarkable story. These are the people I write for because they are me. I'm the average guy out there struggling just like everyone else, and the folks who are coming to our shows don't get a chance to share their own stories on a bigger stage. I feel it's a huge opportunity for me to write and share their songs."
"
Rescue Story
," the album's first single and overarching theme, continues to climb the radio charts while also resonating with everyone who hears it. Both the single and "
Walk With You
" are available now as instant downloads with the album's
pre-order campaign
, which kicks off today at all digital music providers. The lyric video for "
Walk With You
" also just released today, which can be viewed below.
Reflecting on his new album and the blessings Christ has given him, he explains, "When I gave my life to the Lord, I realized He never left me, even in the darkest times. For this new album, the title fits because every song has a rescue story. When you're at your end of the rope, that's when your rescue story begins. In my case, Jesus has been mine."
RESCUE STORY song listing:
Walk With You
Less Like Me
Rescue Story
Stand Up
Slave To Nothing
Under My Feet
There Was Jesus (feat. Dolly Parton)
Heaven Help Me
Baptized
Face To Face
It was just a mere three years ago when Williams rapidly made a name for himself with his record-breaking debut single, "Chain Breaker," following it up with two more award-winning songs, "
Old Church Choir
" and "
Fear Is a Liar
." Two versions of his debut album have released,
Chain Breaker
and the
Deluxe Edition
, as well as an EP,
Survivor: Live From Harding Prison
. Williams has earned a coveted GRAMMY Award (2018) and two additional nominations (2017, 2019), and has won four GMA Dove Awards, two K-LOVE Fan Awards, three gold singles, and numerous other nominations and recognition, all which quickly made him a household name and a staple at radio.
Williams continues to tour this summer hitting all of the major festivals in the U.S. and Canada. This fall he will headline "The Rescue Story Tour." With support from Bethel Music's Josh Baldwin, the tour kicks off October 10. For the most updated schedule, please visit his
tour page
.
MORE ABOUT ZACH WILLIAMS: As a husband, father, recording artist, and songwriter, GRAMMY® winner (Best Contemporary Christian Album, Chain Breaker, 2018) and multi-GMA Dove Awards winner, Zach Williams continues to make history. Achieving two consecutive radio No. 1 hits for 35 weeks as a debut artist ("Chain Breaker," "Old Church Choir") Williams' music comes from a place of humility and honesty as his songs are a direct reflection of God's redemption in his life.
"Chain Breaker," his record-breaking and first of three official RIAA®-certified gold singles, has impacted millions of people around the world, earning Williams his first GRAMMY® nomination in 2017 for Best Contemporary Christian Music Performance/Song, two Billboard Music Award nominations (Top Christian Song, Top Christian Album) and a 2018 American Music Award nomination for Favorite Artist - Contemporary Inspirational. He also received another GRAMMY nod in 2019 for Best Contemporary Christian Music Album, Survivor: Live from Harding Prison. The singles "Old Church Choir" and "Fear Is a Liar" are also both certified gold.
He's won four GMA Dove Awards (Artist of the Year, New Artist of the Year; Pop/Contemporary Recorded Song of the Year, "Chain Breaker" and Pop/Contemporary Song "Old Church Choir") and a K-LOVE Fan Award ("Chain Breaker," Breakout Single). Williams was also named Billboard's 2017 Top Christian Male Vocalist and New Artist of the Year, as well as CCM Fan Awards' Favorite New Artist Of The Year. Apple Music chose him as Artist of the Week (2016), while "Chain Breaker" was the top track of 2016 on iTunes' Christian Songs chart and also reached No. 12 on Billboard's Hot Rock Songs chart. Williams has also been awarded by BMI with four Citation of Achievement awards for his singles "Chain Breaker," "Old Church Choir," and "Fear Is a Liar," recognizing the songs for their national popularity and reach.
###
For more info on Zach Williams, visit the JFH Artists Database.