INTEGRITY MUSIC ANNOUNCES THE RELEASE OF BETTER WORD, A LIVE ALBUM FROM LEELAND, SEPT 13;
New Song "Way Maker" Drops Today With Pre-Order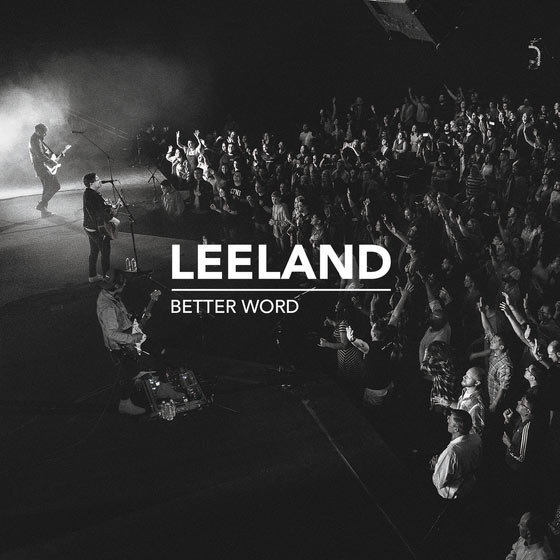 NEWS SOURCE: Merge PR
August 16, 2019
16 August 2019 - Brentwood, Tenn. - Today, Integrity Music announces the release of
Better Word
from GRAMMY®-nominated worship group
Leeland
.
Better Word,
their first full-length live album, will drop September 13, 2019. The first single, "Way Maker," is available
now
.
Leeland, comprised of founding frontman Leeland Mooring and fellow singer/songwriter and worship leader Casey Moore, have spent a decade-plus career considering what worship truly means through the medium they know best - music. Inspiring and facilitating musical worship in various settings around the world, Mooring and Moore have a unique front-row vantage point to observe how people's perspectives of God, others, and themselves are shaped by personal moments of praise. It explains why Better Word, Leeland's eighth release, is a live 12-song worship experience, captured earlier this year during a gathering of fellow worshipers at Christ For The Nations (CFN) in Dallas, Texas.
As for the songwriting and accumulating of songs for Better Word, Mooring explains, " We usually don't start seeing a theme emerge until we're in that mode of finishing songs, but right in the thick of Better Word we found that all of these songs weren't trying to be anything. They were simple, easy to sing, and the lyrical themes were either about Jesus and His goodness, or songs of faith that challenge us to lift our eyes off of our circumstances and onto the face of Jesus. I really feel like it's a returning back to the things Leeland did at first."
The album's third track, "Way Maker," is a powerful favorite of Mooring and Moore. Originally made popular by Nigerian gospel singer Sinach, the globally rising worship standout has quickly, and inspiringly, gained traction in churches around the world. It's no wonder why Mooring and Moore wanted to cut their own rendition of the song, which is available now with any
pre-order
of
Better Word.
A video for the song also released today, which can be viewed
here
and below.Additional songs will become available as instant grats in the coming weeks leading up to September 13.
As young veterans in the world of modern worship music, Better Word is bound to further cement Leeland as a primary musical leader in the world's progressing modern worship music movement. But for Mooring, worship is much more than a lyric, or a song, or even the gathering and singing.
"Worship is a combination of alone time with Jesus that is planned, and the not-so-planned moments – all of the in-between times in the day when I'm reminding myself to fix my heart and mind on Him," he explains. "It's incredible how fast singing, saying, and thinking on Him so quickly changes my attitude and perspective."
Better Word Track Listing:
Inhabit (Live)
Burning With Your Love (Live)
Way Maker (Live)
Better Word (Live)
Waiting For You (Live)
Wellspring (Live)
Rain [ft. Noel Robinson] (Live)
Where You Are (Live)
The Sending (Live)
Highest Price (Live)
First Love Fire (Live)
Lead The Way (Live)
ABOUT LEELAND: Leeland came to the forefront of the worship music world in 2004 and debuted their first project, the revolutionary Sound of Melodies, in 2006. Fast forward to now with four GRAMMY® nominations and eight GMA Dove Award® nominations under their belts, Leeland has become one of the most important voices in a new generation of worship music. Their lives, ministry, and music are a true extension of their passion to simply worship God personally and in community. For the latest information on Leeland, please visit Leelandonline.com
###
For more info on Leeland, visit the JFH Artists Database.