JESUS CULTURE MUSIC'S WORSHIP LEADERS RELEASE TWO NEW SONGS IN THE MIDST OF THEIR ANNUAL CONFERENCE
CHRIS QUILALA RELEASES "NOTHING BUT GOOD"
KIM WALKER-SMITH RELEASES "INSATIABLE"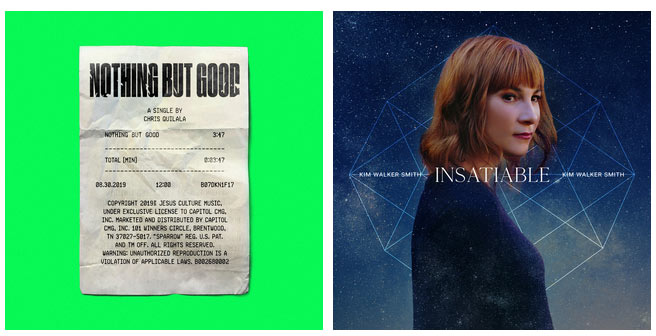 NEWS SOURCE: Merge PR
September 6, 2019
NASHVILLE, TENN. (SEPTEMBER 06, 2019)
Jesus Culture Music in partnership with Capitol Christian Music Group have released two back-to-back songs from their worship leaders Chris Quilala and Kim Walker-Smith in the midst of their annual conference being held this weekend. Last week Quilala released
"Nothing But Good," available here
, and today Walker-Smith releases
"Insatiable," which is available here
. The Jesus Culture Conference titled "More Than A Moment" began yesterday and continues through tomorrow, and these songs are serving as an anthem for the Jesus Culture family as they gather for their annual hometown conference in Sacramento.
"It's easy to see the 'glass as half empty' when life is full of chances to be disappointed or discouraged, but these moments should never replace truth in our hearts: the truth that God is ALWAYS good," shares Chris Quilala about his new song. "Psalm 23 says, Even though I walk through the darkest valley, I will fear no evil, for you are with me; your rod and your staff, they comfort me. You prepare a table before me in the presence of my enemies. You anoint my head with oil; my cup overflows. Surely your goodness and love will follow me all the days of my life, and I will dwell in the house of the Lord forever. God says we will walk through the valley, through hard and seemingly impossible situations, but He also promises to always walk with us! Not only that but He says that our cup will be overflowing, not 'half empty' or even 'half full,' but overflowing with His goodness and love. For me this is a song that realigns my perspective. It's a celebration of all the times that God has demonstrated His overwhelming goodness and faithfulness through the years."
"'Insatiable' is an honest and vulnerable song written by Mitch Wong, Dustin Smith, and Chris McClarney," Kim Walker-Smith states. "The lyrics speak to the deep love God has for us and the lengths He would go through to win our hearts. There is also a beautiful response in the lyrics that tells God that He can have it all. His love is an all-consuming fire, and He is worthy of our surrender."
ABOUT CHRIS QUILALA: Chris Quilala is the co-leader of Jesus Culture band along with Kim Walker-Smith of the Jesus Culture movement. He is the writer of the band's well-known songs "Fierce," "In the River," and "Miracles." He currently has six songs in the CCLI Top 1000 songs and released his debut solo album Split the Sky in 2016.
ABOUT KIM WALKER-SMITH: For more than 10 years Kim Walker-Smith has played a major role in influencing worshippers and worship teams to passionately pursue Jesus and is one of the most influential female voices in Christian music. Kim is one of the founding members of the Jesus Culture band and movement. Kim's first solo record, Here is My Song, was released in 2008. Her second solo record, Still Believe, came in 2013, and then a record with her husband Skyler, Home, and a Christmas record called When Christmas Comes. Her latest solo record, On My Side, went top 10 Overall on iTunes. She released her debut book, Brave Surrender: Let God's Love Rewrite Your Story (Zondervan), in the Spring of 2019.

ABOUT JESUS CULTURE: Jesus Culture is a community of worship leaders and musicians who's heart is to see a generation impacted by encounters with the presence of God. Originating out of the Jesus Culture movement which began in 1999, they recorded their first album in 2005 at their youth and young adult conference in Redding, CA. Since then Jesus Culture has released ten annual live albums and more than 20 solo artist albums. Jesus Culture leads worship both at their local church in Sacramento, CA and abroad through conference events that have reached 300k+ people in more than 100 cities and 15 countries. Jesus Culture has more than 1.5 billion worldwide audio and video streams and garnered more than six million followers on social media and over 188 million streams on YouTube. Jesus Culture is focused on equipping a generation to transform society by bringing people into an encounter with God's love through worship and discipleship. The songs they release capture the heart of the movement.
###
For more info on Chris Quilala, visit the JFH Artists Database.