KEVROCK RELEASES HIS DEBUT MIXTAPE 'ROLLERCOASTERS'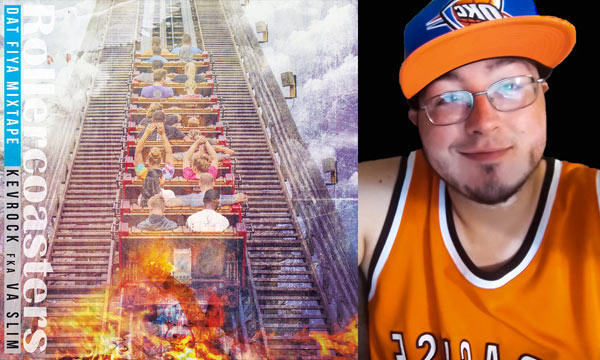 NEWS SOURCE: FiveTwenty Collective
January 9, 2020
Ruther Glen, VA - KevRock, formally known as VA Slim, had dropped his newest project 'Rollercoasters: Dat Fiya Mixtape' via his bandcamp site.
'Rollercoasters' is a 12-track album that was created alongside Virginia based Blood Related Ent. With Executive Production from KevRock and Anthony Ramirez, along with engineering by Project Pluto, the mixtape goes far beyond simply giving the listener a project to hype.
"Rollercoasters' is meant to paint the contrast between heaven and hell, life and death, truth and lies," explained KevRock. "It is a desperation to push towards our final destination with Christ."
The mixtape was dropped on December 31, 2019 and can be found here:
https://kevrock.bandcamp.com/album/rollercoasters-dat-fiya-mixtape
For the most up-to-date information, follow KevRock on Instagram | Facebook

'Rollercoasters' Track Listing
Intro
Takin Over ft. Enomally, Trully Blessed
Choices (Anno Domini Nation)
No Flex
Reasons ft. Pacaso Ramirez, Howard Roper
What We Tremble For ft. Pacaso Ramirez, Enomally
Wastin' Time ft. Fresh Tex, Etuniti, Momma KevRock, Pacaso Ramirez
Choices (Project Pluto)
Cut It
Wish Wish Remix
Medicine ft. Pacaso Ramirez
Outro
'Rollercoasters' Credits
Artist - KevRock
Recorded at Blood Related South Studios - Ruther Glen, VA
Executive Producers - Kevin Collins, Anthony Ramirez
Engineering - Project Pluto
Artwork - Anthony "Pacaso" Ramirez
Release Date - December 31, 2019
About KevRock
Born in Jacksonville, NC, KevRock was a young kid with anger issues and was overweight. He turned to drugs and was flowing through life without a whim. He found Christ through a car accident that he shouldn't have survived. After gaining a heart for Christ through realization and loss, in loving memory of Cody Wright and Preston Morehouse, KevRock is motivated by Godly direction and the loss of these young men.
###