VENTURE3MEDIA RELEASES FOURTH ALBUM IN
SIMPLE HYMNS SERIES: SONGS OF COMMUNION
Hymns, Companion Videos Feature Pat Barrett (Housefires), Kelly Minter, Joanna Beasley (American Idol), Gabe Wilson, Dave Fitzgerald, More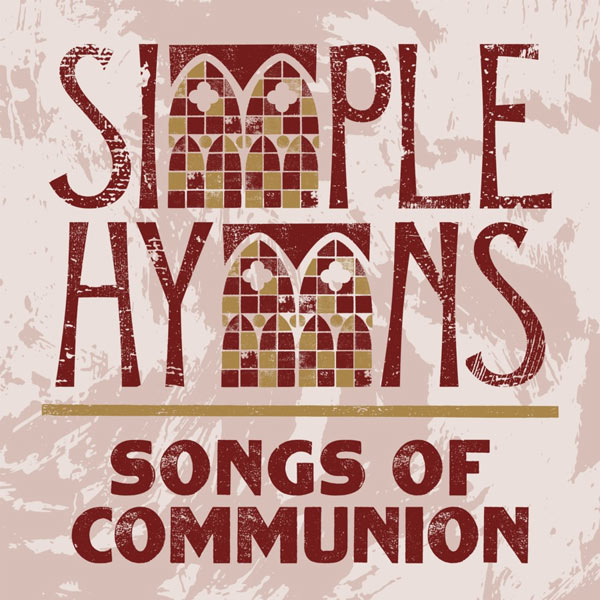 NEWS SOURCE: Hoganson Media
January 12, 2020
Venture3Media (V3M) continues its Simple Hymns series with Friday's (Jan. 10) release of Simple Hymns: Songs of Communion featuring such well-known worship leaders as Pat Barrett (Housefires), Kelly Minter, Joanna Beasley (American Idol), Gabe Wilson, Dave Fitzgerald and more. The 10-hymn album is available on CD and at iTunes, Apple Music, Spotify, Google Play and additional digital, streaming and physical retail outlets globally.
The songs in this Simple Hymns installment are all centered around communion, and include classic hymns written by Charles Wesley ("And Can It Be"), Phillip Bliss ("Man Of Sorrows"), Stuart Townend ("How Deep The Father's Love For Us") and Katharina von Schlegel and Jane Borthwick ("Be Still my Soul").
The hymn by Isaac Watts, "The Wonderful Cross," receives fresh interpretation by Chris Tomlin, Jesse Reeves and JD Walt, and is sung by Pat Barrett.
Along with the new music, compelling acoustic videos of six of the songs being sung by the artists were recorded and are featured on a companion Simple Hymns: Songs of Communion (Deluxe Version) of the album that is exclusively available from Apple Music and iTunes.
Songs of Communion is the fourth of several new recordings in the Simple Hymns series to release in the coming months. It follows the Songs of Thanksgiving (Nov. 8), Songs Of Worship (Oct. 4) and Songs Of Redemption (Aug. 30) albums that are available now at Christian retailers and Amazon.com. These recordings feature such acclaimed worship leaders as Mack Brock (Elevation Worship), Leigh Nash (Sixpence None the Richer), Derri Daugherty (The Choir), Chris McClarney, Paul And Hannah McClure (Bethel Music), Dan Koch, Aaron Keyes, Anthony Skinner, Sean Carter and many more.
Each new recording in the Simple Hymns series combines classic Hymns with a fresh interpretation, some with additional lyrics, as well as new songs that have been written and recorded in a hymn-like style and focusing on the Majesty and Greatness of God.
"These hymns and videos are purposefully simple with acoustic instrumentation, nothing overproduced to allow them to be sung by worship leaders in the most unplugged setting, or added to the worship music song selections in any sized church," says Venture3Media President and Founder Steve Nicolle. "Simple Hymns are also well suited as a background for personal worship, reflection and devotions."
"Simple Hymns is a response to those that long for a return to a richer and more lyric focused worship expression, combined with a simplicity of musical instrumentation," Nicolle continues. "Worship music shifts in style from decade to decade, along with shifts in lyrical themes and focus. What makes the hymns so unique and special is their ability to stand the test of time. When times become more turbulent or uncertain, we tend to hold to things that have endured. Hymns give us that anchor and remind us that God's love and His nature are unchanging."
Future Simple Hymns releases that are already being developed will feature hymns set around praise, Easter, Christmas and more.
The full Simple Hymns: Songs of Communion track listing and songwriters follows:
01) The Wonderful Cross (Featuring Pat Barrett)
Writers: Isaac Watts, Chris Tomlin, Jesse Reeves, JD Walt
02) And Can It Be (Featuring Chris Weninegar)
Writers: Charles Wesley, John Hartley, Chris Eaton, Gareth Robinson
03) Broken For Us (Featuring Katie Gustafson)
Writers: Reginald Heber, Katelyn Claplette, Katie Gustafson
04) Man Of Sorrows (Featuring Joanna Beasley)
Writers: Phillip Bliss, John Hartley, Chris Eaton, Abby Eaton, Claire Hamilton
05) The Wonder Of The Cross (Featuring Gabe Wilson and Amy Little)
Writer: Vicky Beeching
06) Be Still my Soul (Featuring Katie Gustafson)
Writers: Katharina von Schlegel, Jane Borthwick, Katie Gustafson, John Hartley, Chris Eaton
07) Nothing But The Blood (Featuring Dave Fitzgerald)
Writers: Dave Fitzgerald, Michael Farren, Cory Voss
08) How Deep The Father's Love For Us (Featuring Joanna Beasley)
Writer: Stuart Townend
09) O Fount Of Love (Featuring Matt Boswell)
Writers: Matt Papa, Matt Boswell
10) Finer Day (Featuring Kelly Minter)
Writer: Kelly Minter, Chris Eaton
For all the latest Simple Hymns news, visit www.simplehymns.com, Facebook, Twitter, Instagram and YouTube.
About Venture3Media:
Venture3Media is a global music label and song publisher with sales, marketing, promotional, radio, television and movie expertise. V3M provides distribution platforms across all digital channels, including but not limited to Spotify, Apple Music, iTunes, Amazon, Deezer, Tencent, 7Digital, Google Music, Facebook, Pandora, Tidal, Sirius and Rhapsody. Physical distribution includes online retailers such as Amazon, national retail chains, sub-distributors and internationally through well-established licensee's and distributors.
###