ELEVATION RHYTHM RELEASES NEW SINGLE "BETTER WITH YOU," OUT TODAY WITH LYRIC VIDEO
Youth Worship Collective Kicks off 2020 With Continued Momentum as "NEVER WALK AWAY" Hits No. 1 on Billboard Christian Hot AC/CHR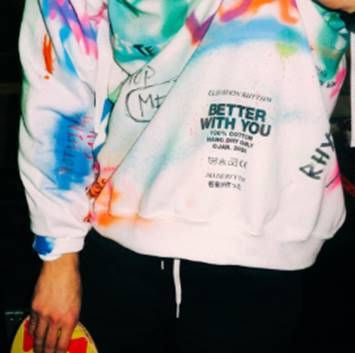 NEWS SOURCE: Rogers & Cowan PR
January 24, 2020
LOS ANGELES (January 24, 2020) — ELEVATION RHYTHM, an expression of Elevation Church's worship ministry that produces music for youth and young adults, continues to build momentum into 2020 with the release of their sixth career single, "BETTER WITH YOU." Out today with accompanying lyric video, the new music releases on the heels of the group's current radio single "NEVER WALK AWAY" which garnered the No. 1 spot this week on Billboard's Christian music Hot AC/CHR chart. Listen to "BETTER WITH YOU" here and watch the video here.
With a surprising sound that steps out of the mundane, "BETTER WITH YOU" features a low-key vibe with an intense beat and powerful lyrics, making it a standout track amid RHYTHM'S new releases. The song acts as a conversation from us to God, letting Him know that our lives are so much better with Him.
Davide Mutendji, one of the writers and worship leaders for ELEVATION RHYTHM says, "The idea that really stands out to me in this song is that when things feel incomplete and broken, God can flip our perspective."
"One of my favorite lines says, 'You make falling feel like flying, I'm tripping into You,'" adds Mutendji. "It's this idea that our mistakes and mess-ups can end up bringing us closer to God if we look at them with a new attitude."
"BETTER WITH YOU" is available today wherever you stream your music.
For more information, visit:
Website — www.elevationrhythm.com
Instagram — https://www.instagram.com/elevation.rhythm
Facebook — https://www.facebook.com/ElevationRhythmMusic
Twitter — https://twitter.com/elevationrhythm
About ELEVATION RHYTHM
ELEVATION RHYTHM is the new expression of worship coming from the youth ministry at Elevation Church in Charlotte, N.C. Sharing the same church home as Elevation Worship, ELEVATION RHYTHM believes in writing and recording songs to engage hearts and bring a new cadence of hope to this generation.For more information visit www.elevationrhythm.com.
###