MARTIN SMITH RELEASES FOUR-SONG EP - EXALT
TOURING IN MARCH ON THE COMPASSION LIVE ROADSHOW 2020 TOUR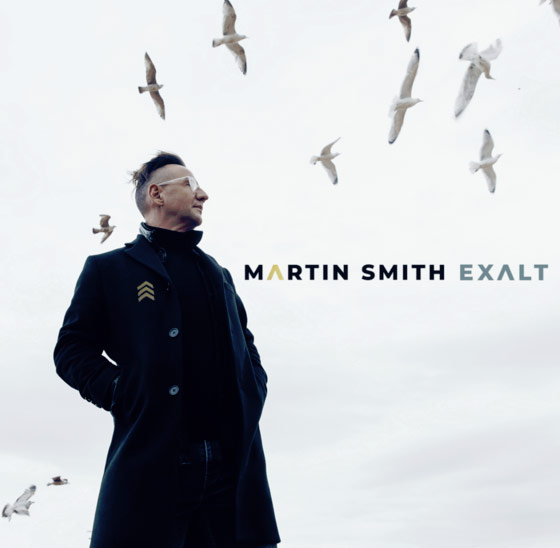 NEWS SOURCE: Merge PR
March 11, 2020
NASHVILLE, Tenn. (U.S.) / BRIGHTON (U.K.) (MARCH 11, 2020)
- Integrity Music's Martin Smith releases a special four-song EP,
Exalt
, available now.
Exalt
features Smith's most popular worship songs from
Iron Lung
and
Love Song For A City (Live)
reimagined and recut in an intimate atmosphere with congregational vocals, including a guest appearance from acclaimed worship artist, Steffany Gretzinger, on the song, "Come Holy Spirit."
"There are many ways for us to address Jesus," says Smith, "But this one is unique – Exalt . When we exalt Him...we leave nothing on the table. This EP is full of simple worship songs that are vulnerable and heartfelt, all pointing to Jesus. The lyrics are all part of my journey over the last 2 year."
In concert with the EP's release, Smith will be featured on the Compassion LIVE Roadshow 2020 tour with Bethel Music, Matt Maher, Unspoken, Apollo LTD, Peadbod, and his daughter, Elle Limebear.
"I'm so honored to be on the Compassion Roadshow Tour this year. What a privilege to be touring in America again. I can't wait to meet and hang out with all the other artists and to meet some new people."
Exalt follows the 2019 studio release, Iron Lung, which was Smith's most personal album ever recorded. Celebrating life, love and faith, Iron Lung was birthed out of early recalled memories from Smith where he was fighting bronchial pneumonia. He was placed in an oxygen tent, seriously struggling for breath to keep him alive while his parents prayed to "let him make a noise." Exalt , continues this narrative and answer to pray, as it rings out a declarative and humble shout of reverence for God, how we need him, and what he's done for us.
Smith says, "Worship always lifts your head to who is God. There is no one else, no one compares to Jesus, it's always only him. The bottom-line message I want to communicate through my music is hope, passion, healing. That God is not dead but alive."

Exalt Track Listing:
1. Jesus Only You
2. Come Holy Spirit (feat. Steffany Gretzinger)
3. I Will Sing
4. Exalt
ABOUT MARTIN SMITH
: For three decades, the Brighton, U.K.-based Smith has been penning songs that bring fresh air to the lungs of the church, whether as a solo artist or a founding member of the ground-breaking band Delirious?. This includes favorites "Did You Feel The Mountains Tremble?," "Waiting Here For You," "I Could Sing Of Your Love Forever" and "History Maker." Smith's songs have connected generations and inspired and influenced worship leaders and worshippers alike. For more information, including music and tour updates, visit
MartinSmithMusic.com
Compassion LIVE Roadshow Tour Dates with Martin Smith
3/13/20 Boise, ID @ Ford Idaho Center
3/14/20 Spokane, WA @ First Interstate Center for the Arts
3/15/20 Salem, OR @ Pavillion at Oregon State Fair
3/17/20 Fresno, CA @ Saroyan Theatre
3/19/20 Ontario, CA @ Toyota Arena
3/20/20 Tempe (Phoenix), AZ @ ASU Gammage
3/21/20 Albuquerque, NM @ Tingley Coliseum
3/22/20 Loveland, CO @ Budweiser Events Center
3/26/20 Independence (Kansas City), MO @ Silverstein Eye Centers Arena
3/27/20 Arlington, TX @ College Park Center
3/28/20 Houston, TX @ Berry Center
3/29/20 Austin, TX @ H-E-B Center
Complete List of Compassion LIVE Roadshow Dates - here
###
For more info on Martin Smith, visit the JFH Artists Database.