Pop Artist-Songwriter Elizabeth Grace Releases New Single "Chasing Quiet"
New Single Reaches No. 25 After Three Weeks on Billboard Charts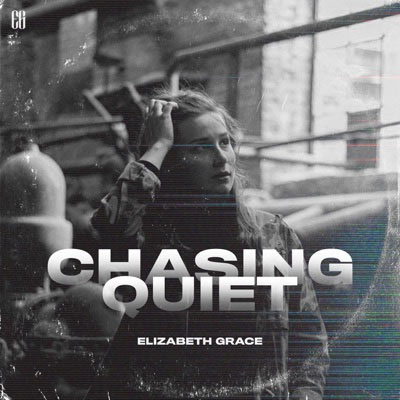 NEWS SOURCE: DREAM Records
May 15, 2020
Birmingham, Ala. (May 14, 2020) ---- Pop artist Elizabeth Grace, is once again gaining strong support at Christian radio with her new single, "Chasing Quiet." The song has rapidly reached No. 25 on Billboard's Christian Hot AC/CHR chart, and No. 30 on the Hot Chart. The tune debuted on the Billboard charts at No. 28, and quickly became the No. 1 most added for two consecutive weeks. The song has garnered 70% of the Billboard Christian Hot AC / CHR stations who have already committed to airplay, which includes KZTH/Oklahoma City, Okla., WBHY/Mobile, Ala., WYPH/Hartford, Conn., KPUL/Des Moines, Iowa, WLCQ/Springfield, Maine. Chris Chicago at NGEN Radio in Houston, Texas is a big supporter of the song by saying, "'Chasing Quiet' is exactly where mainstream pop is right now. It's so refreshing to have an artist like Elizabeth Grace in our space."
Grace and Jonathan Gamble co-wrote "Chasing Quiet" that was produced by Justin Amundrud, and the song will be available for public purchase on May 15. The single is the follow up to the incredibly successful Billboard Christian Hot AC/CHR No. 3 hit, "Like Myself." Besides ranking in the Top 5, "Like Myself" remained at No. 1 for seven weeks on the Hot CHR chart.
"I wrote 'Chasing Quiet' during a time where I felt I was being pulled in a thousand different directions and was constantly being influenced by the thoughts and opinions of others rather than listen to the voice of God," said Grace. "My hope for this song is that the listener will hear it and be inspired to continue chasing after God's voice, rather than trying to mold themselves to what others say they should be.
Grace is in the process of booking an upcoming school tour in the fall, which will be in conjunction with the release of her debut album on Dream Records at the same time. For continued updates about Grace, fans can stay in touch on Instagram, Facebook and at Dream Records.
Check out "Chasing Quiet":
ABOUT ELIZABETH GRACE:
Elizabeth Grace was born and raised in Birmingham, Ala., and her interest in music started as a young child when Grace treated her family with fireside performances. With her budding talent, Grace's mother started her with piano lessons which didn't last very long. Grace wanted to play piano her way, so her musical talent developed by learning to play by ear. In high school, Grace became active with a group of budding singers-songwriters at her hometown church. No one realized the extent of her talent until she sang at her high school graduation and didn't begin songwriting until she was 18. This led to Grace releasing six singles as an indie artist, being featured with Ray Ervin on "The Ones," signing with BMI for publishing, and joining the Dream Records team as a recording artist.
ABOUT DREAM RECORDS:
DREAM was founded in 2008 to provide artists with a genuine approach to how real artist development should be done. By allowing for a partnership as a business model, Dream's artists empower themselves to develop and carry out a real vision for their lives as they affect other people's lives with their music and message. Incorporating social media, press, radio and touring it's allowing it's artists grow together as a family.
###