KATIE PESLIS AN IMPRESSIONIST, KAREN CARPENTER TRIBUTE SINGER AND VOICE ACTOR, PRESENTS HER FIRST LIVE STREAMING VARIETY SHOW ON OCTOBER 8TH
"KATIE & FRIENDS: THE VARIETY SHOW" WILL AIR AT SEACREST STUDIOS ACROSS THE COUNTRY; PORTION OF THE TICKET PROCEEDS WILL BENEFIT THE RYAN SEACREST FOUNDATION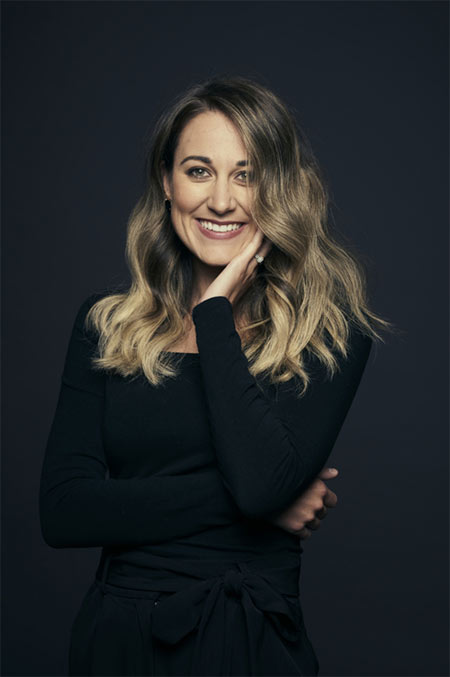 NEWS SOURCE: Merge PR
October 5, 2020
NASHVILLE, TENN. (OCTOBER 05, 2020)
This week on October 8th, impressionist, Karen Carpenter tribute singer and voice actor
Katie Peslis
will host her first live streaming event:
"Katie & Friends: The Variety Show."
The special event will feature singing, dancing, sketch comedy and more along with special guest Todd Smith of the Gospel group Selah. Viewers will see Peslis in her element impersonating some of her all-time favorite singers such as Karen Carpenter, Judy Garland, Julie Andrews as Mary Poppins and more. The evening will be hosted by her husband, Donnie Peslis. Tickets can be purchased
here
, and will air live on October 8th at 6 pm Central, and ticket buyers can view the special evening an unlimited times from October 8th -15th.
"This has been a tough year for everyone," Katie Peslis shares about the idea behind her variety show. "People are dealing with loss on a daily basis. I wanted to create something that brought joy to people of all ages to help them through such a difficult time. I've done impersonations my entire life. What I thought was just a party trick as a child has now given me the opportunity to bring joy and laughter to people as an adult. Thus—Katie & Friends: The Variety Show! I grew up watching variety shows with my family and there is something so nostalgic and magical about gathering together to sing and laugh as a family. We hope it's a night that brings joy and laughter to homes everywhere!"
Click on the promotional videos below to get an idea of what "Katie & Friends: The Variety Show" will entail!
Fans of Peslis have enjoyed her incredible talent since 2013 when she got her professional beginning when she was cast to sing the role of Anna during the world stage-premiere of the music from Disney's "Frozen" with the Indianapolis Symphony Orchestra. As a classically trained artist, her passion is to bring joy to people of all ages - including children and families going through illnesses at hospitals across the country with the Ryan Seacreast Foundation's Seacrest Studios - where she's a regular guest performing a range of songs and voices.
"I absolutely adore kids and have loved my virtual visits in several of the Seacrest Studios across the country," shares Peslis. "Having the opportunity to partner with the Ryan Seacrest Foundation to raise awareness for the incredible work they are doing in children's hospitals around the country, took my excitement to a whole new level!"
A portion of the ticket sales from the upcoming variety show will benefit the Ryan Seacrest Foundation, and the show will also be aired in many of the Seacrest Studios.
"We're so grateful to Katie and her team for helping to bring the Variety Show to our Seacrest Studios across the country," said Nicole Mead, Senior Director of Business Development and Operations for the Ryan Seacrest Foundation. "Katie has become such a champion for the work we do and has given her time to several studios by providing patients and families with virtual visits and performances. We're thankful to be the charitable partner for this special project and look forward to seeing the smiles it brings."
ABOUT KATIE PESLIS: No newcomer to the musical arena, Katie Peslis got her start as "Anna" in Disney's "Frozen" with the Indianapolis Symphony Orchestra in 2013. Her voice has been featured on songs at Disneyland California, Disney World Orlando, Disneyland Paris, Disneyland Tokyo and you can still hear Katie in "Fantasmic" at Disneyland California. Katie has been a SAG-AFTRA member since 2017, and she also sang as a touring vocalist with Sandi Patty for five years. In addition, her voice can be heard on the Far Cry 5 video game and as a background vocalist on Katy Perry's holiday single "Cozy Little Christmas." This year, she released, We've Only Just Begun, A Tribute Karen Carpenter. In lieu of her planned Karen Carpenter Tribute Tour this summer due to the pandemic, she has continued to entertain and encourage her fans online through her "Quarantunes," cover songs and "Carintunes" singing from her car.
###
For more info on Selah, visit the JFH Artists Database.