TODAY SARAH KROGER RELEASES LIGHT - HER SOPHOMORE INTEGRITY MUSIC ALBUM
When we embrace the light, it fills every corner of our lives until we canít help but radiate that light to the world around us. -- Sarah Kroger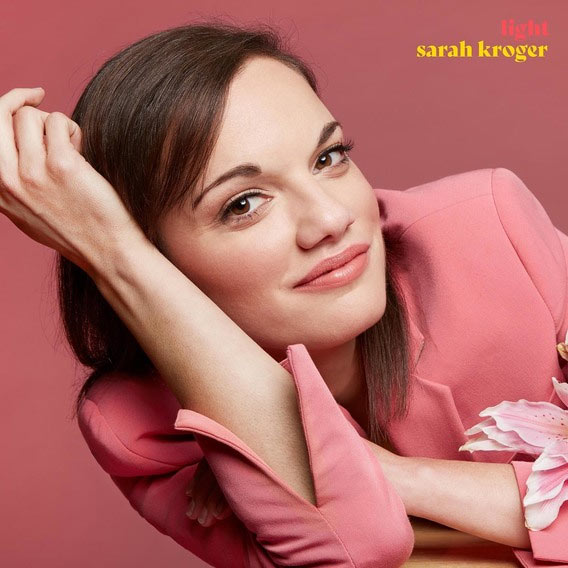 NEWS SOURCE: Merge PR
October 23, 2020
NASHVILLE, TENN. (OCTOBER 23, 2020)
Integrity Music presents
Sarah Kroger
's new album,
Light,
available today. Kroger, a Nashville-based Catholic worship leader and songwriter ("For Us," "Run to The Cross," "In The Silence"), offers this project with more upbeat worship, showcasing her coming into her own as a worship artist with dynamic energy, color and enthusiasm since her 2019 release,
Bloom
.
"Writing for Light allowed me to put into practice what my previous album, Bloom, set into motion," shares Sarah Kroger about the progression between the two albums. "Bloom was the process of rising out of the dirt and stretching towards the sun. Light is about what comes next - showing up everyday and being who God made me to be. I'm a person who has a tendency of keeping things in the dark. Whether it's something I perceive as good, like my talents or bad, like my sin and shame, I keep it hidden. Standing in the light makes us vulnerable - but it's also the place where Love can do its greatest work."
Light features eight new songs including a track featuring worship leader/songwriter Matt Maher ("Unbroken Family"). Working with people of various backgrounds within the body of Christ, the kindness, love and conversations shared through the whole process intertwined the experience of unity and vulnerability at the center of this project.
The album explores self-awareness and relationship with God. It's about understanding what leads us to the darkness and accepting the vulnerability of standing in the Light, where we get exposed and purified. As a contemporary worship leader in the Catholic Church, Kroger gives a new language to people's relationship with Jesus – Light is an inspiration to keep saying yes to vulnerability, intimacy and honesty.
She will be celebrating this weekend on Sunday, October 25th at 6 pm CT as she plays the album through live on her Facebook and YouTube. If fans
RSVP
to the event page, they will have access to behind the scenes footage and exclusive giveaways.
"I hope that the songs on Light inspire and challenge people to see beyond their perceptions of God, themselves, the world and lead them to what is true, good, and beautiful," concludes Kroger.
ABOUT SARAH KROGER: Kroger, who grew up in Melbourne, Florida, developed a love for music as a child when she began singing in church choirs while following in the steps of her parents who were both music ministers. With a passion to create a safe, prayerful space through her music in which people can encounter the love of God, for the last decade she has led worship at events around the world, using her talents to draw people together from a variety of cultures and church backgrounds under the banner of Jesus.
Prior to her Integrity Music debut of Bloom, which included Kroger's cover of Amanda Lindsey Cook's well-known "Pieces" featuring Audrey Assad, she released two other albums, Your Time (2011) and Hallelujah Is Our Song (2013), which features "Run To The Cross" and "In The Silence." Light is her sophomore release with Integrity Music. Kroger is also part of a new trio, Village Lights, with friends Ricky Vazquez and Ike Ndolo. Village Lights is expected to release music together on Integrity Music in 2021. For more information, visit SarahKroger.com
###
For more info on Sarah Kroger, visit the JFH Artists Database.