Curb | Word Entertainment's Sidewalk Prophets Promises An Unforgettable Night of Memories With "Great Big Family Christmas" Livestream Tour
Band To Give Away Gifts To Fans Each Night

All Tickets Are "Pay What You Can"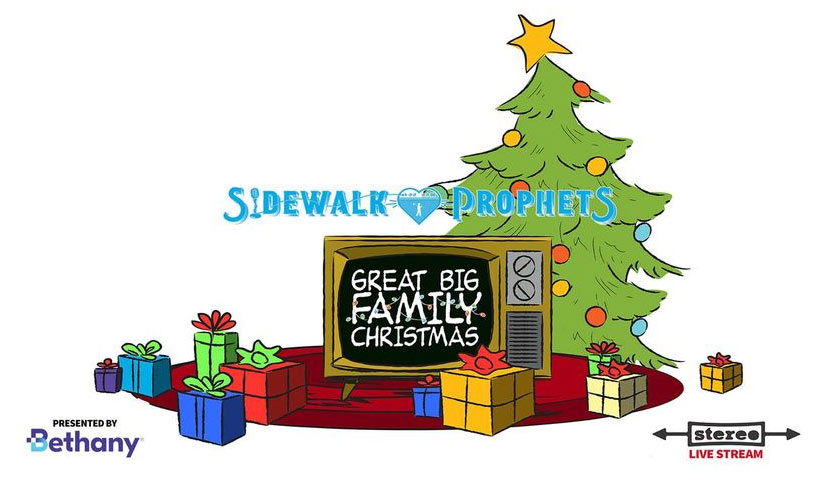 NEWS SOURCE: Curb | Word Entertainment
November 19, 2020
Nashville, Tenn. (November 19, 2020) — Continuing their annual tradition of making new Christmas memories with fans, Curb | Word Entertainment's Sidewalk Prophets will transform their yearly holiday trek into a festive virtual "outing" as they present the "Great Big Family Christmas" livestream show across eight different dates and four different time zones this December. The "Great Big Family Christmas livestream show is the next chapter in a series of innovative livestream tours the band has executed since the global pandemic shut down traditional touring earlier this year. Tickets go on sale today, 11/19, at 9 AM CST.
Sponsoring the "Great Big Family Christmas" livestream show is Bethany Christian Services, an international Christian nonprofit. Chris Palusky, President & CEO of Bethany Christian Services, shares, "At Bethany, we're so excited to be part of Sidewalk Prophets' annual Christmas tour. Many of our family holiday traditions are being disrupted by the pandemic, but we're gathering in innovative ways and still finding joy in this season. Sidewalk Prophets are doing the same, continuing the tradition of their annual Christmas tour and reaching fans through livestream concerts. We know that family changes everything, so when we heard about the 'Great Big Family Christmas' livestream, we couldn't wait to get involved. We're incredibly grateful to Sidewalk Prophets for partnering with us at Bethany to demonstrate the love and compassion of Jesus to vulnerable children and families around the world."
Sidewalk Prophets front man Dave Frey adds, "We are so thankful for Bethany Christian Services and the work they do on behalf of families around the world. It's an honor to have their support for this special livestream and to be working together to promote something we believe in deeply – family."
Broadcasting live from the band's new studio space in Nashville, Great Big Family Studios, Sidewalk Prophets will deck the halls with a set list that dives into seasonal favorites from their acclaimed holiday LP, Merry Christmas To You, as well as hits from their catalog and fresh tracks from their latest full-length album, The Things That Got Us Here, featuring new songs like "Smile" and "Chosen."
Kicking off Dec. 9, the "Great Big Family Christmas" livestream show times are all based on time zone, giving fans in each time zone across the country both a weekday and a weekend option for viewing. Tickets are required, but admission is "Pay What You Can," with a free option available. All paid tickets include exclusive access to a virtual Christmas devotional with the band.
Intent on making every show special, Sidewalk Prophets will be giving away gifts to viewers each night, including one "big gift" awarded to a member of the Great Big Family at each concert. Fans who claim their tickets before Nov. 27 will automatically be entered to win the "big gift" for the show of their choice. A full list of dates and time zones are below.
Tickets for the "Great Big Family Christmas" livestream show are on sale now. For tickets and more information, visit www.sidewalkprophets.com.
"Great Big Family Christmas" Livestream Show Dates:
Dec. 9 — Eastern Time Zone, 7 p.m.
Dec. 10 — Central Time Zone, 7 p.m.
Dec. 11 — Mountain Time Zone, 7 p.m.
Dec. 12 — Pacific Time Zone, 7 p.m.
Dec. 16 — Pacific Time Zone, 7 p.m.
Dec. 17 — Central Time Zone, 7 p.m.
Dec. 18 — Mountain Time Zone, 7 p.m.
Dec. 19 — Eastern Time Zone, 7 p.m.
*All dates and times subject to change.

About Sidewalk Prophets:
With a career spanning three major label studio releases—These Simple Truths (2009), Live Like That (2012) and Something Different (2015), plus 2013's celebrated holiday offering, Merry Christmas To You—and multiple hits, including Gold-certified "The Words I Would Say," "You Love Me Anyway" and "Live Like That," among others, Sidewalk Prophets remains a mainstay at Christian radio. The Dove Award-winning band has amassed more than 204 million career on-demand streams and sold more than 875,000 in equivalent album sales and 1.86 million digital tracks. In addition, the group has garnered five No. 1 songs, nine Top 5 radio singles and more than 47 million views on YouTube. The band originally formed at Indiana's Anderson University, and since signing with Curb | Word Entertainment, they've been nominated for a Billboard Music Award, multiple K-LOVE Fan Awards and four Dove Awards, taking home the New Artist of the Year Dove in 2010. Over the course of their career, they've played for more than 2.5 million fans, and counting. Known for spending more days on the road than anywhere else, Sidewalk Prophets' most recent tours have morphed into interactive experiences for their fans, whom they affectionately call "The Great Big Family." The band hosted the first free public concert in Ryman history on July 9, 2020, previewing new music from their highly- anticipated album, The Things That Got Us Here, available now (July 3, 2020).
About Curb | Word Entertainment:
In 2016, Curb Records acquired Word Entertainment, combining two of the music industry's most respected brands, and more than a century of collective experience. Today, Curb and Word are two of the world's leading independent music companies. Owned and operated by Mike Curb, the Curb | Word family includes the labels Curb, Word, Squint, Fervent, Sidewalk, MCC and IVAV, as well as Curb Publishing, Word Publishing, 25 Live, Curb Films, Word Films, Word Entertainment, and Curb Sports, representing top artists and entertainers in Country, Christian, Pop, Rock, and Hip-Hop. For more information, visit www.curb.com.
About Bethany
Bethany is an international Christian nonprofit that is changing the world through family. 75 years ago, we began our work by serving one child. Today, we partner with churches and communities in more than 30 states and nearly a dozen countries, impacting hundreds of thousands of lives each year. Bethany demonstrates the love and compassion of Jesus by strengthening and preserving families, finding new families for children who need them, and supporting refugees and immigrants who have fled danger, because everyone deserves to be safe, loved, and connected.
###
For more info on Sidewalk Prophets, visit the JFH Artists Database.