Mark Bishop Receives GRAMMY® Nomination for Beautiful Day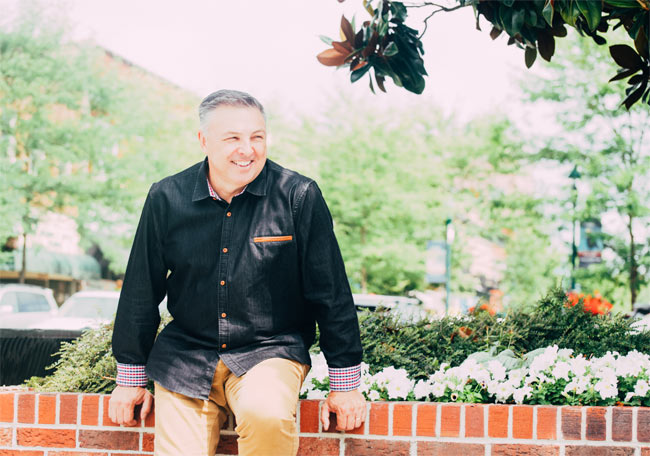 NEWS SOURCE: Crossroads
December 7, 2020
Arden, North Carolina (December 7, 2020) — Mark Bishop's Beautiful Day is a collection of songs that takes listeners on a musical journey through the ups and downs of life, through unique perspectives on familiar scriptures, and through the exaltation that we feel when we leave that valley behind to stand upon a new mountain.
"Even after all these years of creating Gospel music, I still get excited about new songs. Music provides the background soundtrack for the ups and downs of our lives," says Bishop. "As we look back at the different chapters of our journey, it's funny how a song can transport us to a simpler time, or to a profound change in our lives. It's also amazing how God can use a song like a medicine for our hearts when we are hurting."
"For the past 35 years, God has blessed me to participate in the creation of music with some of the most talented singers, musicians, and producers in our field. For this, I feel blessed. They certainly challenge me to work hard and give it my all. Beautiful Day is no different," continues Bishop. "Our 'team' spent many hours making sure the messages in these ten songs are impactful, exciting, and moving."
On Beautiful Day and Mark Bishop:
"It is such a blessing when the Lord gives special favor to good people. Mark is so deserving of this incredible honor. His unique original vocal style and powerful song writing abilities set him apart. Mark stands out in the crowd. He is an amazing communicator. His humor and wit captures the audience's attention immediately from the time he steps on stage."
—Karen Peck (GMA Hall of Fame member, SGMA Board member
and owner, vocalist of Karen Peck & New River)

"When I hear the music begin on a Mark Bishop song, I know that I am getting ready to not only hear something very special, but I'm going to 'see' it too. He has a unique way of painting lyrics that walk and talk within a song. Anyone would love this album. Be ready to listen, and while you are at it, just put your glasses on too!"
—Rodney Griffin (Award winning songwriter and vocalist of Greater Vision)
"God continues to bless people across the globe with Mark's gift for writing Gospel songs. It has been a well-placed gift and he has been a worthy vessel. The Beautiful Day album, just like all the others, is confirmation that my friend continues to deliver award-worthy work, all to the glory of God."
—Mark Trammel (GMA & SGMA Hall of Fame member
and owner, vocalist of Mark Trammel Quartet)

"Beautiful Day is Mark Bishop at his best. Captivating lyrics, beautiful melodies and that one and only vocal we all immediately recognize. This may be my favorite Mark Bishop album. However, I have said that about all of them."
—Michael Booth (Booth Brothers)

"Gospel Music is primarily known for its message; seldom is it cited for its 'art.'
Mark Bishop is a consummate communicator and craftsman. Beautiful Day
is a prime example. It comes as no surprise that this recording has garnered
a GRAMMY® nomination."
—Gary Casto (SGMA board member and owner/vocalist of Tribute Quartet)

"Mark Bishop is more than just an accomplished artist and songwriter. He is a prolific ambassador of storytelling in song. His story songs have the strength of a tightly woven three-strand cord. He weaves one strand with captivating lyrics and another strand with the melodies, and the final strand is where the magic happens: He's able to connect his heartbeat with the heartbeat of the listener."
—Tim Lovelace (Songwriter and Christian comedian)
About Mark Bishop
Mark Bishop has one of the most distinctive voices in all of Gospel Music. He is also regarded as one of the preeminent Gospel songwriters of our generation. His songs have been recorded by several of today's most popular Gospel Music groups. Once you have heard one of Mark's thought-provoking songs, you'll immediately know why Gospel Music lovers consider him one of the genre's top singer/songwriters.
Mark's musical roots trace back to idyllic summer evenings in Kentucky, singing on the front porch with his family. It was then that the Bishop family began to form a musical foundation that would usher them to the forefront of Gospel Music. During their career, The Bishops enjoyed enormous success across all outlets, with twenty-seven national Top-40 songs, including twelve Top 5 songs and three Number 1 songs.

Since embarking on a solo career in 2002, Mark Bishop has not missed a beat. He has been honored with multiple nominations and awards in a broad range of categories from leading Gospel Music publications and organizations. He is one of the select few soloists who have been invited to perform on the Main Stage of Gospel Music's signature event, the National Quartet Convention. Over the past thirty years, Mark's songs are staples on Gospel Music radio, accumulating numerous hits on the national airplay charts.
About Crossroads:
Crossroads
is a market leader in the Southern Gospel, Bluegrass, and Americana fields. Established in 1993, following the combination of Horizon Music Group and Sonlite Records, Crossroads now operates several divisions including Crossroads Label Group (Horizon Records, Sonlite Records, Mountain Home Music, Skyland Records, Pisgah Ridge Records, Crossroads Records, and Organic Records), Crossroads Distribution, Crossroads Radio Promotions, and Crossroads Recording Studios. Led by a strong executive team of Christian music and Bluegrass music veterans, Crossroads combines cutting-edge technology with creative innovation to connect fans with our artists' music.
###