Switchfoot Announce Special "The Beautiful Letdown" Album Performance Livestream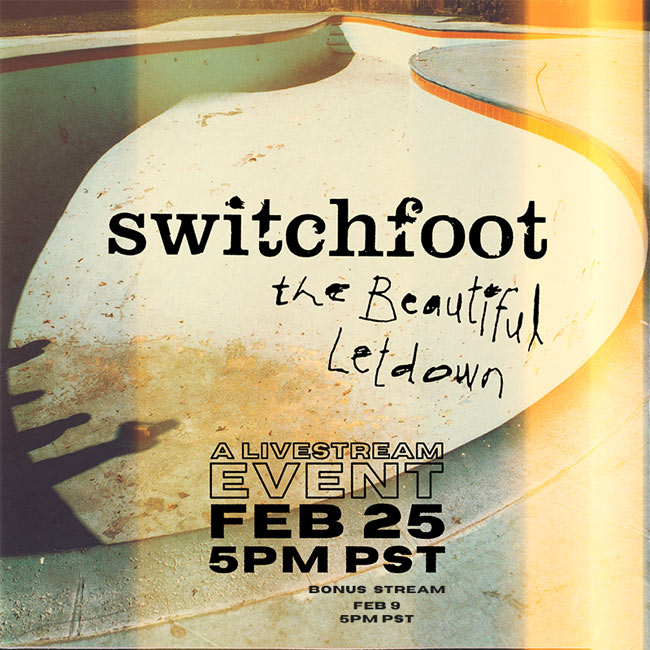 NEWS SOURCE: Switchfoot / Jesusfreakhideout.com
February 9, 2021
With the pandemic and resultant lockdown almost entirely derailing the live music industry, Switchfoot has been making lemonade from lemons, so to speak, with monthly livestream events. Recently, the band celebrated twenty years (!!) since their 2000 album, Learning To Breathe released with a special performance of the full album. The San Diego quintent recently announced that their breakout 2003 album, The Beautiful Letdown will be the next full-album live performance, slated for February 25th at 5PM PST. The band is also offering some pretty neat new The Beautiful Letdown-themed merch, with some items including 3 live mp3s from the Feb. 25th performance!

Check out their announcement below:


"Amigos!

Starting with a Season Pass Holder Bonus Stream tonight, we're spending the month of February traveling down memory lane with The Beautiful Letdown.

When we look back on this album and this era, it's often through rose-colored glasses... This album opened so many doors and sent us on a journey that even we never could've dreamed of.

But the reality of the birth of this collection of songs is quite the opposite...

The ugly story of The Beautiful Letdown is one of determined belief in the face of rejection, struggle, and failure. We went into the making of this record knowing full well that it was probably our last. And with the intentionality of making the record that WE wanted to make, leaving nothing on the table.

It's wild to think of just how close The Beautiful Letdown was to never coming out at all.

After signing with the biggest record company in the world, flying to NYC, staying in a fancy hotel, and playing NYC for our first time, everything seemed to be going our way. Until later that night when the head of our record label dropped us and cussed out the guy who signed us.

It was a total gut check. Was this the end? Were we crazy? Did we still believe in this band and these songs?

The special bonus stream Q&A is tonight (2/9 @ 5pm PST)! We've got so many stories from The Beautiful Letdown era to share and can't wait to hang (digitally) and answer your questions about this album!

We love you all, and are so thankful to look back on this journey with you!

Jon, Tim, Chad, Drew & Jerome"

GET TICKETS & SEASON PASSES
###
For more info on Switchfoot, visit the JFH Artists Database.