KARI JOBE AND PREMIER PRODUCTIONS ANNOUNCE "THE BLESSING USA TOUR"
Also Featuring Cody Carnes, Tour will hit 22 Cities Across the U.S.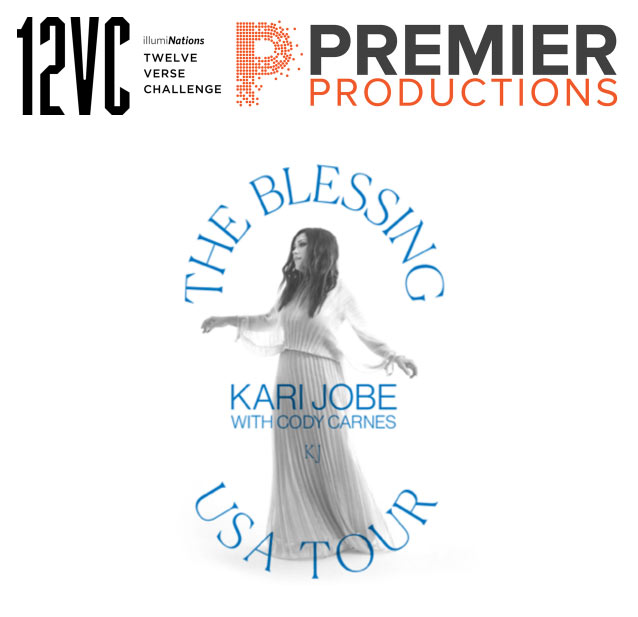 NEWS SOURCE: The Media Collective
February 12, 2021
Nashville, TN.... February 12, 2021 - Kari Jobe, in conjunction with Premier Productions, has announced The Blessing USA Tour. Sponsored by illumiNations and CovidSafeChurch.com and named after Jobe's GRAMMY-nominated and Dove Award-winning hit, Jobe is excited to hit the road for the first time in a year and spend an evening of worship in 22 cities across the U.S.
Also featuring Cody Carnes, the tour will kick off on April 15 in Pittsburgh, and continue on to markets including Dallas, Orlando, Minneapolis, Atlanta, and Houston. Tickets will go on sale to the public next Friday, February 19th. For more information and tickets, please visit
PlatformTickets.com
.
"This past year has been so difficult for a lot of us," Jobe remarked. "We had no idea that the timing of 'The Blessing' would fall at such an incredibly sensitive time for our globe. I have cried so many times as I've watched different people all over the world declaring this song over their families, their churches and their nations. It has been so sweet. I'm so thankful that His promises are promises of peace and strength."
In order to allow for a safe experience for everyone, the tour is implementing socially distanced and/or reserved COVID-safe seating and capacities in each venue. Additionally, tour members will be tested and everyone entering will be temperature checked in addition to other standards and local requirements.
"There have only been a few times where we have gotten to lead this song at a gathering," Jobe continues, "so we are so excited to finally get to bring this song safely, live and in person to the Church! We are so expectant for these nights of worship and can't wait to see what God continues to do in your cities. My prayer is that these nights will be filled with God's presence and that you would walk away reminded that He is always for you and He is always with you."
Written and released the week before the the COVID pandemic hit the globe, Jobe co-wrote the "The Blessing" with her husband and songwriter Cody Carnes and Elevation Worship's Steven Furtick and Chris Brown.
To say the message behind the song was timely and resonated with thousands is no understatement, as it was the most consumed new CCM song of the year in 2020 and also won for Worship Song of the Year at last year's GMA Dove Awards. Likewise, the track received a GRAMMY® Award nomination for Best Contemporary Christian Music Performance/Song for "The Blessing (Live)," the video for which now has more than 41 million views and was included on Spotify's US Viral 50, Global Viral 50 playlists and Top 50 Most thumbed-up songs on Pandora.

ABOUT KARI JOBE: For more than two decades, well- respected worship leader Kari Jobe has been using her gifts to lead people into the presence of God. When she began leading worship at age 13, she never imagined she would be nominated for two GRAMMY® Awards, win multiple Dove Awards or be praised by the New York Times. She has sold more than 1.2 billion albums (TEA) in her career and has more than one billion career streams. Originally from Texas and now residing in Nashville, she tours the country with her husband Cody Carnes and their two boys, Canyon and Kingston, and they both serve at their home church The Belonging Co.

ABOUT PREMIER PRODUCTIONS: Pollstar Magazine ranks Premier Productions as the largest producer of live faith and family events both nationally and internationally, producing more than 600 events each year. Premier promotes Tours for Hillsong UNITED, Hillsong Worship, Young & Free, Kari Jobe, Jesus Culture, Lauren Daigle, Gaither Homecoming, Sadie Robertson, as well as their annual Winter Jam Tour Spectacular. Premier Festivals promote 10 of the largest faith based festivals in the U.S, and more than 80,000 guests have sailed on cruises and gone on excursions through their vacation experience company, Premier Experience.

ABOUT ILLUMINATIONS: illumiNations is a collective impact alliance of 10 of the leading Bible translation agencies and their resource partners working together to eradicate Bible poverty in this generation. Of the 7,000 languages spoken around the world today, approximately 3,800 have little or no access to Scripture. IllumiNations is working to change this by making God's Word accessible to all people by 2033. IllumiNations is inviting people around the world to take illumiNations Twelve Verse Challenge. We have the opportunity to be the generation that could be the first people, in the history of the world, to see nobody trapped in the darkness of Bible poverty. Please visit illuminations.bible/12VC.


"THE BLESSING USA TOUR" (all dates subject to change):

4/15/21 – Pittsburgh, PA
4/16/21 – Cleveland, OH
4/17/21 – Lexington, KY
4/22/21 – Jacksonville, FL
4/23/21 – Orlando, FL
4/24/21 – Ft. Myers, FL
4/25/21 – Tampa, FL
4/29/21 – Dallas, TX
4/30/21 – Joplin, MO
5/1/21 – St. Louis, MO
5/2/21 – Jackson, MS
5/6/21 – Tulsa, OK
5/7/21 – Oklahoma City, OK
5/8/21 – College Station, TX
5/9/21 – Houston, TX
5/14/21 – Atlanta, GA
5/15/21 – Cullman, AL
5/16/21 – Knoxville, TN
5/20/21 – Minneapolis, MN
5/21/21 – Cedar Rapids, IA
5/22/21 – Omaha, NE
5/23/21 – Wichita, KS
###
For more info on Kari Jobe, visit the JFH Artists Database.