VEGGIETALES® CO-CREATOR MIKE NAWROCKI ANNOUNCES KICKSTARTER CAMPAIGN TO HELP BRING THE DEAD SEA SQUIRRELS TO LIFE
Renowned Disney Animator Tom Bancroft, Legendary Producer / Filmmaker / Recording Artist Steve Taylor Join Nawrocki to Create New Animated Series Based on The Dead Sea Squirrels Early Reader Chapter Books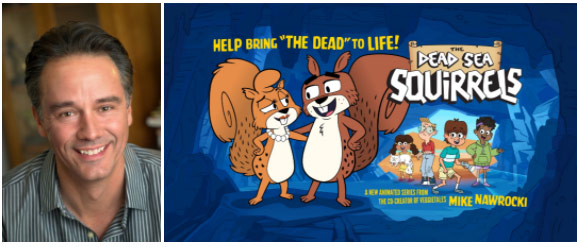 NEWS SOURCE: Hoganson Media
February 16, 2021
Mike Nawrocki, VeggieTales® co-creator and voice of Larry the Cucumber, had no idea his next animated adventure would star rodents. However, a few years' time and one amazing idea led to the creation of Nawrocki's newest animated series THE DEAD SEA SQUIRRELS. And just like squirrels gather resources for winter, Nawrocki and his team are gathering resources to bring this animated series to life by launching a Kickstarter crowdfunding campaign beginning today (Feb. 16).
Now through April 1, Nawrocki and his team need to raise at least $1.2 million to fund the production and animation of the first six episodes of THE DEAD SEA SQUIRRELS, the 13-episode animated series based on Nawrocki's book series of the same name. (See THE DEAD SEA SQUIRRELS promotional video at https://youtu.be/iljjS7I8qzQ.)
"It's been a longtime dream of mine to bring this series to life," says Nawrocki. "What started as a title based on a 'cheesy' pun has developed into a fun-filled world kids will love while giving parents an entertaining resource to pass on biblical values and life lessons. Plus, with VeggieTales, 3-2-1 Penguins, and now The Dead Sea Squirrels, I hope to cement my legacy as the 'cheesy' pun title guy!"
In order to help reach the $1.2 million fundraising goal, donors to the Kickstarter campaign receive various rewards for donating, ranging from a sneak peek of the first full animated episode to the donor being "immortalized" as an animated character in one of the episodes. Anyone who would like to join the effort to bring these squirrels to life in homes everywhere is encouraged to visit the Kickstarter page to donate or go to www.deadseasquirrels.com for more information.
THE DEAD SEA SQUIRRELS tells the story of Merle and Pearl, two 1st century squirrels from Israel who've been preserved in sea salt in a cave alongside the Dead Sea. When 10-year-old Michael discovers them 2000 years later and sneaks them home in his backpack, hijinks ensue after this salty couple reanimates and takes their new friend on adventures full of action, humor, music and character-building lessons.
To make this dream a reality, Nawrocki gathered an outstanding team of industry professionals with whom he teaches at Lipscomb University, including renowned Disney animator Tom Bancroft (Mulan, The Lion King, Beauty and the Beast) and legendary producer / filmmaker / recording artist Steve Taylor, with whom he co-wrote "The Dead Sea Squirrels" theme song. They are even employing some of animation's newest and brightest stars – their students at Lipscomb, who have been hired to help animate the series in coordination with New Zealand's Mukpuddy Animation Studios.
For all the latest news and information on THE DEAD SEA SQUIRRELS, go to www.deadseasquirrels.com, Facebook, Twitter, Instagram and YouTube.
ABOUT MIKE NAWROCKI:
As co-creator of VeggieTales and the voice of the beloved Larry The Cucumber, Mike Nawrocki has been making entertaining and wholesome content for kids since 1993. He created, wrote and directed most of the extremely popular "Silly Songs with Larry" segments, and lent his screenwriting and directing talents to VeggieTales episodes as well as their movies Jonah and The Pirates Who Don't Do Anything. Mike also developed and wrote for 3-2-1 Penguins! and authored a number of VeggieTales Books and CD projects. Mike serves as Assistant Professor of Film and Animation at Lipscomb University and co-hosts the weekly podcast, "The Bible for Kids."
ABOUT TOM BANCROFT:
Tom Bancroft's three decades of experience began at Walt Disney Feature Animation, where he was an animator on classics like Beauty and the Beast, The Lion King, and Aladdin. He created Mushu The Dragon for Disney's Mulan. Tom was also Supervising Director/Co-creator for a VeggieTales DVD series. His popular character design instruction books have become required textbooks at art schools around the world. Tom is the founder and Artist-in-Residence of the burgeoning Animation program at Lipscomb University, where he mentors over one hundred student animators.
ABOUT STEVE TAYLOR:
Steve Taylor earned his "Renaissance Man" stripes (Prism Magazine) from a unique body of work as an artist and entrepreneur. As a recording artist he's sold over one million albums and received two Grammy nominations. His resume as a music producer includes three Gold-certified albums for the Newsboys and the Platinum-certified Sixpence None The Richer, including their smash hit "Kiss Me." Steve's career as a filmmaker includes The Second Chance and Blue Like Jazz. He serves as Director of the School of Theater and Cinematic Arts at Lipscomb University.
ABOUT LIPSCOMB UNIVERSITY:
Lipscomb University is a private, Christian liberal arts university located in Nashville, Tennessee. Lipscomb boasts top academic programs, small class sizes, intentional faculty and faith-integrated experiences and curriculum. https://www.lipscomb.edu
###
For more info on Steve Taylor, visit the JFH Artists Database.