Nate Parrish Introduces Upcoming Full Length Album with Single "Religion of Relevance"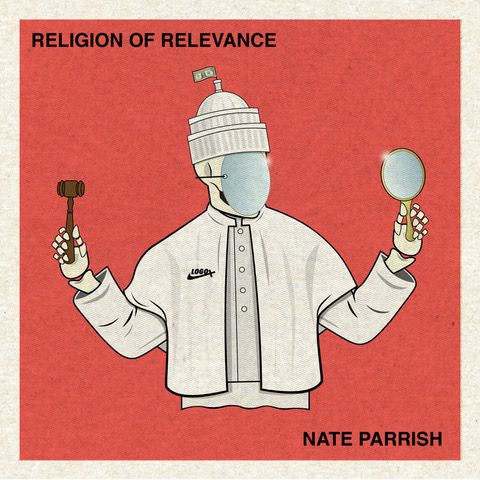 NEWS SOURCE: Nate Parrish
May 21, 2021
Nate Parrish is releasing his first single of 2021, titled "Religion of Relevance," on May 28. The track is the first from his upcoming full length sophomore album.
Forging ahead with the same punk rock, DIY approach that fueled last year's debut project I'm a Wreck, Parrish continues to create music that offers instrumental grit paired with countercultural lyrics. The subversive "Religion of Relevance" takes a stab at the culturally relevant celebrities that society teaches us to worship.
"Truth is, everyone is religious in some way," Nate Parrish explains. "It's this weird parasitic relationship where the one we worship has to work to stay relevant so as to earn our worship, and we need them to be our idol because we'd rather bow to a god that we made."
Those challenging and urgently unsettling themes are strengthened by the edge of a classic punk rock sound. As on past tracks, Parrish was the primary musical mastermind, heading up the songwriting, vocals, and guitar. "Religion of Relevance" was rounded out by Jason Turner on bass, Thomas Freckleton (Silent Planet) on backing vocals, and Ethan Luck (The OC Supertones, Demon Hunter, Relient K) on drums. The result is a sound that feels fresh and energizing, tempered by Nate Parrish's years of experience playing for Kutless and Worth Dying For.
The counter-establishment, grassroots approach to recording and releasing music will typify the new album Parrish is currently working to complete. "Musically, I'd say it's a little more aggressive, a little more punk than the first album, but it's got a lot of heart," he shares. "I kind of lay it out there on this album and work through some stuff in these songs."
That approach is bolstered by the success of I'm A Wreck, which ended up being a 2020 underground success. Parrish remembers, "When I recorded I'm A Wreck, I had zero expectation that anyone would hear, let alone like my record! I set out to make a collection of songs as a way to get things off my chest, to get back to the root of why I love music. I'm approaching this new project the same way."
"Religion of Relevance" is available through all major digital retailers on May 28. The full length album will follow by the end of 2021. For more about Nate Parrish, you can follow him on Spotify, Apple Music, Facebook, Instagram, and YouTube.
###