SPOKEN WORTH ANNOUNCES NEWEST POETRY ALBUM 'CRUCIBLE CHRONICLES'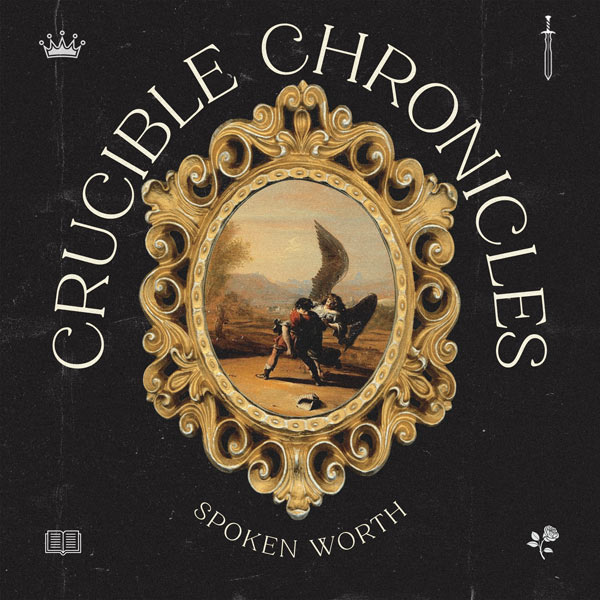 NEWS SOURCE: FiveTwenty Collective
May 26, 2021
Homestead, FL - The essence of hip hop can be found within the lyricists. Street poets who tap into the veins of the community surrounding them. The separation between spoken word and a Top 40 hit may be as simple as an 808. On his newest album, spoken word artist Spoken Worth entrenches himself within the Christian Hip Hop genre while staying true to the art form that sparked his passion.
The Terre Haute, IN native returns with his first full-length project since 2018's 'Pariah'. Not only is he continuing to collaborate with notable CHH producers (Dillon Chase, OnBeatMusic), but he is stepping even further into the space by tabbing several of today's top independent rappers (J. Crum, Mitch Darrell, Dillion Chase) to add a new sonic experience to "Crucible Chronicles".
Releasing on May 28, 2021, Spoken Worth describes his latest project as follows, "Crucible Chronicles is an authentic, vulnerable, and challenging spoken word poetry album. It leads the listener on a journey of self-reflection, truth, and hope." He continues, "Follow along in the journey of a young child who falls, is buried in his shadow and wounds, but then wrestles God to rise again. Join him as he travels through time to find the God given gold that his soul desperately needs. You may just find yours also."
Not only does Spoken Worth team up with industry veteran Dillion Chase (Die Daily) for production and an album feature, but Chase also lends his engineering talents by Mixing & Mastering the project.
"Crucible Chronicles" can be heard across digital music retailers. Click here to find your favorite music provider.
Follow and Support Spoken Worth:Twitter | Instagram | Facebook
Album Details
Title: Crucible Chronicles
Release Date: May 28, 2021
Artist: Spoken Worth
Production: Longstory (Bryan Conway), Dillon Chase, OnBeatMusic
Features: Mitch Darrell, J. Crum, Dillon Chase, Thomas L. Thomas
Engineering: Dillon Chase
Artwork: Bryan Conway
About Spoken Worth
Spoken Worth aims to speak truth through spoken word poetry, even when it's painful. Having spent the first few years of his career shaping his sound and craft in south Miami open mics, bars, clubs, churches, and schools, Spoken Worth is a poet who is passionate about convincing others that they aren't alone in their pain or struggles in life. Spoken Worth takes spoken word poetry, and blends it with lyrical hip-hop in a refreshingly unique way by collaborating with a variety of different artists and producers. Artists like Dillon Chase, J. Crum, Mitch Darrell, and producers like OnBeatMusic, PoetiCS, and Longstory. Through his unique sound and vulnerable lyricism, Spoken Worth presents a new way to experience and listen to spoken word poetry entirely.
###